Rhode Islanders of the Year
These people helped make the world a better place this year.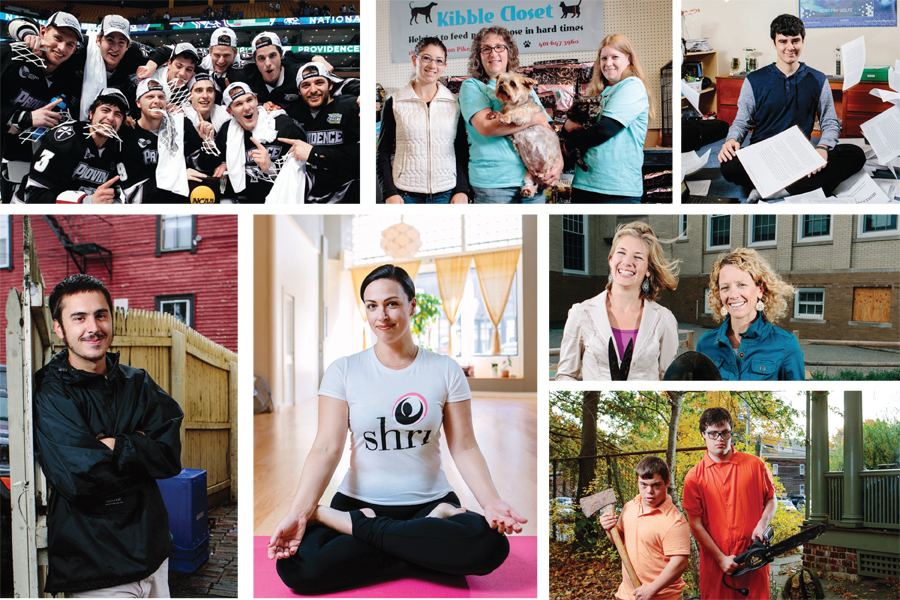 Some see the world for its faults, while others change it for the better. As 2015 draws to a close, we're honoring people who live and work in Rhode Island who have contributed to the community in a major way over the past year. They've accomplished great things, not because it's what they get paid to do, but because it's what they felt called to do. So whether they developed a tool to fight the next outbreak of Ebola, helped save a high school music program or clinched an NCAA Championship, here's to people who have made our world a better place to live — through their talent, determination and heart.
---
Sarah Potenza
When Sarah Potenza faced off against Hannah Kirby in front of 20 million fans of "The Voice," she channeled the theatrical training she learned at Smithfield High School and Rhode Island College.
Getting into character, performing the choreography, having confidence and delivering — that's what the singer with the distinctive glasses and the powerful voice needed to prevail against Kirby in their joint rendition of "Gimme Shelter" that aired in March on NBC.
"It was planned beforehand," says Potenza, who worked with Kirby on the choreography. "I knew certain marks and moments that I was going to create on camera. I would practice until it was like second nature and I didn't really think about it. And when I went out there I would let go and do it."
To say Potenza let go and did it is an understatement. Celebrity judge Blake Shelton said it was probably the best battle round he'd seen and declared Potenza the winner.
"I ended up going with Sarah because there's something so different about her," he told viewers.
Potenza has always known that she's different. That's why she went back to her high school in May to advocate for Smithfield's music and theater programs.
She'd been eliminated from "The Voice," by that point, but the experience had propelled her career and generated a larger fan base that helped fund the production of her first solo record.
Potenza started seeing the hashtag #shsneedsmusic and getting messages from Smithfield High School students. She found out that unless the Town Council provided an additional $250,000 in the budget, six positions would be eliminated, affecting the chorus and band programs.
It was in music classes at Smithfield High School that Potenza got to know Ian Crossman, who also dreamed of a career traveling across the country performing and became her boyfriend, bandmate, then husband. She also learned music theory and gained the confidence to pursue a life as a professional singer.
"The teachers who taught that program made me feel like I was smart and talented, unique and special," she says. "And that's really hard to do when you're a teenager. So it's really important to me."
Potenza was also involved in chorus and theater. The first time she auditioned for one of the school's musicals, she was in ninth grade. She didn't get the lead, but with her baritone voice, she ended up being in the men's chorus.
"When my teacher [Judy Bowden] told me I didn't get the lead role, she put her arm around me and walked me up the hallway and was like, if I was going start a rock and roll band, I would want you to be the singer. You are an amazing singer. And I was like fourteen. So she really encouraged me to believe that I could be the lead singer of a rock and roll band."
Potenza was performing in Newport last May when the Town Council meeting where the budget cuts were being voted on was taking place. So she went back to Smithfield. The room was packed and the high school band played, and she said her piece about the importance of the music and theater programs, along with lots of students.
"I felt like Julia Roberts in Pretty Woman, because when you're an artist, people can discourage that and say it can't be a career, that you're just dreaming but you need to get a serious job with a 401k," she says. "It was cool to get to go back, because those were the type of people who always told me to get a real job and I got to walk in there and say, I have a real job, I'm back."
This faceoff also had a happy ending: the Town Council voted for the funding, and the band plays on.

---
Mattie Zufelt & Sam Suchmann
They met as kids in Special Olympics and became best friends who shared a love of movies. Last year, they raised nearly $70,000 to produce their first film, Sam and Mattie Make a Zombie Movie, which they wrote, starred in and filmed around Rhode Island for two weeks in August. Panavision gave them a deal on a state-of-the-art camera, Atlanta-based Silver Scream FX Lab supplied a special effects makeup team, Peter Farrelly showed up on set, the state police allowed them to film in their Portsmouth barracks, a body builder with Down Syndrome came up from Atlanta to appear in a fight scene and DJ Pauly D made a cameo. Sam and Mattie kept their Kickstarter supporters updated with excellent production updates about their costume designer and the time they got crunked up on root beer. BuzzFeed, People, PBS and documentary filmmakers based in Brooklyn have chronicled their adventure; their local fans are legion. Sam, a senior at Hope High School, and Mattie, who is attending Roger Williams, are editing the film now. Stay tuned in 2016 for the release of "the most epic zombie movie ever."

Adam Levine
A week after the World Health Organization designated the outbreak of Ebola in West Africa a public health emergency, Dr. Adam Levine was on a plane heading to Liberia.
The assistant professor at Brown's medical school and emergency medicine doctor at Rhode Island Hospital also volunteers for the International Medical Corps' emergency response team. He's worked in flash points around the world, including Haiti and South Sudan.
This time, Levine was tasked with setting up the organization's first Ebola Treatment Unit in Liberia.
But as the number of infections and deaths mounted, health care workers struggled with how to treat the highly infectious disease while maintaining their own safety.
"Everyone was trying everything, but no one really knew," Levine says. "There wasn't any evidence or prior research to tell us what really worked."
Now Levine is passionate about making sure the next time there's an outbreak, the medical community is better equipped to handle it.
"If we went through this whole epidemic with 23,000 infections and 11,000 deaths and we didn't learn anything about how to care for Ebola patients in the future, then that would be a really horrible tragedy," he says.
The recent outbreak started in Guinea and smoldered there for several months, then spread to Liberia and Sierra Leone, where the number of cases increased rapidly in the summer of 2014.
Levine arrived in Bong County, Liberia, in August and spent his first weeks learning how to treat patients with the disease, hiring and training local staff and getting supplies. The unit opened on September 15. The group went on to open another clinic in Liberia and three in Sierra Leone.
When the pace of the epidemic slowed in early 2015, Levine and his colleagues realized they had treated nearly 2,000 patients over the course of a year at the five clinics. "It was a tremendous opportunity to learn as much as we could from that experience and from the data that was collected," Levine says.
The first thing they developed from the information was the Ebola Prediction Score, which was published in the medical journal Annals of Emergency Medicine. Levine and his colleagues devised a tool to help clinicians figure out whether people are at high risk for Ebola by looking at whether they had six symptoms: they had come into contact with a sick person, experienced diarrhea, loss of appetite, muscle pain, difficulty swallowing, but didn't have stomach pain.
They are also using the numbers to analyze which future patients are more likely to survive or die, based on their symptoms, demographics and the treatments they received, such as medications, fluids and nutritional supplements. Levine and his colleagues are also working with the World Health Organization to pool their statistics with other aid groups that were also part of the response, so they can have a larger picture of the epidemic.
The research is critical because Levine says it's almost certain there will be another outbreak of the virus, which continues to live in the forest of sub-Saharan Africa and will likely cross over into the human population again.
"The question is how do we prepare ourselves to make sure that we have the best tools and the best trained people available to respond the next time."

---
Omar Bah
Omar Bah came to the United States in some ways a fortunate man. As a journalist in Gambia, he had been kidnapped and tortured for his work. He had to leave his wife of two months behind. But when he arrived in Rhode Island as a refugee in 2007, he was educated and already spoke English.
As Bah worked to build a life in the United States, he received help from refugee resettlement services for a limited time.
"But I still had a lot of problems and a lot of difficulties navigating the system," Bah says. "So for someone who for instance does not speak any English, it is just impossible to settle down and be self-sufficient within eight months or a year."
In March, Bah started a nonprofit in Providence called the Refugee Dream Center, to assist in providing a second level of resettlement services to the refugee community. One of the first things he wants to help people understand is that they are not migrants or immigrants.
"We are refugees," he says. "And the reason we are refugees is that we are displaced because of natural disaster and conflict."
They have their papers to legally work and after five years can apply for citizenship. About 180 refugees from countries including Liberia, Congo, Somalia, Iraq, Burma and Iran are resettled in Rhode Island each year, Bah says.
"But people don't even know they exist because it's just immigrants we think about," he says.
The Dream Center is providing English as a second language and job readiness training and basic computer lessons so that the recent arrivals can build on skills they've already learned in their native countries.
Several refugees from Somalia had worked as traders, for example, Bah says.
"Okay, you were a trader," he says. "Now with basic computer skills, you have the opportunity to sell online or work as a cashier."
The center also received a grant from the Rhode Island Department of Health to go door to door and educate refugees about the health care system and mental health.
In many other parts of the world, people don't seek medical care until they are very sick, Bah says. "So we tell them no, here we go to the hospital, when you have a problem, you go, that it's better to prevent."
Bah and other members of the center also talk about the dangers of sharing medications and dole out dietary advice.
"When somebody comes here, they are healthy," Bah says. "Within a year, they are overweight because of the food." They warn that consuming too much sugar can cause diabetes.
And they also broach the sensitive issue of mental health. In most of the refugees' native cultures, Bah says there's one word associated with mental health: crazy. He's now a therapist himself and hoping to break the stigma.
Anxiety, depression and domestic abuse are common and through the outreach work, Bah and his colleagues are teaching the newcomers ways to cope with stress such as deep breathing, spirituality and finding a supportive community. He's also got a program for youth, who can find it hard to adjust to high school and drop out.
The goal is to help the refugee community stay healthy so they can work, take care of their families and become independent.
"The ultimate objective is to achieve the American Dream," Bah says.

Peter Snyder
Could our eyes contain early clues about whether we might develop Alzheimer's?
Peter Snyder thinks so. A neuropsychologist and chief research officer at Lifespan who is also a sculptor and woodworker, he's studying more than sixty caregivers whose parents already have the degenerative neurological disease.
"They're invested in doing whatever it takes to make sure that not only the research gets done and treatments are eventually discovered, but that the public is aware of the damage this disease places on families and our community," Snyder says.
By looking for the buildup of a certain protein in the eye and tracking small changes in blood vessels, Snyder hopes to identify people who may develop the disease ten to fifteen years before symptoms appear, so clinicians can intervene sooner and slow its progression.
"Once the tissue is lost, it doesn't come back," Snyder says. "So we want to protect it when it's vulnerable, not yet destroyed."
As part of his study, Snyder gathered brain and eye imaging studies, retinal scans, photographs and voice samples from his subjects— materials that as an artist, he also found poetic and beautiful.
With his subjects' permission, he used those materials to help the public understand the impact of Alzheimer's on caregivers. Snyder organized an exhibition called "Interstice: Memory, Mind and Alzheimer's Disease" with four other local artists — Babette Allina, Cybele Collins, Will Reeves and Dianne Reilly — that was at Brown's Cohen Gallery over the summer.
The artists met over the course of a year to learn about the biology of Alzheimer's and how it affects the brain. Then using the images of the scans and voice recordings, they created works that simulated the sterile flood of white light of the hospital setting, the breakdown of a memory circuit, the fragmentation of a person's life story, and the distortion of memory over time.
Snyder also made cards for people to take from the exhibit, with images of some of his subjects' eyes and facts about the disease, including that 15 million relatives and friends provide unpaid care for people with Alzheimer's — often at the cost of their own well-being.
And when he led several groups of caregivers from the Alzheimer's Association of Rhode Island through the exhibit, a couple of them left with tears in their eyes.

---
Alison Bologna
Where many people just saw vacant buildings in Pawtucket, Alison Bologna saw promise. The NBC 10 morning news anchor opened a space for yoga there in 2009 called Shri Studio. "I really wanted to reach populations of people who never had access to yoga before," she says. Bologna then established a nonprofit arm called Shri Service Corps, which has enabled her and her teachers to provide hundreds of free classes to more than 5,000 people with disabilities, in recovery, in prisons, hospitals, shelters and schools. In 2014, she launched Shri Bark, a line of healthy snacks that are made in Pawtucket and help fund the nonprofit. The treats are also part of a program funded by Blue Cross and Blue Shield at Nathanael Greene Middle School in Providence, for which Bologna won a $10,000 grant to teach kids yoga and mindful eating. And now, Shri's reach has expanded overseas. Earlier this year, Bologna raised funds to send a teacher to Nepal with a thirty-two week Shri curriculum, yoga mats and workbooks. It's all about building community, Bologna says. "It's the same thing we're doing in Pawtucket happening in Nepal."

Paul Bettencourt & Keith Gonsalves
Look out over the Riverside shoreline and you might see Keith Gonsalves in his kayak, keeping an eye on things. As adept with a paddle as he is with a story, the self-described East Providence boy grew up with parents who took him camping and a high school teacher who encouraged a love of nature. As an adult, he became a Providence firefighter, got involved in environmental groups and never looked back. Gonsalves describes himself as a cheerleader for efforts to secure funding for environmental causes over the years. He and good friends Paul Bettencourt, Paul Shorts and others have worked to repopulate the Ten Mile River with herring each spring by sneaking the slender, silvery fish into the river and scooping them over Omega Pond Dam. "My wife says it's saving the world, one fish at a time," Gonsalves says. They were delighted in April, when the Army Corps of Engineers completed the last of three fish ladders on the Ten Mile River (named for Bettencourt). For the first time in more than two hundred years, fish could swim on their own up the Ten Mile River and spawn.

---
ecoRI Earth
EcoRI Earth driver Joseph Rand picks up food scraps along his collection route.
Picture 45,000 pounds of banana peels, egg shells, coffee grinds, apple cores. That's how much material ecoRI Earth has delivered to Southside Community Land Trust's City Farm since 2013 to be converted into compost — and kept out of the landfill. Manager Kevin Proft says the amount is "a drop in the bucket" of what the state generates in food waste, but the door-to-door operation, which is affiliated with the environmental website ecoRI News, now has more than 100 customers in Providence, Pawtucket and a little bit of Cranston and Warwick. The scraps help fund ecoRI News and get more people thinking about composting (Providence now has a pilot program, for example). "Hopefully some day it turns into a statewide thing and puts us out of work," Proft says.

---
Paul Santucci
Santucci and his right-hand man, Bob Sarli, at God's Little Acre.
Growing fresh vegetables is part of Paul Santucci's DNA. His father owned a produce company, and thirteen years ago, the financial planner and his wife considered buying a farm but reluctantly decided against it. Then he found out his parish, St. Philip in Greenville, was building a greenhouse and saw a documentary through the Rhode Island Community Food Bank about community gardens. "I just listened to the voice of God in my life, and that's what I felt He was saying to me. This is the farm that I think I was supposed to have."
With help from Adler's Construction, they started a community garden on a quarter acre of land at St. Philip and called it God's Little Acre. It began to supply organic produce to the Rhode Island Community Food Bank. Now Santucci, right hand man Bob Sarli and volunteers help grow and harvest about 4,000 pounds of tomatoes, cucumbers, beans, squash, peppers and other vegetables each year. They also get help from Jaswell's Farm, which Santucci says supplies about a tractor-trailer's worth of produce a year. From July through October, Santucci delivers the vegetables to the St. Philip Pantry, Mary House and Mathewson Street Church in Providence. People really appreciate the fresh food. "There's a huge misconception that people are taking advantage of the system," he says. "I'm a very conservative guy but at the end of the day, there's a ton of mental illness and there's a ton of people that have very low wages. They may be working two jobs and they just cannot afford it." There's pride in Santucci's voice when he notes that 20 percent of the food the Rhode Island Community Food Bank distributes is fresh fruit and vegetables that it buys or that's supplied by one of its six community farms.

Jules Martins & Robin McCarron
Volunteer Mary Kent with Booker, Jules Martins with Rocket and Robin McCarron holding Stella at the Kibble Closet.
Jules Martins and Robin McCarron know what it feels like to face losing almost everything, including their pets. So the animal lovers — who now run pet-related businesses side by side in Foster — opened the Kibble Closet in March to provide cat and dog food to people who can't afford to feed their animals. "People come in and you can see in their eyes that they're struggling," Martins says. "Robin and I had been through it, and we know how important animals are to get us through life, good and bad." Pet Food Experts in Cumberland has donated several pallets of cat and dog food and Martins and McCarron have also held fundraisers. Since opening, they've provided food to more than 300 animals from all over Rhode Island and northeastern Connecticut.

---
Kathy Hartley
The nonprofit Hartley started now also oversees the nearby Hannaway Blacksmith Shop, Chase Farm House and Moffett Mill.
Growing up in Lincoln, Kathy Hartley always admired Hearthside, a beautiful stone mansion on the town's historic Great Road that dates back to 1810. The town bought Hearthside in 1997 along with other properties, but didn't have the money to open it up or restore it. In 2001, Hartley, who had served as the head of Leadership Rhode Island, recruited volunteers and established a nonprofit to run it. "I knew that people needed to step forward, so I just decided to jump in and do it," Hartley says. "I never really bargained for what happened." The mansion came with no furniture or funding, but now the tourist destination keeps alive the stories of the eleven different families who lived in Hearthside from the War of 1812 until the 1920s. Hartley dons a big hoop or a bustle to lead tours and appeals to visitors' senses with details like the smell of baking bread. Hearthside has received national recognition for its historical leadership and they're writing a curriculum to attract more school groups. "As people come in and they experience Hearthside, they fall in the love with the house," she says. "I know that I've not only touched people's lives, but also that the work that we're doing now will last years after."

---
Sean Fay Wolfe
For some college freshmen, March means spring break debauchery. Sean Fay Wolfe, however, will be making an appearance at the Emirates Airline Festival of Literature in Dubai.
The eighteen-year-old is no ordinary college student. Sure, he's undeclared (in fairness, it is his first semester, and he's interested in elementary education, theater and computer science). But the URI student also has a three-book deal with Harper Collins for a fan fiction series inspired by the wildly popular video game Minecraft.
It's highly unusual for a first-time writer to secure a deal like this, particularly one Fay Wolfe's age, says his agent, Rick Richter.
"His series has sold extremely well to publishers internationally and will be offered in several languages," Richter says.
They didn't release the contract amount, but Fay Wolfe's earnings are paying for his room and board at college and enabled him to buy a new Highlander.
With a dad who oversees the Digital Forensics and Cybersecurity Center at URI and a stay-at-home mom who has since become his manager, it's no surprise that Fay Wolfe was inspired by the virtual existence of Minecraft, where people create their own worlds out of blocks and pit their skills against players from around the globe.
Fay Wolfe had scribbled stories on the backs of notebooks when he was in elementary school, but stopped in middle school, probably because it wasn't cool.
"But once I started playing Minecraft, the game inspires so much creativity and pretty much allows you to do whatever you want," he says. "So I started to write for the first time since elementary school."
He was fourteen, with a novel-length idea set on a fictional Minecraft server called Elementia. Fay Wolfe describes it as a "hard-core survival server," where monsters attack at night and players can compete against thousands. It's ruled by a king, the person who created the server and makes all the rules.
In between school and becoming an Eagle Scout, Fay Wolfe secretly started to write the fictional tale that would become known as Quest for Justice.
He didn't show it to his family and friends until he was about a third done.
"My mom actually read it pretty fast and then told me to write the next part right now because she had to know what happened next," he says. "That's when I first realized that people might actually like this." A similar reaction from his then-nine-year-old brother sealed the deal.
Over the next two years, Fay Wolfe squeezed writing in whenever he had free time. When he finished, he and his parents looked for a publisher.
"Seeing as I was a sixteen-year-old saying I have Minecraft fan fiction I want to publish, there wasn't exactly anyone who was willing to jump on the offer," he says.
His dad found a site called Createspace, which allows authors to self-publish their books and get them distributed through the Amazon outlets with no upfront costs. But it was up to Fay Wolfe and his family to get the word out about the book.
They contacted gaming communities on Facebook and Twitter. Fay Wolfe started making appearances at schools. He also joined some author groups such as the Association of Rhode Island Authors, and got a break when his mom met a woman from Publishers' Weekly at an associated book event.
That led to an interview in Publishers' Weekly, which combined with another interview in Boys' Life, generated a huge spike in sales and increased his Amazon rank from the 100,000 range to about 5,000.
Soon, HarperCollins and other publishers came calling. Fay Wolfe signed on for a three-book series called "The Elementia Chronicles," with HarperCollins. They took Quest for Justice off the market and republished a professionally edited version with a new cover.
The second book in the series, The New Order, is already in stores and the third book, Herobrine's Message, is scheduled for release in January.
Fay Wolfe has also made appearances at San Diego Comic-Con and Minecon, a convention dedicated to Minecraft in London.
He's learned a lot about publishing, including making sure journalists refer to his last name as Fay Wolfe, not Wolfe.
"I found out there is another author named Sean Wolfe who is actually an erotica writer," he says. "So I don't want the kids to be accidentally searching on the wrong name and find that."

Paula Duffy
Detective Duffy with Felix Santana, the owner of the building affected by the fire.
Detective Paula Duffy was driving along Haven Avenue in Cranston when she saw white smoke coming out of the top of a three-story house. It was June, so she thought it was odd and decided to investigate. Though she isn't a trained firefighter and typically works on animal cruelty cases, she pulled over and called dispatch to alert them as the smoke got darker and darker. She kicked the door open on the first floor, screaming "Get out, get out!" to the man and woman inside, who escaped with their baby and dog. She then ran to reach the second floor residents, where she was backed up by two more officers, Sergeant Okolowitcz and Officer Lang, who had arrived and helped evacuate another family and their dog. No one from the building was injured. The animal lover helped a Cranston firefighter revive one of the dogs and three weeks later, discovered one of the cats who everyone thought had died in the fire. Duffy also raised funds for the families and credits the firefighters as the true heroes of the day.
---
Brooke Merriam & Shannon Rozea
Known as "the School with a View," Guiteras Elementary School overlooks Silver Creek in Bristol. Landscape designer Brooke Merriam and landscape architect Shannon Rozea saw problems and possibility there. As moms, "we both were really passionate about getting kids in nature and teaching them to be environmental stewards," Merriam says. But they thought the asphalt playground was bleak, and were concerned about drainage problems that led to runoff into the creek. So they came up with a master plan and with the help of town officials, engineers and the Department of Environmental Management, they got about $500,000 in grants from the state and town of Bristol to fix the parking lot and add rain gardens and bioswales to collect and filter waste. Now they're raising money for an outdoor lab called Discovery Garden where kids can get their hands dirty as they learn.
---
Providence College 2014/2015 Hockey Team
Spectators across Rhode Island and around the nation were euphoric on April 11 when the Providence College hockey team came back from behind with an explosive third period, beating the first-place Boston University Terriers to clinch the NCAA championship for the first time. Coach Nate Leaman says the victory really sinks in when he's out in Rhode Island. "You see how the championships touch people and you hear where they were and how they celebrated," Leaman says. "It makes it awesome."