Edgy Midwestern Appeal at Milk Money
Worldly cuisine served up in speakeasy surroundings.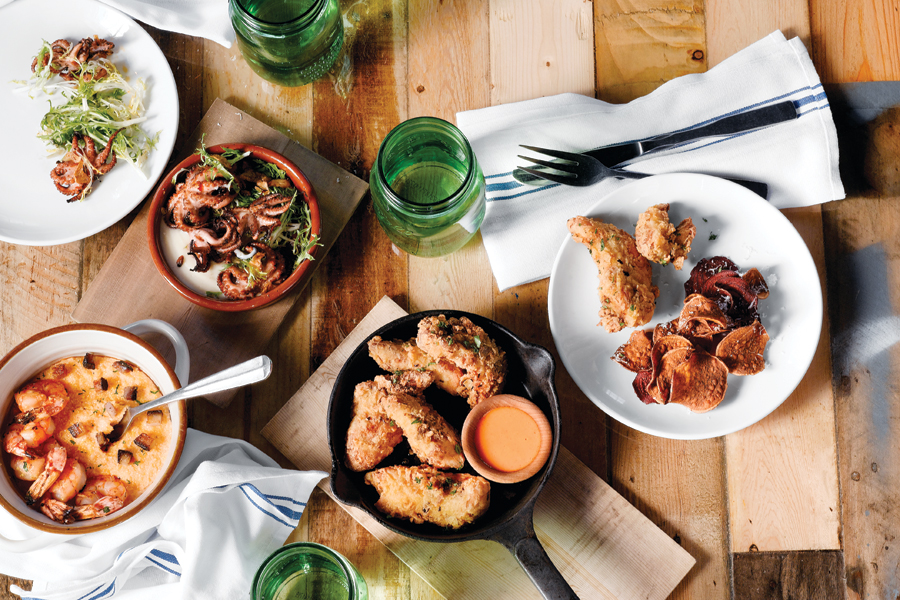 Milk Money 566 South Water St., Providence, 649-4667, milkmoneyri.com.
Open Mon.–Fri. for lunch, Mon.–Sat. for dinner, weekends for brunch. Reservations accepted. Wheelchair accessibility is doubtful as there are steps down. Some lot and street parking.
Cuisine An American sampler plate with Japanese flourishes.
Capacity Ninety-four including the bar.
Vibe A speakeasy in Iowa. Without the poetry.
Prices Small plates $6–$13; larger plates $13–$18; platters $22–$68; dessert $10.
Karen's picks Root vegetable chips, venison and chorizo empanadas, togarashi fried chicken, shrimp and grits, bag o' beignets.
Key 
 Fair 
 Good 
 Very Good 
 Excellent 
Half-star
This place reminds me of Europe," muses a man in Prada glasses and a cabled sweater. "Not in the appearance but in the sense of isolation. It's rare in America." The sentiment is downright surprising considering that Milk Money sits at ground zero of the 195 relocation site. Given the congestion from neighboring Al Forno and the foot traffic off of Wickenden Street, it's the last place you might expect to find any peace and quiet. Then again, Milk Money employs what only restaurants in large cities do: subterranean space. Car engines, social outbursts and natural disasters fall mute just a few feet below the pavement and, in this case, within the rustic wood-lined walls. The aesthetic is Midwestern charm with just enough retro appeal to conjure an episode of "Pickers": old soda crates line the wall, illuminated milk bottles hang above the bar, Victorian frames waiting for photographs are perched above diners' heads.
The approach to food, however, is more modern. Milk Money's menu eschews compartmentalized courses for an array of small plates and a handful of "platters" that feed family-style. Everything is a sampler, in single bites or several — but it's all tangentially connected to comfort food. Deviled eggs (topped with smoked trout), flatiron steak (with carrot puree), cheesy grits (rich with smoked cheddar) are half-truths made more resonant with a culinary sleight of hand. Chef Antonio Wormley has no intention of bringing guests back to the past but he is committed to blurring the lines.
Starters at Milk Money are, at heart, bar food that wanders onto tables: root vegetable chips ($6), oven-roasted olives ($6) and house-made cracker jack popcorn ($6) that actually tastes like a food rather than the cardboard version they sell in boxes. You could spend your evening noshing through snacks but Wormley pushes you to eat with more purpose.
Crispy pork slices (a bacon-belly hybrid) are the first indicator that there's a raging fire in the kitchen. Served liquid-hot and close to charred, the intensity of the meat is softened by a sweet cranberry marmalade and reinforced with some aggressively singed cauliflower ($12). Just when bacon was becoming boring, there's reason to invest in pig farms again.
Smoke plays a dominant role at Milk Money — and given the restaurant's sweet demeanor, it's comforting to know there's a gritty side as well. A pair of venison and chorizo empanadas ($12) come with smoked cilantro crema while a homey shrimp and grits — one of the best dishes on the menu — is tethered to the campfire with a hefty dose of smoked cheddar. Even the badass of the menu, a four-pound bone-in ribeye, has spent quality time over flames. The dish itself seems ill-suited for a grazing-style restaurant. Most dishes fall between ten and fifteen dollars and yet this anomalous cowboy tray — at $68 — seems to unite an eclectic array of people in culinary patriotism. "My arms shake every time I bring it out," says a slight and soft-spoken server. "But I've seen people destroy it."
Clearly the common thread lies somewhere in the restaurant's vibe as the crowd is simply too diverse to come from the same tribe. Gay, straight, college-aged, middle-aged, clean-shaven and power beards come in equal numbers, discussing everything from the amount of time it takes to get a full back piece ("I had the guy draw it up but I can't sit still that long") to the dwindling reliability of the BBC. In fact, the only thing that seems to tie this heterogeneous group together is a sincere allegiance to community-building. Perhaps the generosity consistently stays within the perimeter of a table. But the plates are passed around without exception and the experience is collective.

Root vegetable chips with parmesan, smoked sea salt.
There are some surprises. Scallops resting on a smooth sweet potato puree with small pools of grapefruit-infused butter ($16) come four to a plate with barely a garnish. But it's a refined single bite for a group, a simple study in how to do things well without superfluous adornment. Most dishes fall into that same category, familiar but intriguing along the fringes. Clams are served in saffron-dashi broth, catfish with collard greens and cornichon-chili aioli, and togarashi fried chicken nuggets ($13) with spiced butter and kimchee aioli. (If the goal with chicken nuggets was to lure in the kids, mission not accomplished; this version is an obsessively good beer food.) Even meatloaf ($16), packed with bacon and smoked gouda, gets a modernity marker with a celery root puree and a healthy dose of cippolini onions. The only miss in several dinners was a platter of buttermilk fried chicken smothered in a sauce so salty that it hurt to eat despite a masochistic urge to devour every honey-glazed biscuit on the plate.
If there's any broad bewilderment at Milk Money, it's that the bar is decidedly streamlined in favor of new distilleries. So much so that anyone older than twenty-five feels as if they got lost in a foreign land without a guidebook. After giving up on Grey Goose which was nowhere on the premises, a professorial-minded gentleman at the bar mustered the courage to go twenty-first century: "Maybe I'll just take a Knob Creek straight up." No dice. Still outdated. If the menu reaches every corner of life, the bar might still drink a little young. That's not to say there's no pleasure in a cherry marmalade-vodka cocktail served in a vintage-looking coupe glass. True, it tastes like fruit punch at a sorority party but that's balanced out by a lawless trace of 1970s scorpion bowls ordered with a fake ID.
The truth is that it feels really good to sit in this space, one that embraces so many varied slices of American life and a few just beyond. In the glow of filament bulbs and the shadow of some vinous plants, Milk Money is rich with memory, a basement terrarium that gives a little of where we've been (a massive piece of spicy carrot cake or a bag full of beignets, $10), only to suggest we go a little bit further (try a slice with its thick frosting of sweetened goat cheese and ricotta). Perhaps the greatest coup in building a restaurant is not in making the room feel new but, rather, making sure it feels lived in. And in that sense, Milk Money has already established itself.