Q-and-A With Good Night Lights Founder Steve Brosnihan
The cartoonist launched a campaign to light up the night for Hasbro Children's Hospital.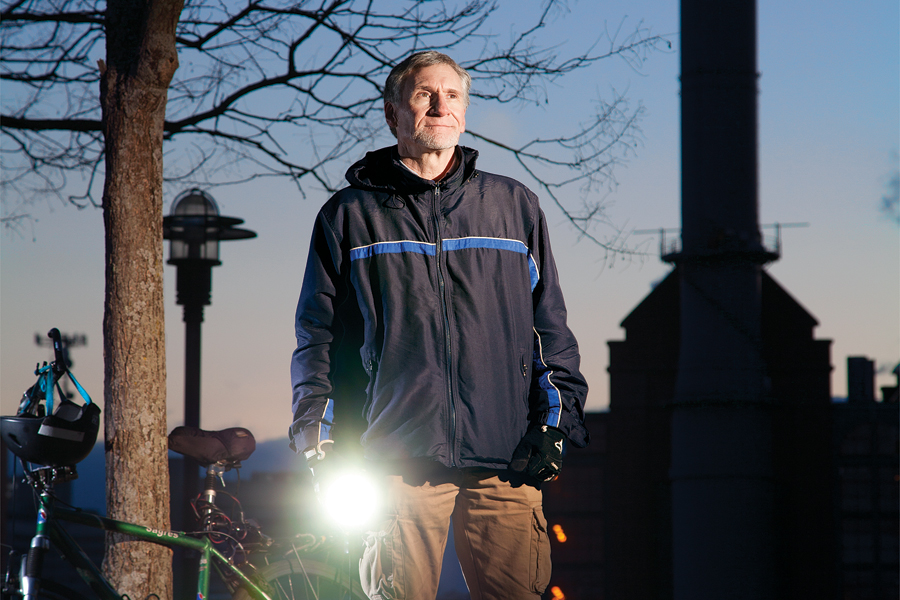 Just before 8:30 p.m. on a rainy night, sixteen-year-old Adam Barbosa from Portsmouth is confined to his bed with pancreatitis on the fifth floor of Hasbro Children's Hospital. His curtains are wide open to the cityscape. He glances at his watch and then out the windows in anticipation of something special that's about to happen.
Right as the clock ticks to half-past, the red lettered lights of the Hot Club sign begin to flicker on and off for a minute along with beams from flashlights and search lights on Providence Steamboat Company's tugboats. The Brown University Sciences Library and Tockwotten on the Waterfront get in on the lights show, and on two holidays, the Providence Biltmore has also flashed its sign. The flickers have been dubbed Good Night Lights and they signify syllables in the phrase: "Good Night, Hasbro." The children or their family members flash their own hospital room lights simultaneously in response.
Steve Brosnihan is the man behind the magic minute. He's a cartoonist from Bristol who has drawn with the patients and their families for twenty-six years to help get their minds off diagnoses for awhile. He'll draw and get to know hospitalized children and teens during twenty- to thirty-minute sessions, supported by grants disbursed through VSA Arts of Rhode Island. Brosnihan is also a member of the board of directors for the Tomorrow Fund for Children with Cancer, and many of his visits are with pediatric oncology patients who benefit from it. "I am not just teaching them how to draw. I want them laughing," he says. "It's more to make them feel happy for a little while."
At the end of his sessions, Brosnihan bikes from the hospital to his South Water Street bus stop. Six years ago, he told a young patient to look out the window toward the Hot Club at a certain time. As he approached his bus stop, he took out his high-powered Coast flashlight and flashed it from almost a half-mile away. The patient observed the signal from his room. It got the child so excited, Brosnihan began telling other kids to watch for the lights, too.
In December, Brosnihan approached the Hot Club to flash its sign daily at 8:30 p.m. The answer was a resounding yes with patrons now participating every night from the deck bearing their own flashlights. "It shows that people really do care about you out there and that they are really kind," says twelve-year-old Hannah Bardoussi of Warwick, a patient diagnosed with acute promyelocytic leukemia who remains at Hasbro for an extended stay and looks forward to seeing the lights.
Brosnihan's dream is to grow Good Night Lights by getting more participants involved. "Why wouldn't we do it every night, if we know kids are in the hospital every night?"