Q-and-A: Kiel James Patrick
The Kiel James Patrick jewelry, clothing and accessories brand evolved from humble beginnings to international success.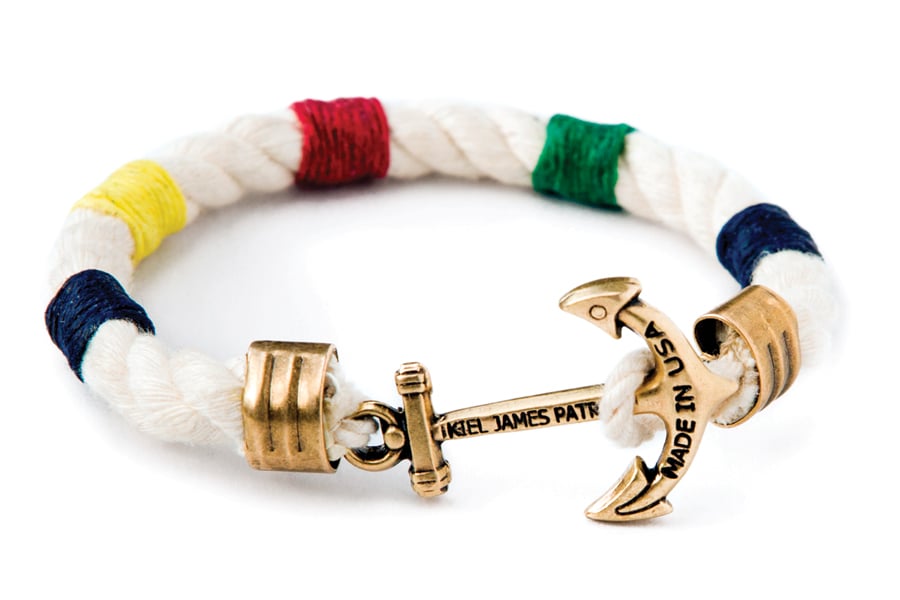 Kiel James Patrick and Sarah Vickers at Castle Hill Inn in Newport. Photo from Instagram @KJP.
Kiel James Patrick's popular Rhode Island-made brand, featuring those trademark anchor rope bracelets, has expanded into clothing, ties, shoes and other accessories. When sales of the bracelets began to surpass production capacity, Patrick and his future wife, Sarah Vickers, moved the business from Patrick's backyard to a factory and hired help. A former 1920's nightclub in Pawtucket is their home. The building is filled with Yankee charm; wooden beams, old model ships, taxidermy recovered from Elks' Lodges and historical JFK photos on display, plus an upstairs deck modeled after a ship. That's where their office – nicknamed Fort Cochicawick – exists. There's even a hammock for naptime and an orphan cat is their pet. KJP recently expanded into the downstairs auto body (once a former roller skating rink), doubling the factory's size. Eight hundred custom-built wooden cubbies line the wall downstairs, and soon they will hold thousands of KJP bracelets that'll be shipped all over the world. kieljamespatrick.com
Sarah Vickers and Kiel James Patrick in their office, Fort Cochicawick. Photo from Instagram @KJP.
How did the Kiel James Patrick business start?
It was in my backyard, eight years ago. Technically, it started when I was in high school at Hendricken. I was selling clothes out of the back of my Jeep to my colleagues and they wanted more of these crazy paid jackets or striped pants. It got to the point at Hendricken where we started going to school dressed like we were straight out of Caddy Shack. Then the school started cracking on the dress code. So I started making accessories kids could wear with their uniforms. That's when the bracelets and belts started. Then I met Sarah Vickers. Shortly after high school, Sarah and I started selling the bracelets. We made a couple hundred that we were going to sell all summer long and we ended up going to the Gaspee Days Arts and Crafts Festival, and we sold out in a day. We realized we could turn this into a business. It seemed like people really liked what we were designing.
How did you make the bracelets?
Using the lobster pots my parents had around the house. In my neighborhood growing up in Warwick, we lived on a cul de sac. Many of my neighbors were eighty-plus, so I used to rake their leaves and shovel their driveways. Instead of asking for compensation, I would ask if I could go into their attics and trade for old clothes and things like that. My parents called it my old junk collection in the basement. A section of our basement was filled with old typewriters, glass bottles and basically what you're seeing in our office. There's a lot of stuff here I collected from my childhood. That's where the fascination grew. I started going to antique stores and getting interested in old clothing from Brooks Brothers and Ralph Lauren and brands that were made in Rhode Island back in the day.
Photo from Instagram @KJP.
So now you've branched out into clothing. What do you sell?
We do shirts, dresses, bags, ties, bow ties. We're releasing a line of shoes, finally, in eight different colors and those are made up in Maine. We're really expanding the line this year.
KJP boat shoes. Photo from Instagram @KJP.
KJP shirts. Photo from Instagram @KJP.
And all of these items are made in the USA. Why is that so important to you and your business?
I want the people that you see in our marketing – who are the brand's identity – I want those people to also be the manufacturers. To me, there is something to be said for a brand that is living and breathing the people that you see. And it is. When customers get their packages, they will be getting a thank you from the kids that they follow on Instagram.
You've chosen not to go about the traditional way of advertising. You've really taken on social media as your form. Can you explain what forms you use other than Instagram?
It all started on Tumblr when I got a digital camera and I would take pictures that were interesting to me. I had taken a picture of one of my bracelets while tying up my L.L. Bean boots, and L.L. Bean picked it up in their feed. All of a sudden, we got tons and tons of traffic. This picture blew up online with thousands of notes. Through that, I understood the collaboration between other brands, and not looking at them as your competition, but working together. And L.L. Bean was a big one for me, because a lot of their products are still made in the USA. And it has that whole New England vibe that we know and love.
Are there other brands that you emulate?
Brooks Brothers is the oldest retailer in America, so I've always looked up to them. They've been around for more than 200 years. Ralph Lauren. I've always loved his aesthetic, branding and marketing and the clothing is unbelievable. I would like to recreate something like that but keep it a little bit smaller and American made.
I can't believe the people downstairs are actually making your products. I didn't realize that.
They are the people that you see. To date, I've made probably something like 7,500 products by hand, myself. As well as Sarah. Separately. Back in the day, when we were making them out of my house, we would get these giant orders coming in. There would be nights we'd be like, "We're not going to be able to get these orders out." It was just myself and Sarah and a few others doing all the production.
You've worked really hard to get to where you are. And now you're up to thirty-five employees. Full-time?
Not full-time. There's probably about twenty full-time, and about fifteen college kids. They are full-time in the summer or whenever we can get them.
Back to social media. You started with Tumblr and slowly built up from there?
As new social media platforms have come out, our fans have always followed us over to the next platform. For example, Snapchat is the new thing. So now I'll say on Instagram, check out my Snapchat. Within a day, we'll have 40,000 followers on Snapchat. They always seem to follow, which is great. It's a scary thing, because you don't want to invest all your time and energy into Facebook when Facebook is going to disappear like MySpace. And then Twitter disappears. The big thing is to make sure you have a following that loves the brand so much they're going to follow you onto the next platform.
It's smart of you to keep on top of those trends. No matter what starts up, you jump right in.
I have a little bit of an unfair advantage. We have such a youthful team. They are on their phones when they are not working. I always ask, "What are you looking at?" or "What are you doing?" They tell me, this is the next new thing. The youth is our mentor. I have explained that to big companies. They ask, "Who do we need to hire?" Honestly, you could hire a kid out of high school and they are going to know more than anyone else.
In terms of what you do on your Instagram feed, you've traveled to different places all over New England. Why is that such a huge part of your brand and what you've built here?
I think New England is intriguing to the outsider. Between the architecture, the deep American history and the coast. It's so intriguing to outsiders because there's so much in a small area, going up to the mountains of Maine and New Hampshire and coming down the coast of Newport and the islands of Nantucket and the Vineyard. I don't think there's another place on earth that really encapsulates classic American elegance like New England does. And people aren't that familiar with it. A lot of brands haven't portrayed New England. Everybody touches it a little bit, but we're digging deep here.
You grew up in Warwick?
My family is pretty much from Bristol, and I grew up in Warwick. Sarah grew up in Warwick as well.
How did you two meet?
I was shopping with one of my friends. She was shopping with one of her friends. We crossed paths. I stopped, and said to my friend, that was the girl I had seen two months ago. She had that classic beauty like Jackie O. I told my friend and he said, I know the girl she's with. I've been trying to go on a date with her. We ran up to them. Somehow a double-date ended up happening. My friend and the other girl did not hit it off, but Sarah and I have been inseparable ever since.
How often do you travel?
We don't have much of a schedule. Things come together so quick. When we went to Palm Beach, our friends were down there. Usually, we plan things about a month ahead, aside from our summer internship program, which has to have a little more structure to it. We try to keep our schedule as free as we can. We can work anywhere we travel. Everything is on your phone these days. My second office is my phone.
Can you tell me about Adventure Camp? Are you choosing candidates at this time?
We're doing an adventure school, called Camp Foxhawk. We're going to select six college students and two high school kids. Basically, we're going to teach them what we know in social media, the importance of social media, and then cover American manufacturing and photography, as well as learning about life here in New England. We ended up getting 2,500 applicants. Their resumes are unbelievable. Then it came down to twenty that we Skype interviewed, and it was the hardest decision we've ever had to make. I wish we could take on 100.
KJP Adventure School, Camp Foxhawk. Photo from Instagram @KJP.
The talent pool out there is ridiculous. How did you choose?
We look for people who are creative, outgoing, have a lot of charisma and are going to work well in a group. We looked at everyone that applied. We figured out who will work well together for eight weeks in the summer. Another big thing we do is make sure everything for these kids is paid for, between flights, housing and food. I don't want people to say, "we can't come on board because, financially, we can't do it." It's important because so many kids are super creative and sometimes creativity comes out of a struggle. We make it as easy as can be for them, so they can focus on what they want to learn at this internship.
Why do you call your office Fort Cochicawick?
This is my childhood. Between Camp Yawgoog and scouting and classic America. I used the name Cochicawick because there were little migration trails there. There's this one spot I used to go. It was way off the chart. It was a little pond area where I would go out for hours and just dream up my own little world. I went to Camp Yawgoog from ages five to eighteen and I found that little spot when I was seven or eight, and I return every year. I still do.
Fort Wetherill in Jamestown, where Moonrise Kingdom was filmed. Photo from Instagram @KJP.
What else should we know about KJP?
I completely skipped college. My parents were furious. I was certain I was going to start a business. I was already doing what I was doing in high school, selling clothes out of the back of my Jeep. I wanted to do that for a few years and figure it out. I thought I'd learn more. I jumped right in. One of the first people I started nagging was Stacie Browning who owns Pink Pineapple [in Newport]. I nagged her to no end. I said, you need to carry our line and can you teach me what you know? Then, after finally seeing our designs and how they took off, she was my first mentor. She taught me the ins and outs of sales reps and line sheets, and things you would learn in school. We've had a lot of mentors along the way like that. That's why it's so important to me and Sarah that if there are kids along the way who are looking to create a career, we want to help them in any way we can. It's so important to be a teacher. And to give away that information for free, no strings attached. We just want you to do well so our country does well.
KJP embroidered belts. Photo from Instagram @KJP.
So now people can buy your goods in local and national boutiques and online. Can you explain how many storefronts you are in now?
Sarah: We're in all the Brooks Brothers stores now, and on our own, I think about 350 boutiques, and it's worldwide, too. Someone was just in Rome and she saw one of our bracelets in one of the stores there.
Why do you want to keep your business in Rhode Island?
Sarah: We have roots here and we want to stay here. We love Rhode Island and even contributing to the jewelry and fashion industry in Rhode Island is really important to us. There's love in the products and I feel like the people who live and work here are passionate. If you stay here, you're passionate about Rhode Island.
Squantum Club in East Providence. Photo from Instagram @KJP.
Kiel: And it's so great to see Rhode Islanders making it. It's a company with a heart.
And like the preppy aesthetic; the more worn it gets, the better?
Our consumer appreciates that. Very rarely do we get a bracelet from a customer who says it's too sun-faded. They love it. They get it.
Do your materials come from the United States as well?
All the rope is custom made here. For neckties, it was the biggest struggle because we looked all over America to find a silk loom, and we came to the realization that they don't make silk in the United States. Wherever we can, we will get our materials from the United States. For silk, for instance, they make it in London, Italy and China. Madras is made in India. It's true to its roots. It's true to the origin of where it's always been manufactured. We're cool with that as long as we're sourcing the best quality materials we can and then constructing everything we can in America. All the brass, metalwork and leather is made here. We go right over to Fall River or Providence and watch it being manufactured.
Ocean House in Westerly. Photo from Instagram @KJP.
You've recently expanded downstairs?
We're doubling the space. We need it. We're running out of room. I think at some point we're going to outgrow this building and need another building to house our production. That would be my dream.
What do you hope for the future?
We're not looking to be the next Ralph Lauren, we're looking to be a Rhode Island company that revives American made. Our priority isn't growing large, it's growing quality.