Oliver! is Impressively Produced
Theater buffs won't want to miss Trinity Rep's take on this familiar tale.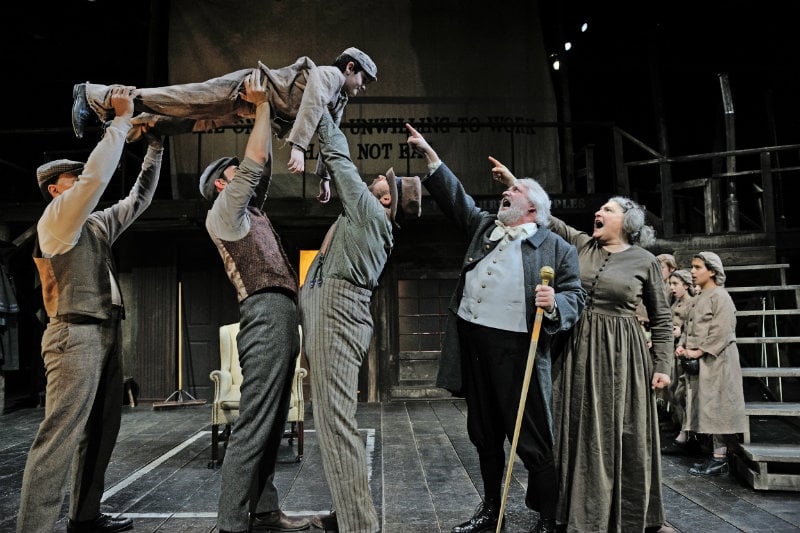 Forget the syrupy, just-for-kids musical you caught off Broadway. Trinity Repertory Company's Oliver!, directed and choreographed by husband-wife team Richard and Sharon Jenkins (yes, that Richard Jenkins), is campy yet covered in soot — just the way Dickens would want it.
Trinity Rep is staging Lionel Bart's award-winning adaptation and, at nearly sixty years old, the plot still resonates. You know the story (and likely the tunes, too): An orphan boy is tossed from a parochial workhouse to an undertaker's home to London's dangerous streets to, finally, a place of real comfort. But even if you've seen it, read it, heck, acted in it, you won't want to miss Trinity's take on a familiar tale, in which the actors are tailor-fit for their roles and the musical numbers are impressively produced.
Check out our five favorite things about Oliver!, onstage through March 30:
1. The look.
Same author, same set. Eugene Lee's famously minimalist stage design for A Christmas Carol gets recycled in Oliver!. Combine that with Brian Lilienthal's gritty lighting and William Lane's even grittier costumes — except, notably, Stephen Thorne's top hat; he plays Oliver's wealthy grandfather — and you'll feel like you've been plunked down in Victorian England to pick a pocket or two.
2. The kids.
They're cute, that's a given. But the children's ensemble in Oliver! is also incredibly talented, nailing each song and intricate dance number with precision and color. The casting here was flawless, too: Phineas Peters has the temperament of a roaring cub, perfect for his role as Oliver. It's worth mentioning that Peters's musical numbers were sweetly rough around the edges, and they worked — a tough feat for a young actor. He also got tossed around quite a bit by his fellow cast members, and was a very convincing rag doll. Noah Parets, however, is a wonderful singer and dancer — he starred in the Billy Elliot national tour, which touched down in forty cities across the United States and Canada — and is great as pickpocket pro and charming scamp, Artful Dodger.
3. Rachael Warren as Nancy.
After a year with the Oregon Shakespeare Festival, Warren makes a stunning return to the Trinity Rep stage. Her role as Nancy, a child of the streets who's all grown up, came in close second for the breakout performance of the night (a kid in a newsboy cap is tough to beat). She was the picture of drunken revelry in ensemble tune "Oom-Pah-Pah," a clear audience favorite. But Warren's haunting solo in the second act, "As Long as He Needs Me," displays her character's vulnerability at the hand of her abusive lover, Bill Sikes, played by a gruff Timothy John Smith. Warren dove headfirst into this role, and it pays off. Her vocals are powerful, her acting nuanced; I'd see Trinity's Oliver! again and again, just to witness Warren's remarkable take on one of Dickens's most complex female characters.
4. Stephen Berenson as Fagin.
I loved Berenson as Shylock in Trinity Rep's production of The Merchant of Venice (read my review here), and his portrayal of Fagin is similarly multifaceted. Unlike Dickens's original antagonist, however, this version of Fagin is nearly harmless, especially for a guy who corrals street children and teaches them to pick pockets in exchange for housing. Berenson's solo number "Reviewing the Situation" in the second act is well done and whimsical yet, like Warren's solo, adds another layer to his character.
5. The adult humor.
I may be off base here, but I'd always thought Oliver! was a kid-friendly show. You'd probably want to leave the children at home for this one. Actors Lauren Gemelli and Erick Pinnick are hilarious as the married undertakers, groping each other with abandon (over a powdered corpse; with a small child standing between them), but Trinity resident actor Anne Scurria steals the inappropriate spotlight when, as the workhouse matron, she straddles her boss, the parish beadle played by Tom Gleadow — and gets stuck. The pair eventually wed, and Scurria shines as a weepy, manipulative bride, too.
For more information or to purchase tickets, call 401-351-4242 or visit trinityrep.com.