Movie Stills: 5 Cinematic Spots in Rhode Island
View your state from a different perspective — and see why Wes Anderson, Woody Allen and other big names love the Ocean State — on this tour de film.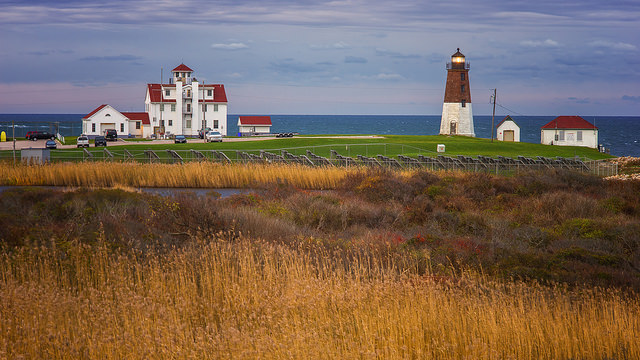 1. Moonrise Kingdom (2012)
Where to go: Fort Wetherill State Park, Jamestown; Conanicut Light, Jamestown.
The dreamy, quirky Wes Anderson comedy was filmed primarily in Jamestown, with locations including the Trinity Episcopal Church in Newport and the Conanicut Light in Jamestown. Fort Wetherill was the site of the iconic beach scene, which drew the director's eye for being secluded and other-worldly. Plan a day to visit with a picnic lunch and take a hike along the trails. And maybe do a little dance on the beach (in your swimsuit or clothed) to Francoise Hardy for the full effect.
2. Infinitely Polar Bear (2014)
Where to go: Wayland Square, Providence.
Maya Forbes's autobiographical drama about Cam Stuart, a father with manic-depression, casts modern-day Providence disguised as her native Cambridge in the mid-'70s. Watch Zoe Saldana and Mark Ruffalo (who was nominated for a Golden Globe for the role) stroll the streets of Wayland Square. The quaint streets recall an earlier time and provide the perfect backdrop for Stuart's self-exploration. Look out for shots of Benefit Street, Goddard Memorial Park and Lincoln Woods, too.
3. Irrational Man (2015)
Where to go: Classic Cafe (865 Westminster St., Providence).
You could take a tour of Providence — especially the East Side — to get a sense of this film. You'll recognize the Federal House downtown and Lippitt Park and Chez Pascal on Hope Street. Salve Regina University in Newport played the Braylin College campus, and there are scenes shot in Pawtucket, Newport and Jamestown. But the Classic Cafe stands out most notably for its simplicity and charm (hence the name, of course), which we think embodies the best of Rhode Island. Other worthy mentions? The Providence Athenaeum (251 Benefit St.) and Loie Fuller's (1455 Westminster St., Providence).
4. Dan in Real Life (2007)
Where to go: Point Judith Lighthouse (1470 Ocean Rd, Narragansett).
Most know Steve Carrell in his comedic roles — from Michael Scott in "The Office" to The Forty-Year-Old Virgin — so his role as widower and parenting advice columnist in Dan in Real Life might come as a (pleasant) surprise. It's a heartwarming film about love and family and includes some equally stunning shots of Rhode Island, including the Point Judith Lighthouse, which makes its way into the film as a metaphor for love.
5. The Discovery (2017)
Where to go: Aquidneck Island.
Newport was abuzz with celebrity sightings when Jason Segel and Rooney Mara hit the streets for the filing of the sci-fi romance The Discovery, set to premiere on Netflix then hit select theaters in 2017. Robert Redford, not a stranger to filming in Newport, joins the duo as Segel's father in the film. Co-producer Erika Hampson (also the co-producer of Infinitely Polar Bear) lets her Rhode Island love show at scenic locations in Newport, Middletown and Providence.
Bonus: The Great Gatsby (1974)
Where to go: Rosecliff Mansion (548 Bellevue Ave., Newport).
Earlier this year, Robert Redford was back in Newport, but who could forget his performance as Jay Gatsby himself in the 1974 film version of The Great Gatsby? Newport served as the East Egg of Long Island in the roaring '20s. Long Island has changed since the great American novel was written, but Newport has retained its charm. Modeled after the summer retreat of Versailles, Rosecliff Mansion is the end-all of the glamourous mansions of Newport. Make a day of it and tour Marble House, which hosts the grand ballroom where Daisy and Gatsby share their first dance.
Fort Wetherill via Wikimedia. Point Judith Lighthouse by Royston Kane, via Flickr. UPS man Eric Glaude's selfie with Jason Segel in Newport. Rodecliff via newportmansions.org.