Jason Segel and Stars Film The Discovery in Newport
The sci-fi love story stars Segel, Robert Redford and Rooney Mara and will be in production through March and April.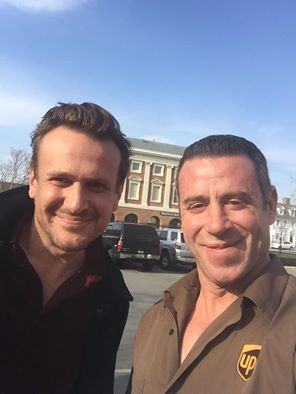 Newport, Rhode Island, is like a little Hollywood right now with the production of The Discovery happening at various locations throughout March and April. Twitter and Facebook are abuzz with sightings of Jason Segel on the street and shopping at CVS (hey, everyone needs toothpaste…).
Segel has been taking time to pose for photos with fans in Newport. One of those fans, Eric Glaude, a United Parcel Service delivery man from North Providence, spotted Segel Wednesday afternoon in the parking lot on Long Wharf while he was inside his UPS truck. Glaude says, Segal walked right in front of his truck, so he yelled out, "Hey man, wanna take a selfie with the UPS guy?" Segel obliged with a smile.
The Discovery is a sci-fi love story set in a world where the existence of the afterlife is scientifically proven. Robert Redford is back in Rhode Island playing the scientist who makes the discovery, while Rooney Mara plays the woman who falls in love with his son. Redford's son is played by the charming Segel. Elvis Presley's granddaughter, Riley Keough, also stars in the film as a laboratory scientist.
The film crew plans to start principal photography shortly and will be in production throughout the month of April, says Steven Feinberg, executive director of the Rhode Island Film and TV Office. Filming locations include Newport, Middletown and Providence. "We are extremely excited about this new Rhode Island film as it provides many job opportunities for our talented crew base while also injecting millions of dollars into our economy via a variety of Rhode Island qualified expenditures such as purchases and rentals," says Feinberg in a follow-up email.
Charlie McDowell directs alongside writer Justin Lader, whom he worked with on the film The One I Love. Rhody native Erika Hampson is co-producing the film, the third movie she's worked on in Rhode Island, including Infinitely Polar Bear with Mark Ruffalo and Zoe Saldana, and Measure of a Man starring Donald Sutherland.
Redford previously filmed in Newport at Marble House and Rosecliff while starring in The Great Gatsby in 1974, which won two Academy Awards for Best Costume Design and Best Music. You may also know him for founding Sundance and for appearing in the movies Butch Cassidy and the Sundance Kid, All the President's Men, The Sting, The Natural and The Horse Whisperer, among many others. Most fans know Segel from "How I Met Your Mother," Forgetting Sarah Marshall, Knocked Up and The Muppets, while Mara is famous for her roles in The Girl With the Dragon Tattoo and Carol.
Rhode Island is thrilled to bring the film industry here to shine light on the beauty of the landscape while giving a little boost to the economy. Said Governor Gina Raimondo in a press release: "With our unique locations in close proximity and an organized talent pool of local artists and professional technicians, Rhode Island is the perfect place to make a successful movie. I am pleased that many small businesses will be impacted by this film. This is the type of positive energy that keeps our economy moving forward."
Feinberg and his team have worked hard scouting locations and assisting the production. "We look forward to helping Charlie [McDowell] secure his vision and supporting the dedicated crew of top-notch, professionals so they may maximize their potential…" says Feinberg in a press statement. "Moreover, we are excited to warmly welcome the esteemed film icon, Mr. Redford, back to Rhode Island after so many years. It will be honor for us to greet him once again."
*This blog was updated from an earlier version.