How to Grow Your Own Oysters at Home
If you meet the requirements for this dockside recreational aquaculture program, you could be eating your own bivalves by next fall.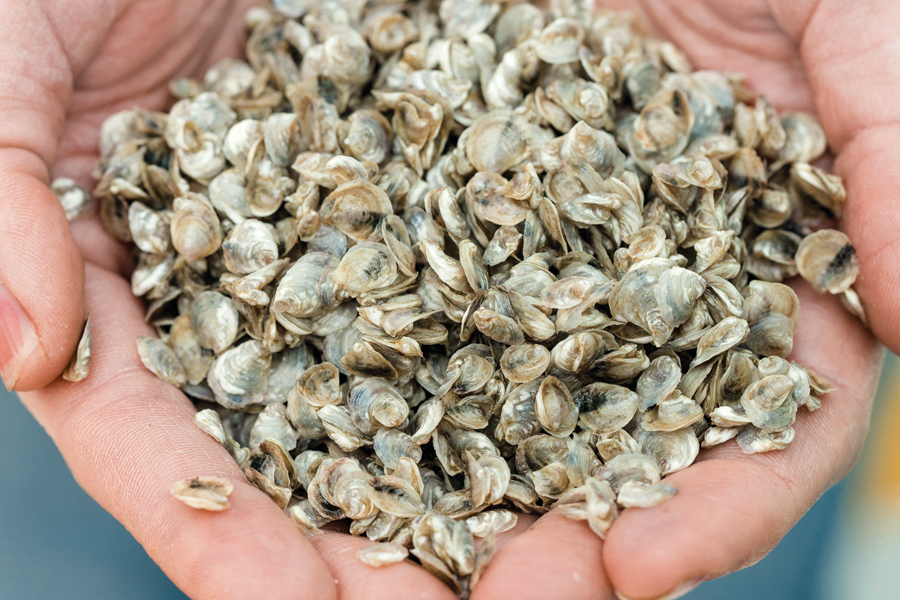 You're craving oysters. Now imagine walking down to your own dock and extracting your own homegrown bivalves from the bay, just as you would go to your garden and pluck the freshest vegetables. It's possible thanks to associate professor of marine biology Dale Leavitt at Roger Williams University, who is leading a Dockside aquaculture program that teaches local residents with access to waterfront property and CRMC approved docks how to cultivate their own oysters for personal consumption.
The statewide aquaculture working group helped the university develop the recreational aquaculture program. "Basically, it allows people to maintain their own crop of oysters, if they meet certain criteria, and they get permitted to grow a small amount of oysters only for their own personal consumption," says Leavitt.
Participants are required to take a series of classes taught by Leavitt at Roger Williams University, during which they will learn how to care for the oysters and guard against predation and disease. Oyster lovers pay a donation that finances equipment, oyster seed and the classes, and the proceeds from the funds help support the university's Luther H. Blount shellfish Hatchery and oyster restoration programs. "We charge $2,500 for the package. Five hundred dollars pays for seed and equipment. $2,000 is a direct donation to our restoration program," says Leavitt. "We give you 2,000 baby oysters and then we come out and help you set it up and show you how to do it."
The program usually begins in late-July or early-August with classes taking place on two to three Saturday mornings. After the courses are completed, Leavitt collects information about personal docks and locations and helps interested parties put together applications for permits that are sent into the RI Coastal Resources Management Council (CRMC) for approval. "They have to have a CRMC-certified dock. And it has to be in approved waters," says Leavitt. "The state classifies all of our waters based on the shellfish harvest and there is a webpage with a map with all of the areas of approval."
Permit holders are given 2,000 one-inch oysters in the fall, and by late-summer or early fall of the next year, they could potentially be eating those oysters. Last year, five different families took part in the dockside aquaculture program, including one family that had six different people involved in the cultivating.
The only work required once the oysters go into the water, is to make sure the mesh bags, where the baby oysters are growing, are kept clean. "They have to go in there and scrub them of all the fouling organisms once in awhile," says Leavitt. "You get all this other stuff that grows on there and it'll block the mesh on the bag preventing the flow of water to the oysters. They need that water flow to supply the food. You can stunt them if you don't take care of them properly."
Mother Nature takes care of everything else, including supplying food. "All that phytoplankton the oysters are filtering out is a direct result of us polluting our waters with nitrogen," says Leavitt. "While [participants] are growing oysters to eat, they are also helping to clean up the bay."