Checking In on the Chief Innovation Officers
What ideas are they spurring at the city and state level?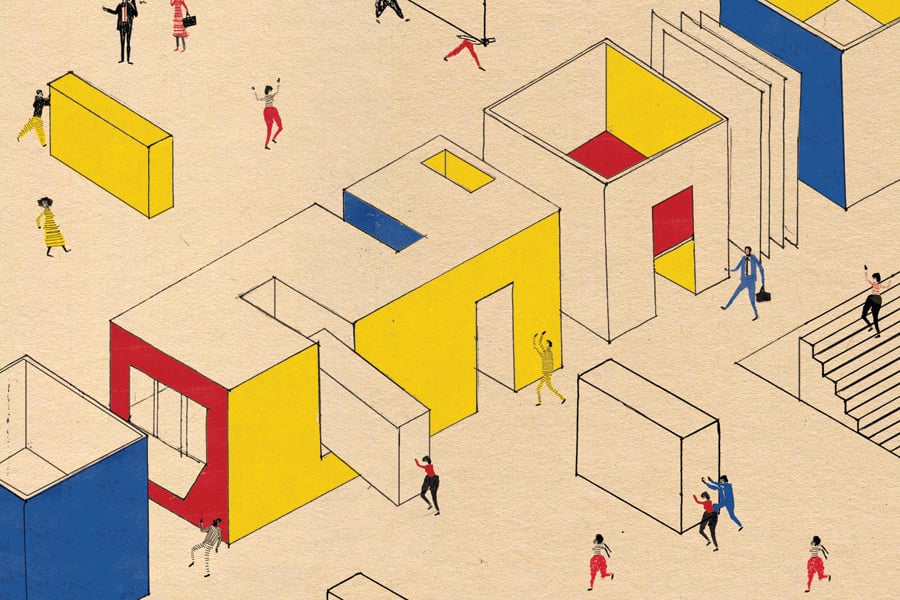 Among Monica DiDonato's weekly duties as an administrative assistant in the city of Providence's Department of Inspections and Standards was sending official correspondence to the owners of abandoned properties. Though no one was there to receive them, each boarding notice was sent by regular and certified mail, which provides the sender proof of mailing and verification that it was received. Certified mail is at least seven times the price of first-class postage, and it didn't make much sense to DiDonato. But that was the way the city had done it, so that is what she did.
In January 2015, Mayor Jorge Elorza appointed the city's first chief innovation officer. And Nicole Pollock wasn't much interested in those sorts of city traditions. Her charge was to challenge every employee to do their jobs better. Pollock had worked as a special projects manager at the Department of Environmental Management (DEM), where she was trained in Lean — a manufacturing management approach focusing on reducing waste and increasing efficiency. At DEM, that translated into streamlining the brownfields permitting process. In Providence, Pollock spent the first year training team leaders and frontline staff.
After one of Pollock's training sessions in November, each employee had to come up with one suggestion to make their jobs more efficient. DiDonato had an idea: stop sending certified mail to addresses with no occupants. Her proposal went up the chain and it turned out that the city used certified mail in lots of unnecessary instances — at great expense. The city switched to first-class mail and saved itself an estimated $40,000 annually.
"I was pretty thrilled," says DiDonato, who worked her way into a clerk's job after stints as a crossing guard and a meter maid. "You make a suggestion and it sits on someone's desk and nothing develops. But they listened, they thought about it, they ran with it, and it's saving money."
Innovation is the new coin of the realm, well-worn and frequently proffered as the all-purpose deposit against any operational deficit. In government, it can mean anything from data-mining to finding which derelict properties are likely targets of arson to the foundation of an economic development platform.
The new standard-bearers of change are chief innovation officers — a squishy-sounding title with a varied portfolio that grew out of the corporate realm. But administrations that have employed CIOs say they are seeing results in better, cheaper service to taxpayers and more informed decision-making.
"Employees tell me, 'I've worked for City Hall for years and no one has ever asked me, what do I think? What ideas do I have?' " says Elorza. "We're engaging them in the process and we are already seeing great results."
Rhode Island now has two CIOs. In January, Governor Gina Raimondo appointed South Kingstown native Richard Culatta to be the state's first CIO. Culatta is a member of her cabinet, but with an office of one at Rhode Island College (RIC) and a $210,000 annual salary and benefits footed by the RIC Foundation.
Culatta's broad job description includes making government more transparent, accessible and efficient in hopes of transforming Rhode Island into "an innovation hub to attract business and research," he says. He appears suited to the task. A senior adviser to former United States Secretary of Education Arne Duncan and director of educational technology, Culatta was known as a serial innovator. He spent his first weeks on the job listening to RIC faculty and students, school superintendents, state department heads and citizens.
"The best solutions come from the people closest to the problems," he says.
Culatta has outlined a few goals: ensuring that the state's students are well educated in the computer skills necessary to thrive in the digital workforce, making it easier for citizens to engage government and creating partnerships with the state's higher education institutions to improve government services and the economy.
He sketched the future in expansive rhetoric: "new tools," "a new playbook," "innovation cohorts" and "minimally viable products."
"Often times, the government tries to take on a massive system change, and it can take ten years to make it happen," he says. "Why not take a small piece, get it done quickly, and based on citizens' feedback, expand the scope?"
Not everyone has welcomed the innovative terms of Culatta's employment. House Speaker Nicholas Mattiello said the arrangement with RIC made him "uncomfortable." A RIC faculty union represented by the American Federation of Teachers contested its value to the college. Providence Senator Paul Jabour submitted legislation to require the governor to create a chief innovation officer by statute, with the appointment subject to Senate approval.
RIC Foundation Associate Vice President of Development and External Relations Edwin Pacheco is undaunted.
"When you embark on new, unprecedented things, people are going to ask questions," he says. "But the board of the foundation and the college are excited about the opportunity. This relationship taps into talent we have and, going forward, gives us the ability to raise money to support the work of the innovation office."
The role of chief innovation officer was born in the business world. Fearing that small and nimbler startups could disrupt their business, large corporations, with their bureaucracies and calcified operations, created the position, explains Richard Angus, director of the Innovation Enterprise, which hosts an annual summit for chief innovation officers.
"In a corporate setting, the chief innovation officer's role is to lead and evangelize for a spirit and culture of change," Angus says.
The concept migrated to government in 2010, with the creation of the Office of New Urban Mechanics in Boston. Nationwide, there are only a handful of chief innovation officers — around twenty out of more than 39,000 governments. They are mostly quartered at the municipal level. Besides Rhode Island, Colorado, Massachusetts and Maryland have or have had the position at the state level.
Professor Stephen Goldsmith, of Harvard's Ash Center for Democratic Governance and Innovation, predicts that in ten years, CIOs "will be pervasive and the norm."
"The demands on government are exceeding the available resources to accomplish public goals. How can we become more effective and where can we be using data to unlock innovation?" Goldsmith says.
The responsibilities, the goals, the structure and the missions of government innovators-in-chief differ by locale. In Pittsburgh, for example, the offices of information technology, sustainability and data analytics are under the chief innovation officer's umbrella. CIO Debra Lam has been working on "nurturing a cultural change" that has shifted city employees' approach to technology, and saved staff time and made government citizen-friendly.
The Colorado Innovation Network (COIN) is an economic development initiative. Its chairmanship is voluntary, its office is within the state's economic development department, and its funding is entirely private.
Executive Director Anna Ewing says that COIN is a catalyst, "connecting to the critical components of an innovation ecosystem, with government being a key element but just one element."
In Providence, Pollock brought in Amica Insurance to teach good customer service practices. She is also working on using technology to improve the accessibility of data — residents can now access the city budget online — and on creating partnerships with universities and others to explore innovations that will benefit city operations, such as using engineering practices that reduce public works expenditures.
"A lot of the things we seeded in the first year will bloom in 2016," Pollock says.
Giving all employees an opportunity to contribute, being pleasant and helpful to residents, making operations more effective and efficient — these are innovations in government. Who knew?