Learn it to Earn it at PPAC
The program gives Central Falls High School Students the chance to see Broadway musicals.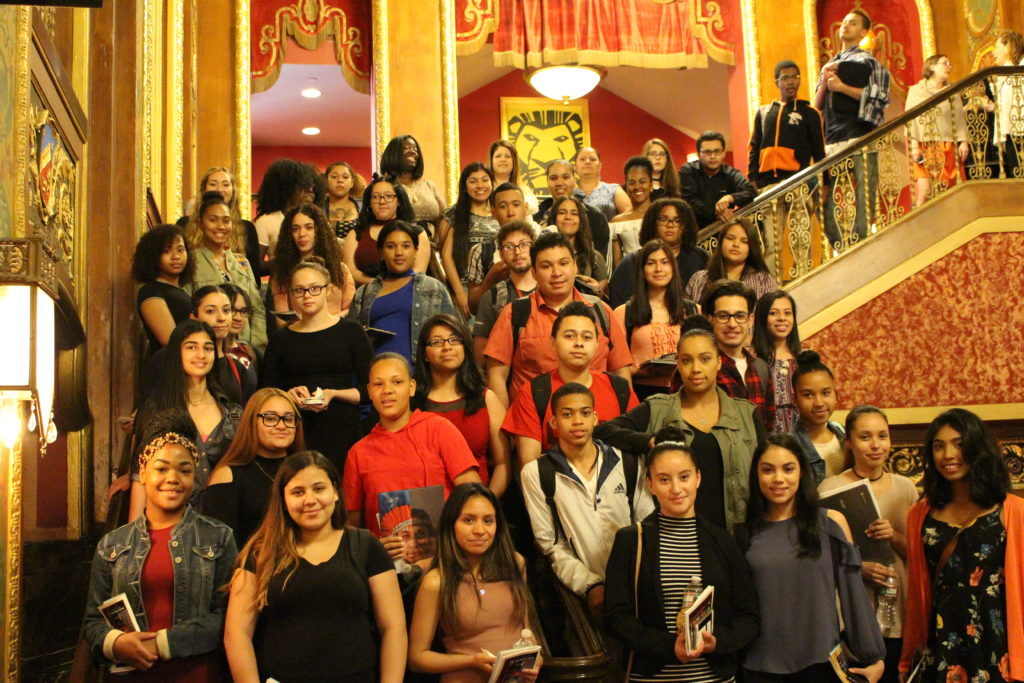 Just a few stories above a long line of eager play-goers, more than fifty Central Falls High School students take a break from their regularly-scheduled cafeteria lunches to enjoy a hearty spread of comfort food in one of the Providence Performing Arts Center's intimate banquet rooms. Soon they will make their way down the red carpeted steps and into the auditorium to find their front row seats.
The students, a majority of whom are seniors, are here thanks to the Learn It to It program, a joint endeavor by PPAC and Rhode Island Monthly. For the past five years, Rhode Island Monthly's annual Best of Rhode Island Party, held each July, has set aside some of the proceeds to give inner city kids the opportunity to see a Broadway Show in person. The funds cover not only the students' meal and admission, but their transportation as well.
"A lot of them have never even been to the theatre before," a chaperoning parent tells me while the pizza slices are being doled out. "So the kids really get a kick out of it."
Over the years, students have been privy to additional perks like behind-the-scenes tours and Q and A sessions with the actors, and have seen everything from the Lion King to Peter Pan. When they went to see the Sound of Music last year, Deloris Grant, drama teacher at Central Falls High School and coordinator of today's trip, says that she and the students even prepared a song for the cast as a thank you.
"We sang 'Do-Re-Mi' – it was so much fun!" she says with a laugh. "I still can't believe I got every single child to actually learn that song."
This year there is no singing involved, in part, Grant says, because neither she nor the students yet know the songs from today's production, Matilda the Musical.
"A lot of them are familiar with the story of Matilda, but most of them don't know the musical," she says. "At least I know I don't… but I'm looking forward to it!"
And she's not the only one. One girl tells her friend that Matilda was one of her favorite films growing up, and that she used to pretend that she had powers too.
But even if the other students aren't as fixated on the show itself, it's clear that they are happy to be out of the classroom; They're taking selfies, laughing between bites of mac n' cheese and chatting about their after-school plans on this gorgeous, sunny day. When the PPAC employees come around to pass out the show's programs, many of them flip through the leaflets to learn more about the cast and plot.
"The only thing I can say is, I hope we can do this forever," says Grant as she starts to pack up. "I look forward to coming here every single year. I really do. And with today's production, especially, I think it's going to be really magical for them."
To ensure that her wish comes true and to help this program flourish even further, you can get your ticket for this year's Best of Rhode Island Party here.
Matilda the Musical is playing at PPAC now through May 21.You can read our Q and A with the three actresses who portray Matilda in the musical here. To order tickets, visit or call the PPAC box office at 401-421-2787 or order online here.