8 Ways to Enjoy the Volvo Ocean Race in Newport
Stop by the Race Village at Fort Adams State Park in Newport now through May 17 to take advantage of fun events planned for the whole family.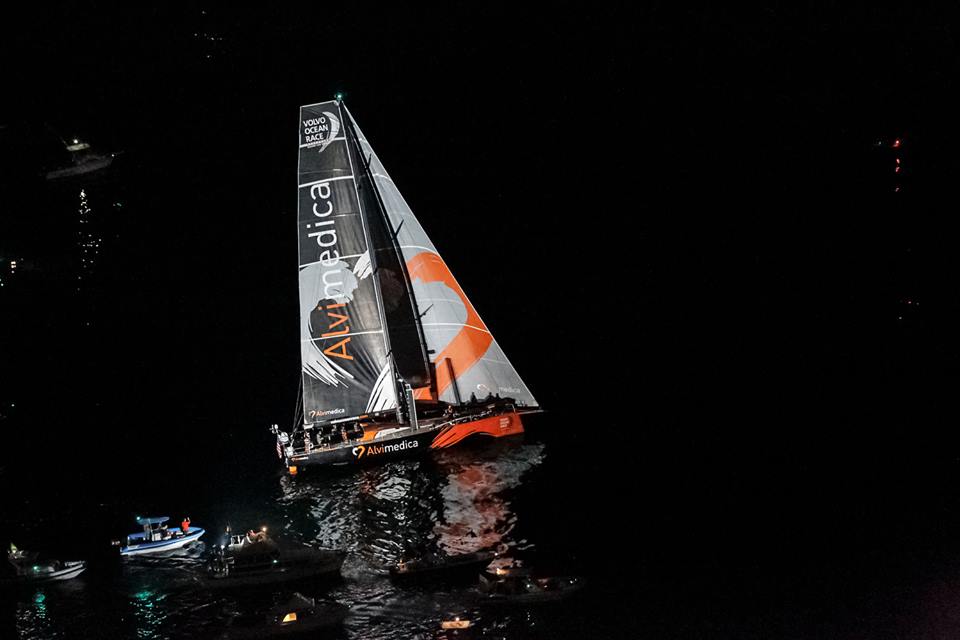 The Volvo Ocean Race teams arrived in Newport last night and early this morning, completing Leg Six of their journey. The Americans in the race, Team Alvimedica, placed fifth amongst the six teams, and Team SCA is expected to arrive this afternoon. It took seventeen days and fourteen hours to complete the leg from Brazil. Late last night and early this morning, crowds patiently waited at Fort Adams State Park while the boats sailed into port. Now that they're here, let the party begin.
There is a full schedule of events planned from now through May 17, when the boats will depart for the next leg of the race to Lisbon, Portugal. Admission to the race village is free, and it's open every day from 11 a.m. to 7 p.m., but there will be extended hours from May 14 to 17. There is parking at Fort Adams (free through May 8, then $10 from May 9 to 13 and $20 from May 14 to 17). You can also park downtown and ride your bike. There is a cycle lock area, just be sure to bring your own lock. Got a dingy? No problem. Boats less than fifteen feet can tie up for three hours at the Admiral's Pier, south side (Sail Newport hoist docks at south side designated area). Now that you've got all the details, here are eight ways to partake in all the action:
1. Free Sailing: During the race village hours, Sail Newport will offer Newport Harbor tours from 11 a.m. to 3 p.m. for all ages. Experienced skippers and life jackets will be provided for all onboard excursions. You might even learn how to sail away on a J/22.
The Volvo Ocean Race Village at Fort Adams State Park.
2. Test Your Knowledge: Stop by to learn about life at sea. Quiz shows, called "Another Day at the Office," are scheduled every day at different times. The audience is broken into seven teams and participants are quizzed about the race and life on board the boats, and they will also take on physical challenges.
3. Dock Parties: Several dock parties will take place on specific dates from 4 to 7 p.m. The parties are located near the Heineken Docks, where alcoholic beverages are available. Heineken, Mt. Gay rum and Moet will be on site, but only inside the bar areas that will be clearly marked. You must have an ID with you to order drinks. Local country band the Honky Tonk Nights is jamming out on Friday, May 8. On Wed., May 13, listen to funky jazz from the Hammond Boys featuring Dan Moretti. On Fri., May 15, sway to blues and R and B from the Tim Taylor Band, and on Sat., May 16, rock out to the band Comanchero.
4. Children's Activities: Sat., May 9, is a great day to bring the kids as youth sailing teams will be competing in the Sail Newport Junior Regatta and you can watch all the action from Fort Adams. There will be family-friendly activities on the parade field, and the Ocean Exploration Zone opens for the first time, featuring twenty interactive exhibits. On May 16 and 17, inside the fort, there will be zip lines, a climbing wall, a giant Jenga game, paddle boats and an obstacle course for little feet and an interactive mural.
5. Live Concerts: On Sat. May 9, attend the Heineken Reggae Rally. Doors open at 6 p.m. for John Brown's Body (8:30 p.m.) headlining the event. Also performing will be the Ravers (6 p.m.) and Mighty Mystic (7:15 p.m.). On Thurs., May 14, attend the Magenta Music Night Concert, featuring live performances from NBC's "The Voice" finalists: Rhode Island's own Sarah Potenza and Anita Antoinette and special guest Emma Joy Galvin. Gates open at 6 p.m. General admission tickets to the event will cost $25 in advance and $35 on the day of the concert. Get tickets through newportwaterfrontevents.com, ticketmaster.com or by telephone at 1-800-745-3000. Tickets may also be purchased at Newport Yachting Center Office, 4 Commercial Wharf on the ground level. Check newportwaterfrontevents.com for box office hours or call Newport Waterfront Events at 1-888-900-8640.
6. Watch Sailing: Watch several Pro-Am sailing events on Thurs., Fri. and Sat. May 14, 15 and 16. Then on Sun., May 17, from 10 a.m. to 12:30 p.m., watch a parade of America's Cup 12 Meter Class yachts to celebrate the tradition of yacht racing in Newport. For tickets on board during the parade, call America's Cup Charters at 401-849-5868 or email info@AmericasCupCharters.com.
7. Watch a Documentary: NewportFILM is showing a free documentary on May 13. Be present for the East Coast premiere of The Search for Freedom at 8:15 p.m. (sunset) at Fort Adams. The film tells the story of a cultural revolution grounded in embracing the moment and doing what makes you feel the most alive.
8. Say Goodbye: On Sun., May 17, wish the Volvo Ocean Race teams the best as they sail off to Lisbon to complete the next leg of the journey. From 12:10-12:30 p.m. there will be a city handover to Lisbon and the Blessing of the Fleet, followed by a Dock Out show. The Leg Restart begins at 2 p.m. when the boats will say goodbye to Newport.
Follow the Volvo Ocean Race Newport stopover at volvooceanracenewport.com, and view a full schedule of events.