8 Outdoor Yoga Classes to Try This Season
Sun salutations are best done — you guessed it — in the actual sun.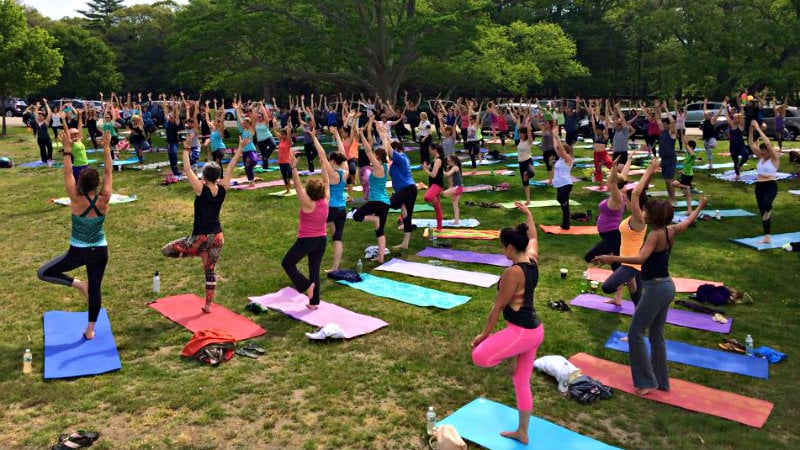 Tree, mountain, half-moon: So many yoga poses are inspired by the great outdoors, yet we often strike them in carefully appointed studios. This season, deliver your most authentic down dog on the grass or by the beach, as nature intended. Here are eight of our favorite spots:
Natural Fitness Yoga at Narragansett Beach. Weekends through June 14, then seven days a week through Sept. 7. 8–9 a.m. Adults $14, children $10. Town Beach (between lifeguard chairs three and four), Boston Neck Road, Narragansett, naturalfitnessyoga.com.
Blithewold's Yoga in the Garden. June 2–Sept. 3. Tuesdays and Thursdays, 11 a.m.–noon. Members $10, non-members $15. Blithewold Mansion, Gardens and Arboretum, 101 Ferry Rd., Bristol, 401-253-2707, blithewold.org.
RI Yoga Festival's Free Yoga by the River. June 7– 28. Sundays 9–10 a.m. Free. Providence Flea, South Water Street, Providence, facebook.com/riyogafestival.
Providence Power Yoga's Free Yoga in the Park. June 9–Aug. 14. Wednesdays 6:30–7:30 a.m., Saturdays 7:30–8:30 a.m. Free. India Point Park docks, India Street, Providence, providencepoweryoga.com.
Inner Light Beach Yoga. June 20–Aug. 29. Tuesdays 7–8 p.m., Saturdays 8:30–9:30 a.m. Drop in $15, five class pass $50. Easton's Beach (First Beach), Memorial Boulevard, Newport, innerlightyoga.com.
All That Matters Yoga on the Beach. June 27–Sept. 6. Mondays and Wednesdays 8–9:15 a.m., Saturdays and Sundays 8:45–10 a.m. Drop in $16. South Kingstown Town Beach, Matunuck Beach Road, South Kingstown, allthatmatters.com.
Community Yoga's Beach Yoga. July 8–Aug. 26. Wednesdays 6–7 p.m. $10. Charlestown Town Beach, Charlestown Beach Road, Charlestown, communityyogari.com.
Laughing Elephant's Free Yoga at Goddard Park. Sept. 7. 9–10:30 a.m. Free. Goddard Memorial State Park, Ives Road, Warwick, laughingelephantyoga.com.