7 Places To Get Your Sail On
Discover the fine points of rigging, launching and steering a sailboat in one of these courses for novices around Rhode Island.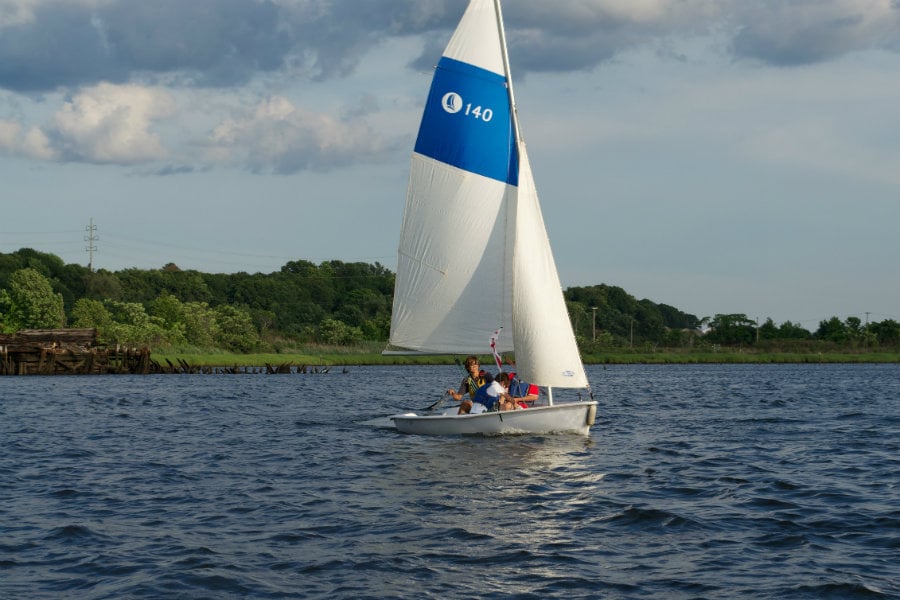 Have you always wanted to learn how to sail, but thought it could be too late? Fortunately, plenty of places in Rhode Island offer beginning sailing lessons for adults. (Most also offer separate programs for kids.) They differ in duration, the boats you learn on, certification you can earn. But after several weeks of morning or evening classes, or in some cases intense weekend training, you could be ready to set sail with in a small boat on enclosed waters.
Here are some locations:
Narragansett Sailing, 101 Narragansett Ave., Barrington, 401-250-5496, narragansettsailing.com
What: Based out of Brewer's Cove, this class includes three full days of lessons, plus two and a half days of practice time on the water in which aspiring sailors learn on a Bristol 20. You can also earn an American Sailing School certification.
When: Late April-Early October
Cost: $795, plus $30 for textbook and additional $75 for ASA certification.
Rob Swain Sailing School, 128 Long Wharf, Newport, 401-366-4369, swainsailing.com
What: Sailing out of Newport, you can learn on a J-24 in two-day weekend courses. (Weekday classes are also available on request. ) Maximum of six people per class, and participants must be thirteen and older. After the class, you can test for U.S. Sailing's Basic Certification.
When: June-October
Cost: $425. The certification costs an additional $75 and comes with logbook and membership to U.S. Sailing.
Community Boating Center, 109 India St., Providence, 401-454-7245, communityboating.com
What: Sailing out of India Point Park, the Community Boating Center offers classes on weeknights — two days a week for three weeks —plus weekend, all-day fast track courses.
When: May 18-August 26
Cost: $250 for the course, but $195 membership fee for adults also required. That entitles members to free dinghy sailing from May 26-October 11.
Sail Newport, 60 Fort Adams Dr., Newport, 401-846-1983, sailnewport.org
What: Learn to sail on J/22s on Tuesday and Thursday mornings or evenings. Weekend classes also available on Friday evenings and Saturday and Sunday mornings.
When: May 26-September 6
Cost: For members, the weekday class is $123, and the weekend class is $153. For non-members, the weekday class is $150 and the weekend classes are $179.
URI's Sailing Center, 236 Salt Pond Rd., Wakefield, 401-783-0797, uri.edu/campusrec/sailing.html
What: Spend four days a week for four weeks learning how to sail a twelve-foot Tech dinghy. After successful completion of the course, you'll get a skippers' card, which will entitle you to sail during recreational hours.
When: Three terms offered, from June-August.
Cost: $375 course fee includes mandatory $195 membership fee, which allows participants who have earned their skipper's card use of boats aside from keelboats during recreational hours.
Edgewood Sailing School, 3 Shaw Ave., Providence, 401-781-9626, edgewoodsailing.org
What: Learn to sail a Rhodes 19. A basic orientation course is required unless you receive instructor approval. Beginning Sailing then has six sessions.
When: May-October, depending on the weather.
Cost: $300, plus cost of the one-time orientation course.
Herreshoff Museum, One Burnside St., Bristol, 401-253-5000, herreshoff.org
What: Take four classes in beginning sailing using a punch card system, so you can take your classes when they are convenient. You'll sail with an instructor and two others in a sixteen-foot wooden sloop or a Sea Sprite 23.
When: June-September, Tuesdays and Thursday evenings and Saturday and Sunday mornings.
Cost: $175 for four classes.