6 Ways to Participate in Gloria Gemma's Flames of Hope Celebration
Put on your best pink attire this weekend and show support for the Gloria Gemma Breast Cancer Resource Foundation with these events and activities.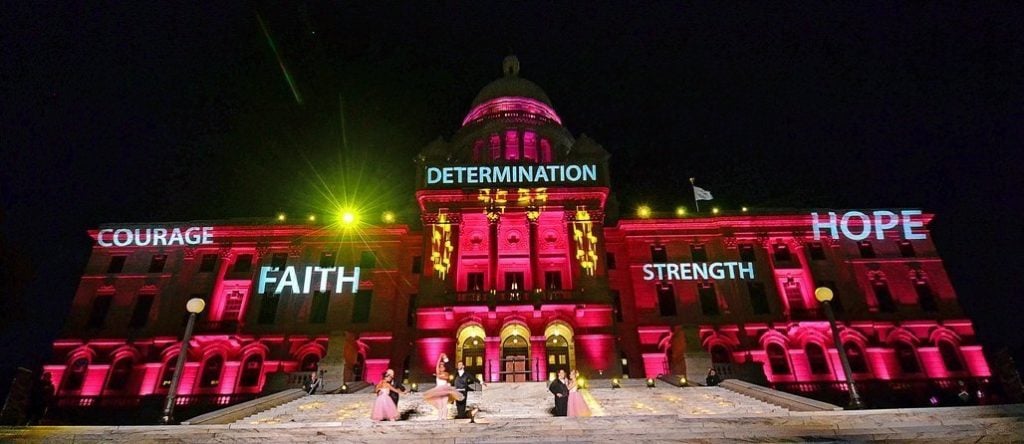 Pick out your best pink outfit for the Gloria Gemma Breast Cancer Resource Foundation's tenth anniversary of the Flames of Hope Celebration. Show support for patients and survivors, and loved ones who have been lost to breast cancer. There's a lot going on this weekend, October 3 and 4, to kick off Breast Cancer Awareness Month, and we'll help make sure you don't miss a thing.
1. Your Passport to Wellness and Survivorship Expo
Sat., Oct. 3 from 10 a.m.−4 p.m. at Renaissance Providence Hotel and Veterans Memorial Auditorium
A free healthy living expo, this all cancers conference is open to survivors and their loved ones. The event features more than thirty cancer-specific and healthy living vendors, cooking demonstrations, the Patient/Survivor Connections Lounge where you can speak with people who know what you are going through; the Survivor Spa where you can sit and relax awhile; and an interactive Health Zone, where you can get health screenings and learn about fitness and survivorship. You can also listen to keynote speakers inside Veterans Memorial Auditorium discussing a range of topics focused on cancer and survivorship. Speakers include Barbara Musser, author of Sexy After Cancer at 11 a.m.; Michael Samuelson, author of Beyond Cancer Survival: Living a Life of Thrival and Voices from the Edge at 1 p.m.; and Geralyn Lucas, author of Why I Wore Lipstick to My Mastectomy and Then Came Life at 3 p.m. NBC 10 news anchor and health check reporter Barbara Morse Silva will serve as honorary chairperson and emcee.
2. Celebration Village
Sat. Oct. 3 from 3 p.m.−Midnight in Station Park, across from Providence Place Mall
Listen to live bands including Roger Ceresi and the All Stars at 3 p.m., and explore the Gloria Gemma Breast Cancer Resource Foundation's pavilion featuring information about free programs and services offered by the foundation as well as chances to speak with survivors. Stroll through the Garden of Hope or participate in the Healing Arts Project by creating a cloth block to add to a giant quilt for the Tapestry of Hope, a healing arts project that weaves cultures together through the common thread of breast cancer. At 7:45 p.m. there will be a live martial arts demonstration by Rhode Island Martial Arts Academy-Mastery Martial Arts, including the breaking of 5,000 boards that have been decorated with affirmations from around Rhode Island. At 8 p.m., the band Decadia will perform.
3. Illuminations of Life: Hope Torch Procession
Sat., Oct. 3 at 6:15 p.m. at the Rhode Island State House
** There is light/moderate rain in the forecast for Saturday. WaterFire is still planning to go ahead with the WaterFire lighting as scheduled. They are monitoring the forecast very closely and will post updates as we get closer to the day of the event.
Be present at the Rhode Island Statehouse before sundown and you'll witness 150 torchbearers as they line up for a procession to the Providence River Basin to light the largest WaterFire of the season. It all begins with a beautiful performance by the State Ballet of Rhode Island on the steps of the State House as it is illuminated in pink lights for the occasion. The evening also includes a pyrotechnics display at 9:30 p.m. featuring the creative design of award-winning pyrotechnics company Pyrotecnico FX. Viewing points are from the State House lawn and Celebration Village.
Sat., Oct. 3 from 8 p.m.−Midnight at 100 Gaspee Street, Providence
A VIP party featuring food stations from Trattoria Romana, a lounge area, a photo booth, a pink cake from Gregg's restaurants, two drink tickets per person, music, dancing and more for $50 per person. Call 401-861-4376 to purchase tickets.
5. Kids Fun Run, Pink Pump Palooza and the Flames of Hope Run/Walk
Sun., Oct. 4, Online registration closes Thursday at 9 p.m.; Day-of registration opens on Sunday at 7 a.m.; Kids Fun Run is at 9 a.m., open to ages twelve and younger; Pink Pump Palooza is at 10 a.m.; Flames of Hope Five-K Run/Walk starts at 11:15 a.m. Starting line is located at Station Park, Providence, across from the Providence Place Mall.
At 9 a.m., kids ages five to twelve can participate in the Kids Fun Run for a sprint down the hill on Francis Street. At 10 a.m., men and women will put on their high heels to compete in a fifty-yard dash to be the first to cross the finish line and be crowned Ms. or Mr. Pink Pump Palooza! At 11:15 a.m., the Gloria Gemma Five-K Run/Walk course is open to competitive athletes and walkers/runners. Go for a run or walk through historic downtown Providence showing your support in pink gear. Prizes will be awarded for the fastest times and highest fundraisers. This is the foundation's largest fundraiser and the money raised will be used to provide local programs and services for people living with breast cancer.
6. Felix Cavaliere's Rascals with Special Guest Cover to Cover
Sun., Oct. 4 at 7 p.m. at Veteran's Memorial Auditorium
Cap the weekend off with a concert at the Vets featuring the classically trained pianist, Felix Cavaliere. Once a part of the band, the Rascals in the '60s, Cavaliere is known for songs like "Good Lovin," "I've Been Lonely Too Long" and "Groovin'," before going solo in the '70s.