6 Places to Juice Up in Rhode Island
The juicing craze hits the Ocean State.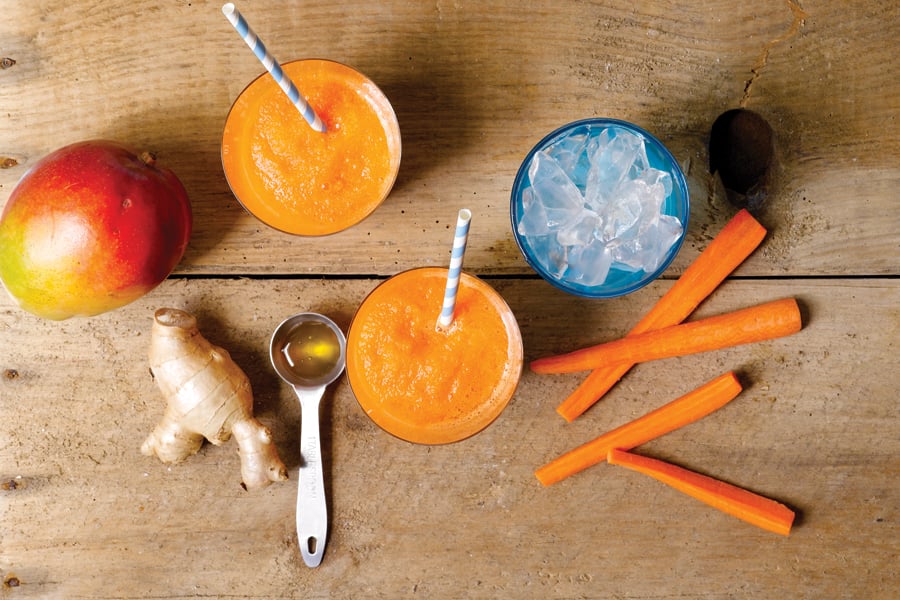 It's summertime and the living is juicy.
That would be the theme at the laid-back Benefit Juice Bar and Cafe, an artsy Benefit Street spot in the cozy confines of Providence's academic hub.
"It's like being in the East Side bubble of happy," says Peter Cronin, who with wife, Pamela, opened the place in November 2013 and has drawn great business, including area residents, professors and students from nearby Brown University and Rhode Island School of Design. "There's a lot of positive energy in this area."
It's a small place with a Euro bistro feel, local art on the walls, an antique Westinghouse refrigerator holding soda and water and the Cronins' own endless bubble of happiness that embraces anyone walking in. They are, quite simply, two of the nicest people you will ever meet.
Fare is healthy, with things like the Benefit Baguette, a sandwich of fresh mozzarella, roasted red peppers, Kalamata olives and arugula and colorful concoctions like the Green Powerhouse smoothie, a blend of kale, banana, pineapple and chia seeds, all of it the culinary brainchild of Pamela Cronin.
The juice craze sweeping the nation is also taking root here, Peter Cronin says, adding that people coming in for the food find themselves educated about juices. Whether you're looking to cleanse, lose weight or just feel better, juicing could be the cure for what ails you. "We're introducing more people to juices," he says. "People are becoming very knowledgeable about what they're putting into their bodies."
404 Benefit St., Providence, 274-6403
---
Recipe for the Sunburst Smoothie
(The Cronins use a commercial juicer/blender, but home blenders can do this)
½ cup coconut water
1 cup mango
1 medium carrot
1-inch cube of ginger, peeled
1 Tbs honey
¼ cup ice
Blend all ingredients until smooth.
---
Other locales where you can get your juice fix.
Crazy Burger Cafe and Juice Bar
144 Boon St., Narragansett, 783-1810, crazyburger.com
Raw Bobs Organic Juicery
249 Main St., East Greenwich, 884-1491
Raw Power Juice Bar
6 Broadway, Newport, 847-2727, rawpowerjuice.com
Smoothy Booty Cafe
254 Robinson St., Wakefield, 783-4013, smoothybooty.com
Wildflour Vegan Bakery and Cafe
727 East Ave., Pawtucket, 475-4718, wildflourveganbakerycafe.com