6 Cheap Day Date Ideas
Make your date feel like a million bucks without spending a dime.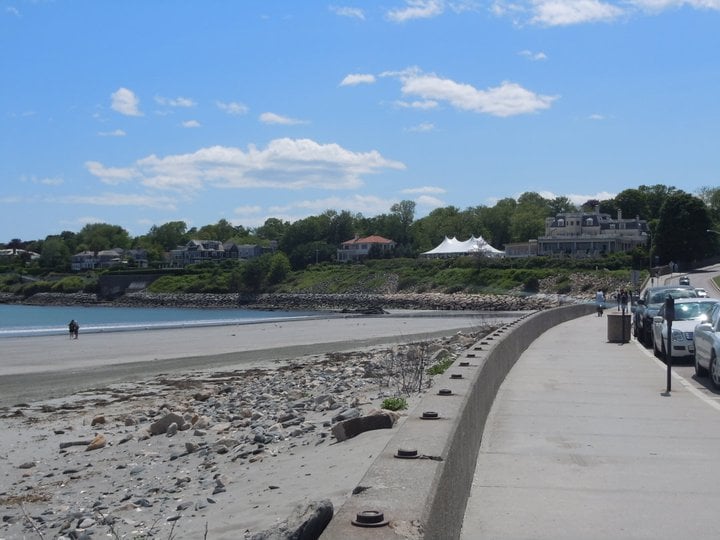 A view of Newport's Cliff Walk from Easton's Beach.
You want to plan the perfect date without spending a ton of money. What can you do? There are plenty of free and inexpensive options: you just need to get creative and know where to look.
1. Sunrise Show: Get your date to wake up before the sun rises and then hop in the car to Newport. There is nothing prettier than a sunrise, except for a sunrise in Newport. The sun is rising at 5:20 a.m. these days, and getting earlier, so plan accordingly (with coffee! Bonus points for making it at home and bringing a thermos…). The thought of waking up before dawn might scare some people, but the view is worth it. Set yourself up along the Cliff Walk in Newport and bring homemade snacks to eat while you watch the sun peak over the ocean. Your date will be in awe of the view, and you didn't even have to spend a dime (except for maybe gas and tolls.)
2. Farmers Market Fete: After seeing the sunrise, you'll sure be hungry. Farmers markets are perfect for cheap (and sometimes free) eats. If it's Saturday, you can hit the Aquidneck Growers Market in the grass at Newport Vineyards from 9 a.m.−1 p.m. or venture back to Providence for the Hope Street Farmers Market from 9 a.m.−1 p.m. You'll be able to taste cheese samples from Narragansett Creamery and Rhody Fresh, charcuterie from Daniele, bits of baked goods from various vendors and other samples ranging from apple sauce to bread. Or spring for fresh fruits and veggies from local farms, Indian food from India (specifically at the Hope Street Market) or a sandwich from Pat's Pastured food cart. Browse farmers market schedules on the Farm Fresh RI website.
Pat's Pastured cart at Hope Street Farmers Market.
3. Plan a Stroll: The Cliff Walk in Newport is a classic destination for a scenic walk, but there are other places you can explore that grant complimentary views of the ocean. Point Judith Lighthouse, Narragansett Beach and Scarborough beaches all have rock formations that are made for the adventurous to walk along. Venture as far out to sea as you would like. If you prefer a more rural walk, check out Lincoln Woods in Lincoln for a walk or jog or visit India Point Park in Providence for a view of the city skyline.
4. Art Night: Another free experience is the Art Night trolley tour in Bristol and Warren, which takes place once per month and provides transportation for people to visit various art studios and galleries in Bristol and Warren. The next one takes place Thurs., May 28. Wine lovers tune in because almost every stop along the gallery tour includes a glass of wine (and sometimes cheese and crackers). Plus, you get to see and buy unusual artwork that represents the Ocean State.
5. Eat Like a Student: The students may be leaving soon for the summer, but you can still taste foods from all over the world on Thayer Street. This may not be free, but it certainly is cheap. Pretend you're on a student's budget with a quick slice from Antonio's or Nice Slice, a burrito from Baja or Chipotle, or choose Indian food from Kabob and Curry or Middle Eastern falafel from East Side Pockets.
Pizza at Nice Slice.
6. Free Entertainment: WaterFire is a traditional summer activity for everyone in the state. It's a chance to walk along the river in downtown Providence, watch gondolas go by and soak up the warmth from the fires. There are usually food and drink vendors and free entertainment. Drop a donation in the box and you'll impress your date. You can also plan to go to the free Friday night concerts at Waterplace Park starting July 17.