5 Reasons to See "Annie" at PPAC
The musical will bring you back to childhood and create new memories for you and your family. Tonight's 5 p.m. performance offers Family Night pricing.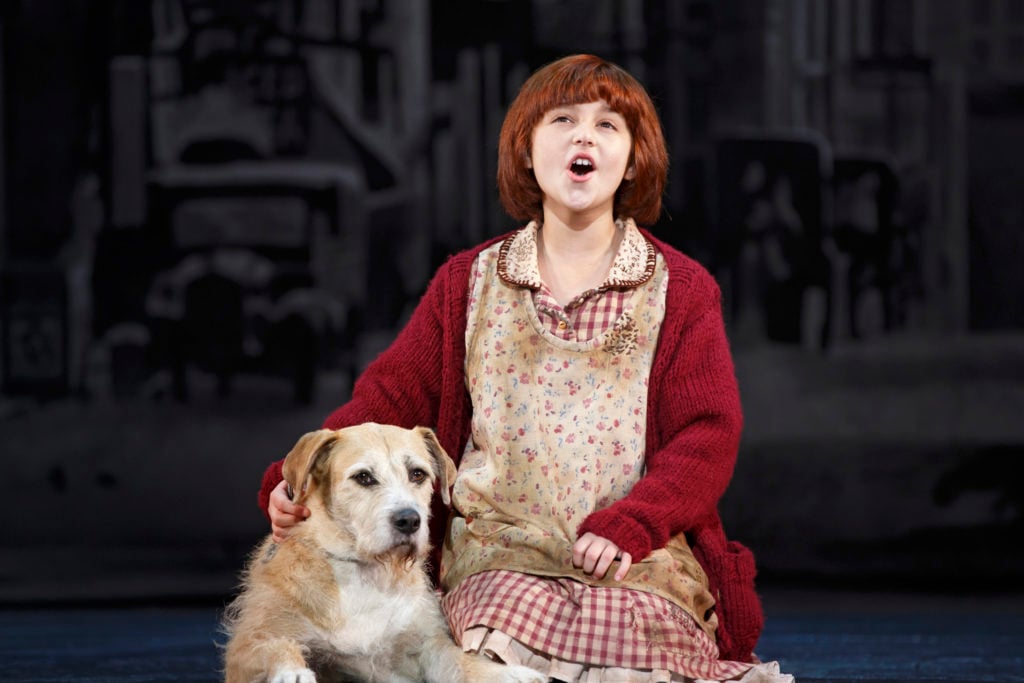 PPAC's "Annie" sent me right back to my childhood when I habitually watched the 1982 film over and over again. Memories of singing "Tomorrow" in the shower and wishing I could one day live in a mansion came flooding back to me in an instant. And then I looked at my seven-year-old niece, Olivia, sitting next to me, her eyes wide in wonder as she sat tall in her seat to never miss a beat. I saw myself at that age all over again. Here are five reasons to see the show at PPAC:
1. Set Design: PPAC's "Annie" has the most intricate, detailed scenery I have ever seen in a show at PPAC. From a barracks-style orphanage to the streets of New York City and the illuminated stained glass windows of Oliver Warbucks's mansion, every detail was impeccably designed to resemble the real thing. You can see sunsets appear over the Brooklyn Bridge, and even snow falls softly outside the windows of the estate. Intricate wood detailing and wainscoting make the mansion look realistic and complete.
2.Cast Enthusiasm: From the "little girls" living in the orphanage, singing "It's a Hard Knock Life," to the outlandish Miss Hannigan, it's obvious that each and every cast member absolutely loves his or her role. We even heard from a little birdy (NBC 10 meteorologist Kelly Love) that on their flight to Providence, Annie (Heidi Gray) and July (Bridget Carly Marsh) sang the whole way from their seats on the plane. There is so much pizzazz and heart put into every song, and every line recited is said with such passion. You will want to hear the songs "Maybe," "Tomorrow" and "I Think I'm Gonna Like it Here," again, and thankfully, you won't be able to get the tunes out of your head.
Lucy Werner as Lily, Garret Deagon as Rooster Hannigan, and Lynn Andrews as Miss Hannigan in "Easy Street." Photo by Joan Marcus.
3. Pup Love: Did you know there are two real dogs in the cast of "Annie"? Sunny and Macy appear in the show and renowned trainer Bill Berloni makes sure their experience is a comfortable one. Berloni began his career as a theatrical trainer with "Annie," when it debuted at the Goodspeed Opera House in Connecticut. The dogs add a lot of love to this performance and you'll love hearing the crowd's reaction to our new furry friends on the big stage.
Sunny and Macy with animal trainer Bill Berloni.
4. Family Night Pricing: For tonight's 5 p.m. performance on New Year's Eve, there is Family Night pricing. Patrons can buy one regular priced ticket and receive a complimentary ticket of equal value for a child age eighteen or younger. This is for selected locations only and Golden Circle seating is excluded.
5. Live Orchestra: The music is something to soak up. Even if you sat for the performance with your eyes closed, you would still enjoy the show. The songs and orchestra make it an enjoyable musical from start to finish with live instrumentals and booming singing voices that will stick with you forever. Create a new family memory by seeing "Annie" at PPAC this week.
"Annie" continues at PPAC today through Sunday, Jan. 3. Tickets range from $52 to $79. To order tickets, visit or call the PPAC box office at 401-421-2787 or order online here.