5 Questions with Om Gal Rebecca Pacheco
The international yoga teacher and creator of the yoga and wellness site Om Gal will be in Providence this week for a book signing of Do Your Om Thing.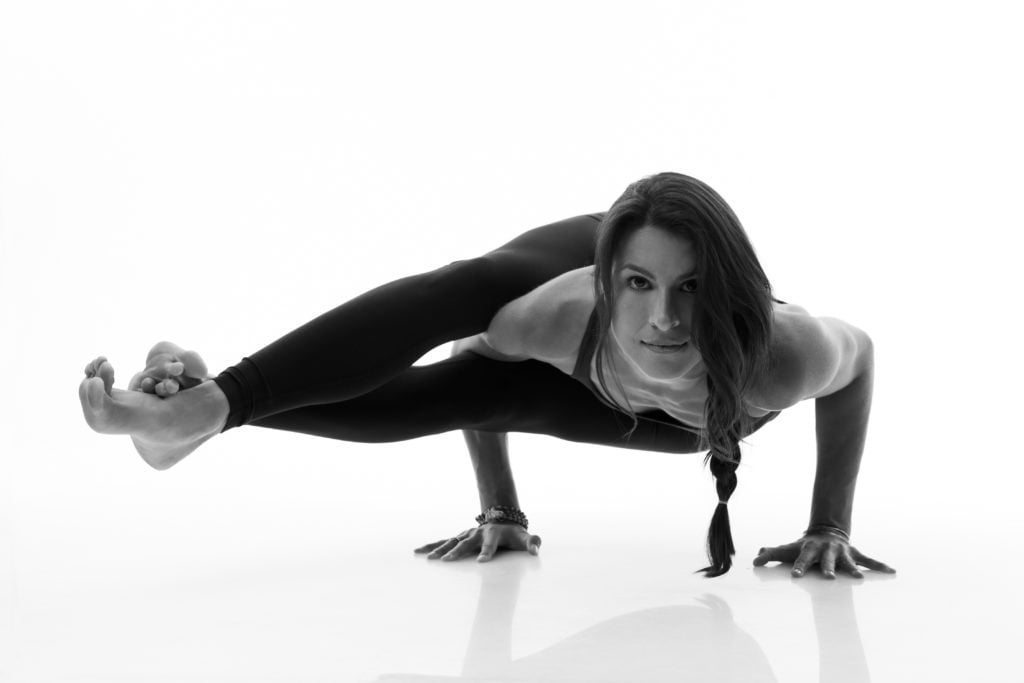 International yoga teacher and creator of the popular yoga and wellness site Om Gal, Rebecca Pacheco, will be in Providence on Fri., April 17 for a book signing of Do Your Om Thing at Books on the Square (471 Angell St.) at 7 p.m. In this q-and-a, Pacheco tells us how she first became interested in yoga (before yoga pants even existed!) and how any man, woman or child can add yoga to his or her life.
1. When did you first become interested in yoga and how did it change your life forever?
I was sixteen years old when I attended my first yoga class on Cape Cod, where I grew up. There were a lot of reasons why I should have felt out of place, beginning with the fact that the rest of the class was comprised of people who were old enough to be my grandparents. This was the mid '90s, and yoga was not nearly as popular as it is today. It was still mainly practiced by those who started in the flower power generation of the 1960s and early adopters, who were usually hippies at heart, too. The most memorable thing about my first yoga experience was that no one made a fuss about me being there. No one asked why someone so young was doing yoga with a group of senior citizens at the local recreation center. And while I may have looked completely out of place, I felt right at home. It was a very peaceful feeling. I am still so grateful to my first teacher and fellow yogis that day for their warmth and welcoming.
It certainly changed the course of my life but not in an immediate, visible way. It was more like the turning of a huge ship, which happens slowly, by degrees. Partly because yoga was less visible, perhaps, I studied far beyond yoga's flexible postures. I became intrigued with its philosophy and history in college. I grappled with its relevance to my own modern life as a young adult. Now, it feels as though that first class, indeed, shifted my life path — and my livelihood eventually. I've now been doing yoga for nearly twenty years. So, it's more a part of who I am, than something I "do."
2. What is one thing you now know about yoga that you wish you knew starting out?
People are often surprised to learn that there isn't much talk of the poses characteristic of yoga that we all know so well and now see everywhere, in the ancient texts. But the one mention I wish I knew and understood better from the beginning was: the pose shall be steady/strong and sweet/light. For a long time, in my practice and my life, including my relationships and career, I favored only the path that was strong, steady, even hard, or most effortful. I often overlooked or misunderstood the sweetness and lightness that yoga cultivates and makes life special. Now, I am better at prioritizing balance, on my yoga mat and off. As a society, I think we're much better at acting or being strong, and that's a positive thing. But, without any sweetness or joy, what's the point?
3. What is a simple way anyone can add yoga to his or her daily lives?
Breathe. Seriously, if you can breathe, you can do yoga. When you're stressed, distracted, overwhelmed or overscheduled: slow down and pay attention to your breath. It's both calming and empowering. If you want to explore the postures but feel intimidated by a yoga class, there's so much content online. I offer tons of free yoga videos for all levels of yogis on omgal.com and Runner's World, where I've helped to create their popular Yoga Center. Doing a little yoga at home, at your own pace, can be a great primer before you head to a local studio. Before you go, ask your friends what kind of yoga they enjoy. Like anything else, from choosing a restaurant to finding a tailor, do a little research. Explore what speaks to you, and go with an open mind. Beginning anything has power in it. Enjoy the ride!
4. As a social media influencer and yoga expert who is always plugged in, what is your favorite way to get away from it all?
It's funny, I am very plugged in, and the book tour has me traveling and taking on more commitments than usual, but I am also a bit of an introvert, and I don't have a TV. I meditate every day, even if it's just five to ten minutes in the morning. I prefer working out or doing yoga solo so that I have some mental time and space to myself. So, I don't necessarily need to "get away from it all" as much as I like to take daily doses of mindfulness and quiet. My fiancé is similar, and my favorite ways to recharge involve spending time with him. A good book, some yoga, a long run (ideally with a scenic view), or quiet dinners with Dan (when the weather is nice, we like to go out via bicycle) are things I treasure. They aren't exactly getaways — more like my favorite ways to unplug from the hustle and plug in to the right here, right now.
5. Do you have any favorite yoga instructors or studios in Rhode Island that you have worked with?
I'll always root for Alyssa Sullivan, who owns Synergy Power Yoga in Barrington. She and I trained together many years ago in Boston. I am also impressed with Providence Power Yoga and its growing community.