5 Great Children's Books For Kids in Rhode Island
Local writers and illustrators teach kids about Newport beaches, French cooking and more.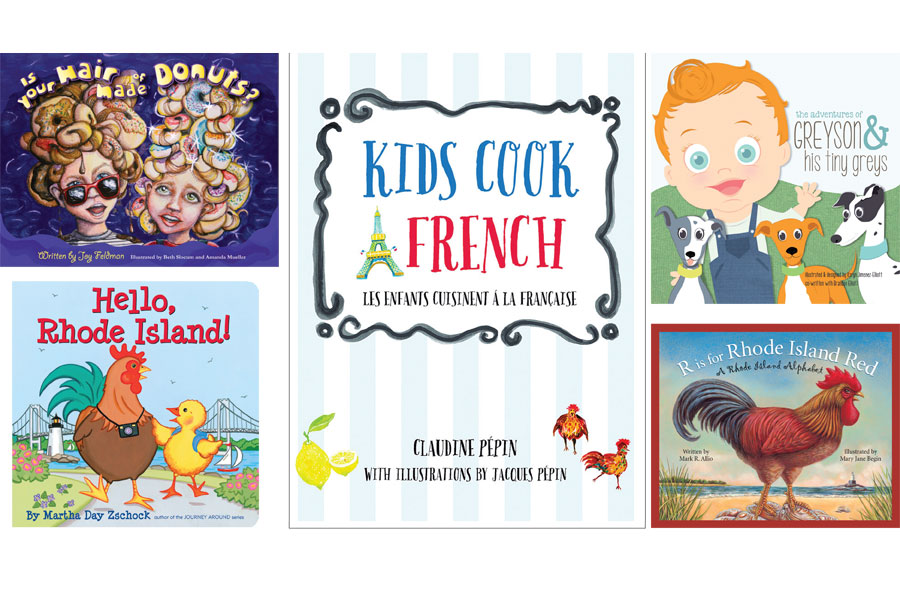 Greyson and His Tiny Greys
Johnson and Wales University assistant professor Karyn Jimenez-Elliott leads children on a tale based on her own toddler's neighborhood adventures with their three greyhound rescues. Jimenez-Elliott designed and illustrated the board book, and her husband, Brandon Elliott, delivers rhymes while tiny Greyson explores Providence, local beaches and Newport's wharfs.
R is for Rhode Island Red
Learn the ABCs Rhody style alongside Barrington resident Mary Jane Begin's beautiful illustrations and interesting tidbits about the state for every letter of the alphabet, written by Barrington resident Mark R. Allio. See familiar scenery and learn new facts. How many miles of coastline does Rhode Island have? And what in the world is a quahog?
Hello, Rhode Island!
A parent and child sightsee across bridges, beaches and attractions that all people — young and old — appreciate about Rhode Island. Visit Beavertail Lighthouse, WaterFire in Providence and everything in between in this book, written and illustrated by Martha Day Zschock, an Orleans, Massachusetts, resident.
Is Your Hair Made of Donuts?
Rhode Island native and nutritionist Joy Feldman takes on childhood health in this quirky, clever book, illustrated by RISD alumni Beth Slocum and Amanda Mueller. Learn about eating healthy while laughing out loud at this fun story that illustrates the old adage: You are what you eat.
Kids Cook French: Les Enfants Cuisinent a la Francaise
Barrington resident Claudine Pepin teaches children how to cook classic and simple French recipes in both English and French, while also focusing on healthy eating habits, fresh ingredients and appreciating culture. She should know. Her father is world-renowned chef Jacques Pepin, who also illustrated the book.