5 Great Bike Month Events You Can Still Cycle To
There's still time to gear up for some two-wheeled recreation.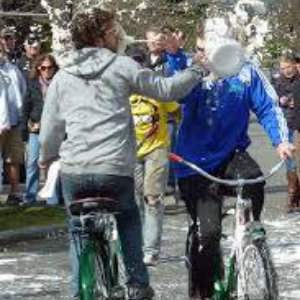 Rhode Island has been all about celebrating May as National Bike Month. But if you have yet to inflate your tires and oil that chain (ahem), there's still time. Organized by the Rhode Island Bicycle Coalition, there are still plenty of events, ranging from long rides to classes on roadside maintenance to pie jousting on two wheels. And now that it's approaching seventy degrees, here are some ideas:
Wednesday, May 11: Bike to Beer
Ride your bike and meet up with fellow cyclists for a drink at this rotating social event. This one will be held at Ogie's Trailer Park in Providence from 5-8 p.m. Ogie's Trailer Park, 1115 Westminster St., Providence, https://www.facebook.com/events/158414251220444/
Friday, May 13: Tour de Tentacle
Grab some friends for a H.P. Lovecraft-inspired event that will take you from the Arcade to the Athenaeum and the Wedding Cake Building in Providence. Be prepared to solve puzzles and fight monsters. The event will end at the Industrial Trust Tower where there will be "a dark cosmic reckoning. There will be tentacles. There will be bikes (bring your own, plus helmet). And there will be Narragansett Brewery Lovecraft beer (at the end)." 6-9 p.m. Admission price includes one drink ticket. The Arcade, 65 Weybosset St., Providence.
Sunday, May 15: Blackstone River Bikeway Ride
Experienced riders looking to clock some distance will enjoy this forty-four mile ride from Providence to the Massachusetts border. You'll be treated to a lecture by some park rangers and stop for lunch in Woonsocket before returning. 9 a.m.-3 p.m. Register here. India Point Park, Gano Street, Providence.
Friday, May 20: Bike to Work Day
Pedal down to Burnside Park in Providence bright and early (7 a.m.) to meet up with a bike train and get some fuel for your trip to work. Newport, Central Falls, Bristol, Warren, Smithfield and Charlestown are also hosting events. Burnside Park, Washington Street, Providence, https://www.facebook.com/events/1551723521794366/
Saturday, May 21: BikeFest
Head to the Met School in Providence for an all-day celebration of cycling, which will also feature a popular pie joust, scavenger hunt, safety course for kids, music by Roz and the Ricecakes and food trucks. 11 a.m.-3 p.m. The Met School, 325 Public St., Providence, https://www.facebook.com/bikefestri/
Here's the full calendar of events.