5 Facts About Bats in Rhode Island
Find out more about the life of the winged creatures during a presentation at the Norman Bird Sanctuary.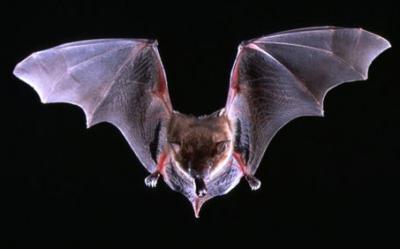 It was the middle of the night, but the dark presence on the ceiling above my bed was unmistakeable. A blackbird? Then I heard the heavy flutter of its wings. It was no mere bird.
I managed to get it out of my bedroom and opened a window, then closed the door as it careened around the apartment before escaping. Even though there was no evidence of a bite, my primary care doc's office said to go to the ER for rabies shots, as it's very hard to tell if you've been bitten by a bat, and the rare cases of rabies can be fatal. ("Is that what you want written on your tombstone?" Well, no.) Here's what the Health Department says to do should you find yourself in confined quarters with a bat. (They also suggest you catch the bat and bring it in for testing, which clearly didn't happen in my case.)
So it's fair to say that I didn't have the warmest feelings about the winged creatures.
But bats prefer to be outside and play an important role in controlling insect populations, says Nicole Souza of the Norman Bird Sanctuary.
"While some people fear bats, they are extremely helpful animals," Souza says. "In fact, one little brown bat can eat up to 1,000 mosquito-sized insects in one night," she says.
She adds that "solitary bats (like the one in your house) are often young bats that have entered the house through an open door or window, by mistake and their primary goal is to escape. Bats that do roost in buildings usually do so because of habitat loss, for example roosting trees being cut down. They are simply searching for a warm, protected place to live. Homeowners can eliminate the risk of bats roosting in their homes by fixing gaps in siding and broken screens and even by providing bat houses on their property."
Fair enough. I'm not a huge fan of mosquitos either. And clearly I have a lot to learn about bats.
If you're interested in finding out more about bats in Rhode Island, the Bird Sanctuary is hosting a presentation on them on Thursday, September 10. It's recommended for ages six and up, and they will talk about the natural history of bats, have a craft for kids, and then go outside and look for bats near the pond.
Souza also shared five things you might not know about bats in Rhode Island:
There are nine species of bats in Rhode Island and the most common are little brown bats and big brown bats.

They eat insects like moths, wasps and mosquitos, and help keep those populations under control.

Most of the bats don't spend the winter in Rhode Island, but migrate to the mid-Atlantic states, where they live in caves.

They return to Rhode Island in the spring, and can live from ten to thirty years.

Conservationists are concerned that White Nose Syndrome, which bats contract in caves, has wiped out large numbers of the population. The northern long eared bat has recently been listed as threatened on the endangered species list because of the disease.
The presentation on bats is September 10, 2015. 6-7:30 p.m. $8 for sanctuary members, $10 for non-members. Recommended for ages six and up. Norman Bird Sanctuary, 583 Third Beach Rd., Middletown, 401-846-2577, normanbirdsanctuary.org.