5 Cool Things About the New North
The Dean Hotel location is the same old north, only bigger.
More Seats!
There still might be a wait at the new north, but your chances of actually getting a seat at a table (or counter, or bar) just got higher. The Dean Hotel location boasts forty-five seats, which is more than double the Luongo Square location's twenty-one. Owner James Mark says it will soon be expanding to sixty seats as the back of the dining room is still a work in progress. The restaurant does not take reservations and you also have to wait for bar and counter seating, so just show up and put your name on the list. They will call you when a spot is available, and in the meantime, you should head for a drink at the adjacent Magdalenae Room or the Boombox bars inside the hotel, or visit the nearby Trinity Brewhouse.
2. Same Great Menu!
The new north continues to serve some of our favorite dishes, including tiny ham biscuits made with country ham, cast iron squid, dan dan noodles with mutton and hot flavor sesame noodles. We're happy to see it's the same north we know and love, but with the added addition of some killer specials. On the night we visited, we tried Mantis shrimp for the very first time. They weren't served whole (which might scare off some), and were chopped up into less daunting, but just as tasty, tiny bits.
3. Women Chefs!
Women chefs are a minority in the Providence culinary industry, but they should be the norm. On the night we visited, half the kitchen staff at north included women. North has three back of house staff members who are women, including two sous chefs. You might see Mark bouncing around between overseeing the kitchen, manning the hostess stand and managing the dining room. It's all hands on deck.
4. Open Kitchen
It's really neat to sit at the chef's counter (my favorite spot in every restaurant!) and watch as all the dishes are prepped right before your eyes in the open kitchen. We saw oysters and littlenecks being shucked, dishes getting assembled with sauces, emulsions, fresh herbs and seeds and other ingredients, and it was fascinating to watch all the chefs interacting with each other to keep diners satisfied.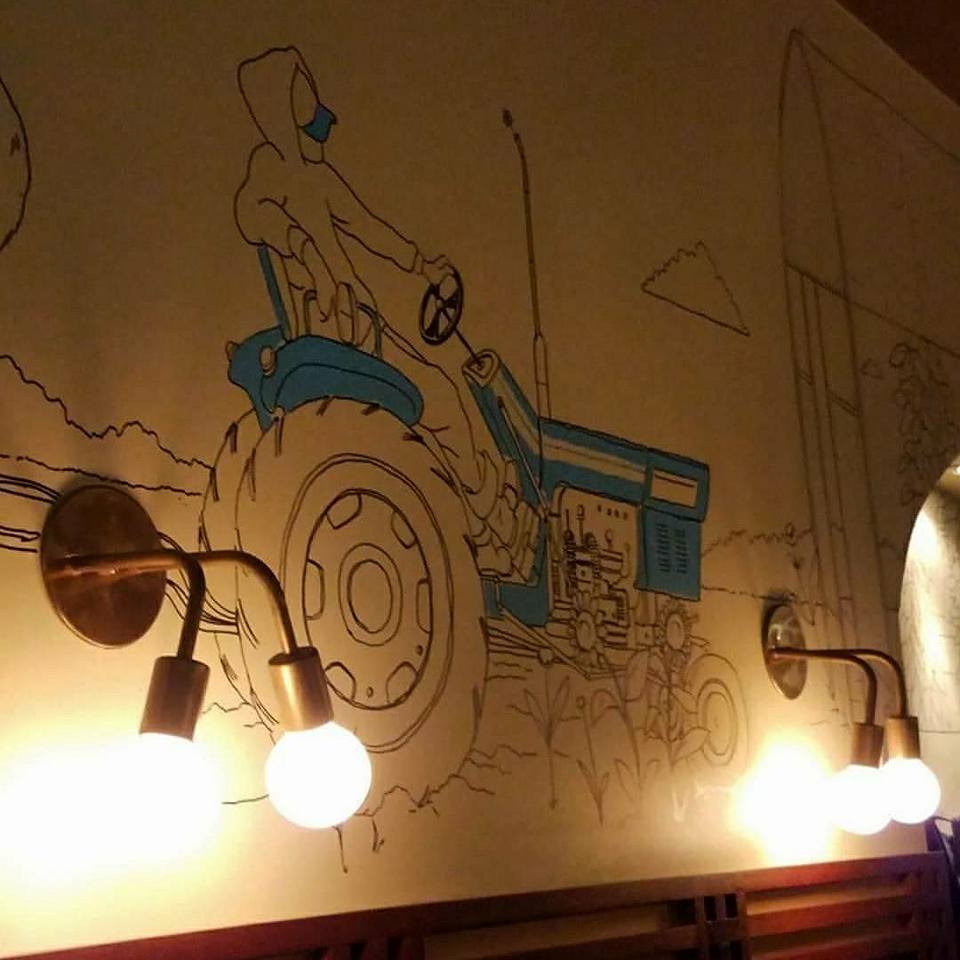 5. The Art on the Walls
All over the walls are beautiful illustrations depicting life on farms and in the fishing industry. Most are drawn as thick black outlines with punches of baby blue for color. Massimo Mongiardo is the artist, who has done some poster work for north in the past. "We wanted a mural that depicts certain important aspects of Rhode Island — many of the scenes are directly influenced by photos taken at Wishingstone Farm and down at Point Judith [where north picks up its seafood]," Mark says. "That, mixed with some Chinese American elements that reflect the style of service and eating that I'm trying to push at the restaurant."
north, 122 Fountain St., Providence, foodbynorth.com
RELATED ARTICLES