5 Clues About Why You Should Go to Winter Bash
The theme of the Providence Preservation Society's popular annual party is "Murder at the Atrium."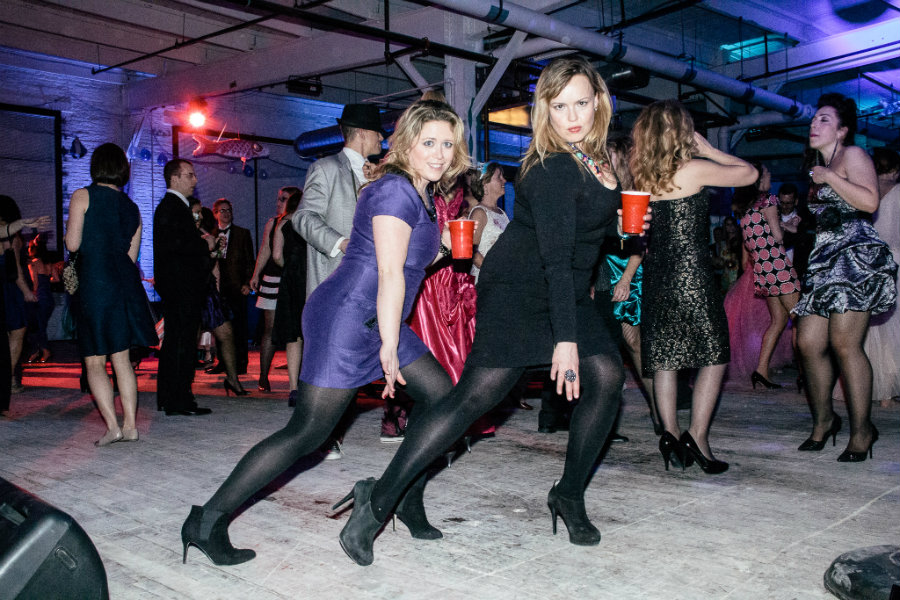 Was it Colonel Mustard in the conservatory with the wrench? Miss Scarlet in the lounge with the knife? Or Mrs. Peacock in the kitchen with the lead pipe?
We grew up searching for answers to these questions about murder most foul at a fictional New England mansion while playing Clue. February 28 is your opportunity to possibly discover the truth — and have some fun.
This year's Providence Preservation Society's Winter Bash, "Murder at the Atrium," is inspired by the classic mystery board game and the 1985 movie of the same name. It's known as one of the best parties of the year.
Need more convincing? Here are five reasons you should go:
1. It's your opportunity to "dress for an old-timey murder mystery," says Bash committee co-chair John Taraborelli. Channel Madeline Kahn's spider-woman Mrs. White or Christopher Lloyd's daffy Professor Plum:
(There's also plenty of room for your own creative interpretation of Miss Scarlet, Colonel Mustard or Mr. Boddy.)
2. You'll have the run of the place. Well, almost. "The concept of the Winter Bash has always been that it's held at a historic place that is either undergoing renovation or has just completed renovation," Taraborelli says. "The very first Winter Bash was held in a different part of the Rising Sun Mills, when that first opened. And now it's roughly fifteen years later and we're going back to Rising Sun Mills, a different part of it. Because we have this huge space with all these rooms to play with, we thought, hey, Clue would be really fun in a big space like this." (Plenty of room to quietly off Mr. Green.)
3. There's going to be some sort of activity. "I don't know if it's going to quite ascend to the level of complexity to call it a game, because we have to keep in mind that people are mostly here for the party," Taraborelli says. (DJ JR and cash bar.)
4. You're encouraged to bring props like candlesticks or ropes. "We secured permission from Hasbro to use the name, that's why we're able to say it's Clue," Taraborelli says. "In the discussions for that, someone happened to mention 'oversized game pieces,' and I was like, I want those immediately. I don't know what they are, but I want them. I'm really hoping that those exist and that we can get them for that night." (Might want to leave the real knives and revolvers at home, though.)
5. You're helping save historic buildings. "The whole point of this party is to benefit the Providence Preservation Society and to preserve buildings like this so that we can continue to enjoy them in new and creative ways," Taraborelli says. (Who can argue with that?)
The Providence Preservation Society's 2015 Winter Bash is February 28 from 8 p.m.-12 a.m. Tickets are $35 in advance, $40 at the door. You can buy them here. The Atrium at Rising Sun Mills, 166 Valley St., Providence, ppsri.org.