3D-Printed Wall Art, Bull's Eyes and Stunning Vessels
Providence's Chazan Gallery hosts all the art that's fit to print — in 3D.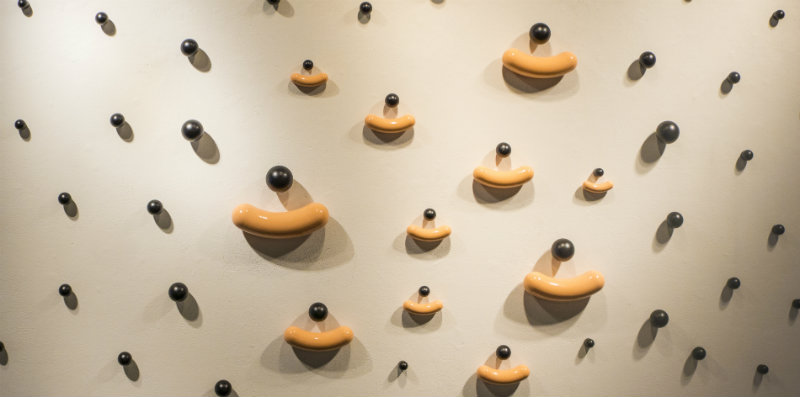 Two years ago, a student in Kate Blacklock's industrial design class at the Rhode Island School of Design handed her a photo of a ceramic vessel. Blacklock, who's had her hands in clay for three decades, couldn't figure out how it was made.
"I knew it couldn't be made in regular production methods, and it turned out it was 3D printed," Blacklock says. "I tracked down the designer, a Spanish designer, and it turns out the pieces were printed by a company based out of Boston."
At that time, only a handful of businesses used three-dimensional (3D) printer technology to craft ceramic materials, and Blacklock wanted in. "I knew there was this big ceramics conference coming [the National Council on Education for the Ceramic Arts conference runs from March 25 to 28] and I had this idea about putting a show together. I wanted to get artists whose work I was interested in but who didn't necessarily do ceramics. I wanted to see if we could push what 3D printing could do."
Fast forward to today: Blacklock's 3D dreams have become a reality. "HIfire RESolutions: 3D Printing in Clay" opens tonight at Chazan Gallery in Providence, just in time for the first Gallery Night of 2015.
"Each of us — there are five artists in the show — is doing something very different," Blacklock, who also curated "Botanica Ceramica" at the Roger Williams Park Botanical Center, says. "Four of us worked with same computer geek guy, Matt Paquin, who teaches through RISD's continuing ed program and who knows the 3D modeling software."
The ceramics process is a solitary experience, whether the art hand-built or thrown on the wheel. But the work for this exhibition required an unusual collaboration between artist and 3D programmer. "It was a bit of a trial and error, but Matt got excited about it, too. He understood what I was trying to do. I really wanted to do things that ceramics couldn't do in any other situation."
Blacklock's inspiration for her 3D art, above, came from one of her recent paintings. "In a way, they're all made from a pattern," she says. "But the pattern has become the form — the structure of the form — instead of a surface decoration."
Her vessels are glazed differently, but the forms are interchangeable and can be reprinted. "That's the great thing: I could just have them printed any time," Blacklock says. "Initially, I thought I'd do pieces that were editions. But because I cut them and put them back together, they're more one-of-a-kind."
Only one other artist in the show, Chris Gustin, has roots in ceramics. Gustin sought inspiration for his 3D art in sound waves (below, left). "He recorded the sound of himself speaking into one of his vessels and that created a sound wave — a visual replication of the sound. He manipulated that into a pattern and turned that pattern into a tea bowl form," Blacklock says.
The three remaining artists — Tayo Heuser (above, right), Andrew Raftery and Jonathan Bonner — are best-known for their bull's eye drawings, prints and site-specific art, respectively, and each drew from their unique backgrounds for the 3D printed art. Additionally, Blacklock's industrial design students at RISD created 3D-printed teacups for the exhibition.
"It's something different and new," Blacklock says. "A lot of the specifications are going to change as the technology changes, and it's changing quickly. In a short period of time, artists could have 3D printers in studios. 3D printing is here to stay."
"HIfire RESolutions" is on view at Chazan Gallery @ Wheeler, 228 Angell St., Providence, now through April 3. Hours are Tues.–Sat. 11 a.m.–4 p.m., Sun. 2–4 p.m. The opening reception, which coincides with the NCECA conference, is scheduled for March 26, 5:30–9:30 p.m. The public is invited.