36 Reasons We Love Rhode Island
Feast your eyes on our catalogue of Rhode Island's greatness, from the obvious to the odd and all the magic in between.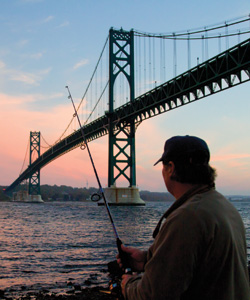 Our big smooch to this crazy little place that one million of us call home.
1. Because we can stumble across stunning sunsets in the most unexpected places, like on the bike path between Warren and Barrington.
2. Bon Appetit named the Dorrance in Providence one of the top fifty best new restaurants in the United States.
♦ Food Network Magazine highlighted Hewtin's Dogs Mobile's bacon and meatloaf sandwich as the Ocean State's best meal between two slices of bread.
♦ Open Table diners voted the Boat House in Tiverton one of the country's top 100 scenic view restaurants.
♦ MSN dubbed Nicks on Broadway one of the best places in the United States for breakfast.
♦ Providence ranked first on Travel and Leisure's list of America's favorite cities in food / drinks / restaurants.
3.
Because we make our own liquor. Not all rum is destined for tropical drinks sporting tiny paper umbrellas. With its floral nose and sweet caramel flavor that hints of molasses, Thomas Tew Single Barrel Rum, distilled in Newport, is at its best sipped straight, like the pour here at Brown's grad center bar, or other local watering holes.
newportstorm.com
4. Because Providence finally has overnight parking.
5. Because the governor does his own food shopping: Whole Foods on North Main Street at lunchtime, and Dave's in E.G. for dinner.
6. Because we only need one area code.
7. Because our bands make it big — and remember where they came from.
Local bands Brown Bird, Deer Tick and Joe Fletcher and the Wrong Reasons have been ramblin' around America for the last few years. But when they return to Little Rhody, they're never too big to share the stage with each other — or a pint with a true fan.
brownbird.net
;
deertickmusic.com
;
joefletchermusic.com
8. Because we're fabulous, even on Sunday morning.
Saturday night's libations rarely yield a fresh-faced Sunday morning, but visit Jacqueline DiMera and a rotating court of singing, dancing drag queens and your hangover brunch is much more fabulous. "We look pretty, but we want you to be comfortable," DiMera says. "It's our job to entertain!" The show isn't just for the ladies: DiMera counts chaps from all sets — including Buddy Cianci and David Cicilline — who like a little drag with their Bloody Mary. First Sunday of the month, Aspire, 311 Westminster St., Providence, 521-3333,
aspirerestaurant.com
9. Because honor system farm stands still exist.
The USDA reports the number of farms here has increased by 42 percent since 2002, ranking us third in the nation in direct marketing sales on a per-farm basis. The bounty in those numbers is clear when we pull up on a residential road to ponder a table or makeshift farm stand brimming with backyard produce for public consumption. Surplus heirloom tomatoes, squash and cucumbers and sometimes fresh-cut flowers, bread and eggs are shared in exchange for a few folded-up dollar bills stuffed into a slot or jar. There's something about these small operations that makes our little state a special place where people still trust one another to do the right thing. Some still can't believe it. "Every now and then we have a family from out of town, and they don't feel comfortable with the honor system," says Polly Allen, owner of Beanhouses in Little Compton. "They'll knock on our door to try to give us the money."
Here are some of our favorite spots:
♦ Fresh-cut flowers: Hope Street across from the YMCA on Providence's East Side
♦ Vegetables, berries, eggs, flowers, wreaths: Beanhouses, 104 South of Common, Little Compton
♦ Vegetables: Franklin Farm, Abbott Run Valley Road, Cumberland
♦ Bread: Daddy's Bread, 805 Moonstone Beach Rd., Matunuck
10. Because we can raise backyard chickens in the capital city.
We don't have to settle for dogs, cats or hamsters as pets. If you prefer to cuddle clucking hens, then Providence is for you. The city passed an ordinance in 2010 that allows residents to keep chickens in urban environments. Raising fowl can be one of the most humane ways to feed your family farm fresh eggs while also providing your garden with free (and potent!) fertilizer.
11. Our reality stars are entrepreneurs.
Providence- and Johnston-bred DJ Pauly D has parlayed the "gym, tan, laundry" lifestyle he embodied on MTV's "Jersey Shore" into $11 million in earnings in 2011, Forbes reported. Now he's got a spinoff series chronicling his gigs, which include opening for Britney Spears; a clothing line; signature cocktails; headphones and, of course, tanning lotion.
12. Because we can fish under the Mount Hope Bridge.
13. Because plastic shopping bags are banned in Barrington.
Eco-friendly residents voted to outlaw the pesky bags, effective January 1. Now Barringtonians will have to find new ways to bundle up their trash or wet bathing suits.
14. Because the sounds of the shore with its wildlife mingle with the roar of civilization.
Zip down a South County highway and still hear fog horns and crashing waves during a good storm. And you're as likely to catch the spirit-raising cry of a gull in a Providence parking lot as you are if you're walking on the beach.
15. Because we save endangered animals.
Visitors to Roger Williams Park Zoo know this is where the wild things are, but many don't realize that some of these creatures are part of a national program that rescues and breeds endangered animals and reptiles. African elephants, red pandas, Humboldt penguins, not to mention fluffy New England Cotton Tail rabbits and almost two dozen other species, are preserved from extinction thanks to the zoo's participation in the Species Survival Program. All of it makes for a different kind of animal attraction.
rwpzoo.org
16. Because we buy with heart.
Seek out these organizations for everyday products; they'll help you help the less fortunate.
♦ House of Hope Boutique
Buying accessories has never felt so good. Browse an assortment of clutches, chic wine totes and covetable jewelry — we'll take the jasper and cinnabar drop earrings, please — all handmade by formerly homeless women in House of Hope's job skills program. 3188 Post Rd., Warwick, 463-3324,
hohboutique.org
♦ A New Leaf
A handsome, delicately designed bouquet can say just about anything, including "I support those with disabilities." A New Leaf is a full-service florist shop for all occasions, providing employment and experience to adults with psychiatric disorders. 135 Gano St., Providence, 351-4330,
anewleafflorist.org
♦ Recycle-A-Bike
Eager to get behind the handle bars?
For $25 to $200, an eco-friendly, expertly refurbished bicycle is all yours. Used bike sales keep the gears going on mechanics programs for Providence youth, refugees and the general public. 12 Library Ct., Providence, 525-1822,
recycleabike.org
♦ Harvest Kitchen Project
You can never have too many canned goods — especially if they're made with local produce. The Harvest Kitchen gets at-risk youth cooking as part of a job-readiness program, where they make applesauce, pickles, tomatoes and more for sale at farmers markets.
farmfreshri.org/about/harvestkitchen.php
17. Because new designers get their start in Providence.
New York might support major designers, but here it's all about facilitating new talent. StyleWeek Northeast is one of the most thriving regional fashion weeks in the nation, earning attention from the Council of Fashion Designers of America (CFDA). styleweeknortheast.com
18. Because there's nothing we can't turn into a cool living space.
19. Because today's chefs aren't just cooks; they're hunters and gatherers.
From mushrooms and seaweed to wild ramps and grapes, Rhode Island's top restaurants feature tasty foodstuffs they've foraged in our natural landscapes.
20. Because our jack o' lanterns are museum-worthy.
More than forty carvers create pumpkin perfection each fall at Roger Williams Park Zoo, where some 5,000 illuminated gourds range from spooky to fantastic.
21. Because many Rhode Islanders still make a living on our waters. The Ocean State's greatest resource has not only been a means of recreation, but a livelihood for many. Fishermen date back long before colonial times and during the Industrial Revolution, Samuel Slater used water from the Blackstone River to power his Pawtucket cotton mill. Nowadays, Rhode Island is home to both the ages-old craftsmanship of shipbuilding and the growing industry of aquaculture. 22. Because you can walk the length of Benefit Street, then retrace your steps the other way, and get a whole new perspective.
22. Whether it's spring when the trees are blossoming or in fall when the yellow light and falling leaves add a cinematic glow; peering past the old houses to catch a glimpse of the hidden gardens with their view of the State House; or being in awe of the tatted-out RISD kids sprawled like garden ornaments on the sunny grass known as the Beach, in the shadow of the art museum, this mile of history has multiple personalities.
23. Because we house the medical heroes of tomorrow.
Brown University's Warren Alpert Medical School has churned out brainiacs and medical champions for decades, notably Dr. Sandra Carson, innovator of the artificial ovary, and Dr. Jonathan Doris, whose residency inspired the TV series, "Scrubs." And the med school isn't slowing down anytime soon: Last September, 120 first-years descended on our Knowledge District — the largest class size in history. Come 2016, they'll be prepared to change our world, and for the better.
med.brown.edu
24. Because our politics are elastic.
Rhode Island's a true blue state, but we haven't elected a Democrat to the governor's seat in more than twenty years. Democratic Treasurer Gina Raimondo's fiscal policies earn her a higher approval rate with Republicans than members of her own party, and State Senator Harold Metts, a liberal Democrat, is against same-sex marriage. We're not bound by party lines, and that leaves much more room for debate — loud and personal, just how we like it. ri.gov
25. Because we host musical history.
The faces onstage and in the crowd may be different, but the wistful, melodious, prophetic magic of the Newport Folk Festival hasn't changed an ounce since 1959. Relatively unknown performers of the early years — notably Joan Baez and Bob Dylan— are now our modern-day folk heroes. So the precedent has been set: Please the Folks in Newport, earn a place in history; be a Folk in Newport, witness history in the making.
newportfolkfest.net
26. Because we strive to keep history alive.
In 2011, it made Providence Preservation Society's Most Endangered Properties list. But local preservationists came to the rescue and now the Arcade in Providence — built in 1828 — can hold tight to its historical legacy by bringing good food, shopping and entertainment to the community. The preservation bug has spread beyond the city, from the restoration of the 1890s Weekapaug Inn in Westerly to the volunteer-based work on the Greenwich Odeum, a turn-of-the-century vaudeville house in East Greenwich.
arcadeprovidence.com
;
weekapauginn.com
;
theodeum.org
27. Because we're big on art.
We're so much more than a pretty face. The Ocean State boasts ten arts districts that offer sales tax breaks to artists and galleries in Providence, Pawtucket, Westerly, Woonsocket, Tiverton, Little Compton, Newport, Warwick and Warren. A work of art in its own right, Wickford is also pushing for inclusion in the tax-free club — giving us a greater lead on our neighbor, the Bay State, which harbors just six arts districts in total.
arts.ri.gov
28. Because so many eateries indulge our love of bacon.
♦ Our one-bite retro cocktail pairing: Duck and Bunny's bacon-wrapped dates with honey-balsamic glaze. Hello, 1970s. 312 Wickenden St., Providence, 270-3300,
theduckandbunny.com
♦ With a menu that changes nearly nightly, we're begging for the return of tsk's bacon-loaded lobster salad with soft boiled egg and yuzu mayo. An elevated evening eggs Benedict. 688 Thames St., Newport, 846-0576,
thamesstreetkitchen.com
♦ Beau Vestal's New Rivers = hog heaven. Sit at the bar with a glass of prosecco and a plate of his pepper and brown sugar-cured pork belly bacon. Sugar, spice and everything cloaked in hickory smoke. 7 Steeple St., Providence, 751-0350,
newriversrestaurant.com
♦ No coincidence that there are two bacon and-egg dishes on our list. Bacaro's version of carbonara is loaded with smo ped pancetta (Italian bacon without the smoke), marscapone and a soft-boiled egg that oozes all over the fresh tagliatelle. 262 South Water St., Providence, 751-3700,
bacarorestaurant.net
♦ Citygirl Cupcake has a twisted side: hence, the pancake and bacon cupcake that, frankly, tastes like an early morning without the syrup soaking through. 99 Weybosset St., Providence, 580-1271,
citygirlcupcake.com
♦ Say what you want, b'fast is still the best time for smoked pork and there's none better than Perro Salado's jalapeno bacon served with anything and a late morning margarita. 19 Charles St., Newport, 617-4777, perrosalado.com
29. Because our men woo pop stars and Olympians.
Some guys worry about bringing girlfriends home to mom and dad, but not in Rhode Island, where men court celebs. Native Newporter Matthew Rutler and Christina Aguilera met on the set of Burlesque when Rutler was a production assistant and they've been an item ever since. Businessman John Caprio — son of Providence Municipal Court Judge Frank Caprio — dates ex-"American Idol" judge and '80s pop star Paula Abdul. And Clay Pell — grandson of the late United States Senator Claiborne Pell — proposed to Olympic figure skater Michelle Kwan on Block Island. We hope the couple glides down the aisle here, too.
30. Because supermodels shoot commercials here.
If your guy seemed overeager to visit Newport last summer, it's not because he wanted to take in the views. Not those kinds of views anyway. Victoria's Secret supermodels, including Alessandra Ambrosio and Lais Ribeiro, invaded the Elms, Rosecliff and Marble House mansions to film a Victoria's Secret commercial shot by director Michael Bay (Transformers). The fall promotion featured the Fabulous push-up bra in lace and bold colors. Not that anyone noticed; the beautiful scenery was way too distracting! Snap this tag to watch the commercial.
32. Because we have super brainiacs:
♦ Brown University geologist Ralph Milliken is part of the team that landed the Rover on Mars in August to search for evidence of life on the planet.
♦ URI's director of the Institute for Archaeological Oceanography Robert D. Ballard — who discovered the Titanic in 1985 — is seeking underwater proof of the ancient flood that would necessitate another vast ship: Noah's Ark.
♦ URI associate professor Susanne Menden-Deuer and oceanography graduate student Liz Harvey recently discovered a marine plant that swims away from predators. Could it be? A new excuse for failing to eat more vegetables.…
33. Because celeb chefs want to meet us.
Lines of customers rarely wind out the door of any business. But when Dave's Marketplace teamed up with celebrity chefs like Mario Batali and Giada De Laurentiis, hundreds of foodies flocked to meet culinary icons, buy cookbooks and have chefs sign them. "It's because of our customers," says Kenny Banalewicz, specialty buyer and merchandiser for Dave's. "They keep showing up to the events."
davesmarketplace.com
34. Because you can see and be seen all summer at the Hot Club.
"Summer does not begin in Rhode Island until you've had your al fresco drink at the Hot Club," a reviewer writes of the longstanding bar on the Providence River. Immortalized in the Farrelly brothers' movie, There's Something About Mary, bikers, politicians, professionals and students alike flock to its outdoor deck for cold beer, grilled saugies and boat rides. "Come for the dock and the view," the reviewer writes. "Stay because everyone you know from the city is there, too."
hotclubprov.com
35. Because May breakfasts still pack people in each year.
Thousands of eggs, hundreds of people and baskets upon baskets of clam cakes: Times may change, but May breakfasts stay the same. The tradition began in 1867 as a fundraiser for the Oak Lawn Community Baptist Church in Cranston, and since the first bread-breaking (a two-day affair of endless food), we have gathered at more than sixty local churches, schools and community centers all over the state for our fix.
36. Because our waterfront real estate is enviable.
Rhode Island's coast has beckoned heiresses and presidents alike. From Watch Hill to Little Compton, the Ocean State is dotted with breathtaking properties, ranging from the rugged beauty of architect Irving Gill and Olmstead Landscape Design's Wildacre in Newport to fifteen acres on Block Island featuring two homes and two vineyards — just perfect for a family compound. We can dream can't we?