An Ocean State of Trash
Can we protect Rhode Island's greatest natural resource from marine debris?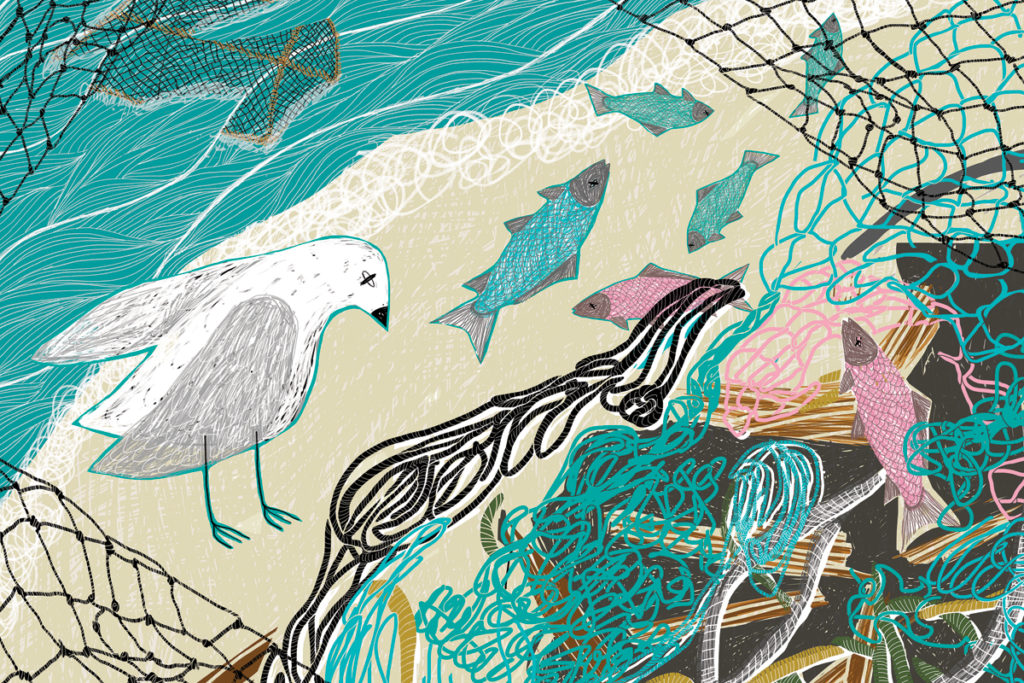 Piled high in a thirty-yard dumpster on a vacant lot in Galilee is a clot of grayed gill nets and frayed lines awaiting the next phase of their lives. In the past, they might have been consigned to "wet storage," a euphemism in the marine trades for dumping something overboard. Instead, the defunct draggers will head off to a waste-to-energy plant, where they will end their existences as electricity.
In 2008, the Fishing for Energy Partnership, a coalition consisting of Covanta, the National Fish and Wildlife Foundation, Schnitzer Steel and the National Oceanic and Atmospheric Administration, began offering grants to coastal states seeking a way to dispose of abandoned fishing gear. The program has recycled more than three million pounds of marine debris from forty-eight collection points in ten states.
"It took a lot of education to let fishermen know that it was really convenient to recycle their gear," says Daniel Costa, the Department of Environmental Management's (DEM) port manager. "The great thing about it is that there is no cost to Rhode Island taxpayers or the fishermen, and it all gets recycled."
Rhode Island's Point Judith dumpsters are one of the top three individual recycling locations in the United States, collecting more than 400,000 pounds of old rope and battered lobster traps in the last eight years. But it's a drop in the ocean, really.
The earth's lifeblood is under assault from marine debris — a broad term encompassing anything in the water that shouldn't be, from a cigarette butt swept into the sea after a hard rain to a fiberglass cigarette boat seeking a berth in the landfill after its racing days are done. Debris is a threat to the marine ecosystem and is a hindrance to navigation.
"It's just plain dangerous; debris can destroy a sailing vessel," says Brad Read of Sail Newport, which organizes local, regional and international sailing races. "But the worst is all of the plastic we see floating by that comes from the land."

Non-biodegradable plastic exposed to sunlight breaks down into microscopic particles, consumed by wildlife and, eventually, us. The most recent estimate shows that roughly eight million new tons of plastic enter the marine ecosystem each year. At the current rate, there will be one ton of plastic for every three tons of finfish by 2025, and more plastic than finfish in the ocean by 2050.
"It's an unintended consequence of rapid economic development in countries where the waste management infrastructure has not kept pace with the consumption and discarding of plastic products," says Dr. Sandra T. Whitehouse, a marine biologist and a consultant to the Ocean Conservancy, an advocacy organization. "We are focusing the biggest chunk of our energies on figuring out a way to help countries finance their waste management infrastructure."
From Save the Bay's point of view, Rhode Island's marine debris problem is not that much different. Executive director Jonathan Stone says there are three primary sources: litter, illegal dumping and storm runoff.
"It's a product of a heavily urbanized watershed and coastline," he says. "We are keenly focused on a number of different approaches to the stormwater pollution problem. The most basic approach is public education: Do not throw stuff out of your windows. At the beaches, you need an appropriate trash removal system. But the bigger picture is capturing runoff before it comes into the bay. All of the cities and towns in Rhode Island are regulated under the [federal] Clean Water Act to manage their discharge of pollution. But it takes leadership, and it takes real money to manage it."
And sometimes it takes a lawsuit. In April 2015, the Conservation Law Foundation (CLF) sued the United States Environmental Protection Agency (EPA) in United States District Court for failing to protect Mashapaug Pond in Providence and waters on Aquidneck Island from industrial, commercial and other polluters that had not obtained the stormwater discharge permits required under the Clean Water Act. The suit was dismissed, but the CLF has appealed.
The Rhode Island Department of Transportation (DOT) ignored the mandates of its stormwater discharge permit for a decade, even as the DEM informed transportation officials in 2005 and 2009 that they had not complied with its terms. In October 2015, the state DOT reached an agreement with the EPA to pay a civil penalty of $315,000, transfer environmentally sensitive properties in Johnston and Lincoln to the DEM, and undergo up to $17 million in drainage improvements. The DOT is on its way to completing an inventory of its drainage system, and repaired and cleaned more than 9,000 structures by the end of 2016. The department created a new drainage crew and is working on stormwater control plans for all affected waterways, says DOT spokesman Charles St. Martin.
Local governments are taking a proactive approach. Middletown is exploring the creation of a stormwater utility district, which would assess fees to properties based on the size of their impervious surfaces. Property owners who mitigate runoff would get a credit. The revenue would be put in a stormwater enterprise fund to pay for drainage improvements.
The city of Newport is in the process of becoming the second municipality in Rhode Island to prohibit plastic bags. In 2013, Barrington was the first.
"There has been a change in attitude by the public on the issue of litter and plastic bags," says Lynn Underwood Ceglie, vice chair of the Newport City Council. "We spend so much money on stormwater management and drainage, and making sure the beaches are clean — and then we aren't going to deal with plastic bags and plastic in the ocean?"
The city also hosts two trash skimmers stationed dockside at Perrotti Park on Long Wharf. The six-by-five-by-four-foot receptacles are a partnership between the nonprofit organizations Clean Ocean Access, which leads the project, 11th Hour Racing, which funds it, and the city, which provides the electricity and some disposal assistance. From their debut in August to mid-December, when they were stored for the winter season, the skimmers sucked about 6,000 pounds of trash, among the seaweed and other bits of flotsam in the harbor. Last month, the trash skimmers were reactivated.
"After nine years of doing beach cleanups, we are trying to shift the focus from removal to prevention," says Dave McLaughlin, a wave-rider by avocation and the executive director of Clean Ocean Access. "Trash skimmers are the last line of defense. It's only a matter of time before the wind and waves and tide send it out into the ocean. A big part of the project is inspiring people to make better choices on land."
There are as many solutions as there are sources of debris. Dennis Nixon, director of the Sea Grant program at the University of Rhode Island's Graduate School of Oceanography, is working on a green disposal process for derelict fiberglass boats. In 2012, the state passed a law setting up a procedure and a fund for the removal of abandoned vessels. But once they are out of water, there's nowhere for them to go.
Nixon is trying to connect Rhode Island boatyards, which would disassemble the boats in the slow winter months, to a construction waste management firm that would grind chunks of fiberglass into one-inch pieces. The scrap would eventually be transported on an otherwise empty ship leaving the Port of Providence to a cement kiln, where it would be transformed into virgin cement with no waste.
"This is a problem nationally, but it is a special problem in Rhode Island because we don't have a place to go to make new landfills," Nixon says. "In 2015, we generated ninety tons, a little over sixty boats. These boats take up a lot of space and it seems like a terrible waste; fiberglass is expensive to use."
But there's still the old-fashioned way of cleaning up the ocean, one potato chip bag at a time. One Saturday in February, fifty volunteers fan out along the sweep of Second Beach in Newport for Clean Oceans Access's monthly beach cleanup. The day is splendid, sunshine spangling a Coke bottle-green sea out to the clouds on the horizon, but the pickers fix their gazes downward.
Up in the dunes, Max Dooley, Niall Shea and Cameron McCarthy, all freshmen members of Portsmouth High School's Green Club, contemplate their growing collection of food wrappers, beer cans and broken glass.
"We like the beach and the ocean, so we thought we'd give back a little," Dooley says. "Some people just don't understand the effects of it."