32 things you must do this summer!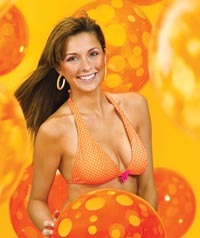 1 Dine outside
Here's what dining al fresco means in my childhood home of Manhattan: you're wedged out on a sidewalk with thirty other people, the sun beating mercilessly on your head while the rumbling heat from the subway creeps up around your feet. The section is roped off, not for the sake of containment but to keep meanderers from spitting on your food or asking for a quarter.
Rhode Island is a far cry indeed. Outdoor dining in the Ocean State is the equivalent of a spa retreat, complete with soothing ocean sounds and fresh air. You won't find a better way to spend the afternoon (or better yet, dusk) than at The Boathouse (227 Schooner Drive, Tiverton, 624-6300, boathousetiverton.com) where tables are shaded from the midday sun and sailboats languidly coast on the Sakonnet River. If you squint just right — blocking out your fellow diners — you might be able to convince yourself that you've scored the ultimate waterfront country home.
If, on the other hand, your temperament lies somewhere in between serene and stylish, reserve a two-top at Jamestown's decidedly European Trattoria Simpatico (13 Narragansett Avenue, Jamestown, 423-3731, trattoriasimpatico.com). Outdoor dining is enclosed in an arboretum-style patio, where you can enjoy the warm air with just the background noise of wandering shoppers and beach dwellers. The menu features Italian-influenced New England fare, and the terrace is so lovely I often linger too long with my pinot grigio.
Finally, for those who can't be persuaded to leave the city in the oppressive heat of August, there's hope for you, too. Lunch under an umbrella at Venda Ravioli (265 Atwells Avenue, Providence, 421-9105, vendaravioli.com) with a hand-picked antipasti and plenty of water; or spend your evening at Al Forno (577 South Main Street, Providence, 273-9760, alforno.com), which exudes urbane charisma even in the thick of the summer. If there's a better way to spend a warm night than with a crispy grilled pizza and a chilled Italian rose, I have yet to find it. —Karen Deutsch
2 Rent a beach house
And a real Rhode Islander knows there's only one place to do it: Narragansett. Here's what you can get for your money, according to Kara Churas at Lila Delman Real Estate (liladelman.com):
Steep: 162 Sand Hill Cove Road
What: 900 square-foot two-bed,
one-bath ranch
How much:
$4,000 per week
Closest beach: Roger Wheeler
(Sand Hill Cove)
Amenities: Gourmet kitchen, outdoor shower, whirlpool tub, plasma TV
Bottom line: Location, location, location. A few stairs separate the backyard from the beach; Galilee and the Block Island ferry are an easy walk away.
Moderate: 991 Ocean Road
What: 1,400 square-foot three-bed, two-bath bungalow
How much: $2,500–$2,900 per week
Closest Beach: Scarborough State
Amenities: Outdoor shower, screened-in porch, large, private yard, ocean views
Bottom line: A street lies between you and the state's most popular beach.
Cheap: 81 Westmoreland Street
What: 600 square-foot two-bed, one-bath cottage
How much: $750 per week
Closest beach: Narragansett Town
Amenities: Rustic interior (think artist's studio), large, shaded yard
Bottom line: Charm (and lots of it) comes cheap at this tiny
cottage thanks to a
fifteen-minute hike
to the beach.
3 Hit the beach
With 400 miles of coastline, Rhode Island's got a beach for every sun worshiper. Whether you crave a sandy scene (or lack thereof) here are the best beaches if you want to…
party
Easton's Beach (First Beach)
Memorial Boulevard, Newport
The draw here is that the Atlantic Beach Club is a stone's throw from the crashing waves. Step up from beach to bar to quench your thirst with a cocktail while listening to live music on the patio every weekend. If lifting drink to mouth isn't your idea of physical activity, dig in to a pick-up game of beach volleyball.
see and be seen
Narragansett Town Beach
Ocean Road, Narragansett
The fact that people are willing to pay for parking and pay another fee to step on the beach is proof they aren't flocking here just for the surf. Cross the crowded strip of sand, find a postage stamp-sized plot to spread your towel and prepare to people watch. While the surfing is second to none, ogling is the sport of choice.
see how the other half lives
Reject's Beach/East Bailey's Beach
Ocean Drive, Newport
Just a rope separates this beach from the Bailey's Beach, Newport's uber-exclusive, invitation-only beach club on Ocean Drive. Set up that beach chair and bask in the glory of knowing that you're sharing sand with socialites and CEOs — sans the hefty membership fee, of course.
bring your family
Fred Benson Town Beach
Corn Neck Road, Block Island
Known locally as Crescent Beach, this is an ideal family-day destination. Kids love the ferry ride to the island, and the beach is a just short walk from the docks. Rent umbrellas and chairs so you can relax with a book, while the younger set entertains themselves with boogie boards (the surf is moderate) and cones from the nearby ice cream shop.
enjoy some peace and quiet
Blue Shutters Town Beach
East Beach Road, Charlestown
Though it's tough to find a truly quiet beach during peak sunning season, this three-mile-long stretch of sand gets props for major crowd control. Limited parking, lack of commercial development and the mellow, largely residential beachgoers keep noise to a minimum and book-reading to a max.
5 See the sights from above
Gliding in a hot air balloon or leaping from a plane — an aerial view is the best way to see our scenic state. That is, of course, if you dare to look down.
6 Grill the perfect burger
There's no burger on the menu at Brian Kingsford's new Italian restaurant Bacaro. But in his off time you'll find the chef in the backyard grilling up summer's all-American staple. Here's his (no-longer) secret recipe:
3 pounds 80 percent lean ground chuck hamburger buns (brioche are fine but soft, store-bought is often best) kosher salt
fresh, cracked black pepper
• Prepare a medium-hot, wood-charcoal fire. If you hold your hand about 4 inches above the coals, you should be able to stand the heat for about 4 seconds.
• Form meat into 6- to 8-ounce patties (about 1 inch thick and 4 1/2 inches in diameter). Do not overpack burgers. To avoid hamburgers puffing up during cooking, make a small dimple in the middle of each patty, about 1 inch in diameter and 1/4-inch deep. Season on both sides with salt and pepper.
• Place burgers onto grill and cook, without disturbing, for 4 to 5 minutes. Flip burgers and continue cooking, 4 to 5 minutes for medium-rare. Do not press down on burgers as this only dries them out. Serve with your favorite accompaniments. Makes 6 to 8 burgers.
7 Read a book
Summer is the season for sweltering plots. No stranger to the page-turner, local novelist Ann Hood offers five books to get you through the coming months no matter the weather. (Though if it's hazy, hot and humid, you're likely to find her on a folding Benny's chair at Scarborough Beach.)
Warm and Sunny
ASTRID AND VERONIKA By Linda Olsson
An unlikely friendship between two women—one young, one old—in a remote Swedish village celebrates the bonds created when people share their stories and their lives.
Bright Skies
HIM HER HIM AGAIN THE END OF HIM By Patricia Marx
Eugene is the worst college boyfriend any girl has ever loved and can't get over. He is obnoxious, and smart, and calls her things like "my peach." Prepare to laugh. Hard and often.
Thunderstorms
A DAY AT THE BEACH By Helen Schulman
Suzannah and Gerhard Falktopf watch the planes hit the World Trade Center from their NYC apartment and flee to the privileged safety of the Hamptons. But what happens to them, and their marriage, once they get there?
Scattered Clouds
LOVE AND OTHER IMPOSSIBLE PURSUITS By Ayelet Waldman
Emilia Greenleaf, former other woman, now wife and step-mother to the step-son and ex-wife from hell, navigates loss, love and her own demons in this brutally honest novel.
Hazy, Hot and Humid
SWEET RUIN By Cathi Hanauer
Elayne's lawyer husband works all the time. The suburbs are boring. And her across-the-street neighbor, Kevin — a young artist — is charming, funny and has a crush on her. Adultery and loyalty served up at high temperatures. This novel sizzles.
8 Swim 1.7 miles from Newport to Jamestown.
Go to: savebay.org
9 Skinny dip
I'm neither an exhibitionist nor a habitual nudist. My naked forays into water have been under cover of darkness, and mainly in the wild. But they have been some of my most memorable swims: in an Adirondack lake, set to the soundtrack of a haunting loon call; in the Andaman Sea, under a full moon, phosphorescent creatures twining around my toes; in the Caribbean, after one too many Painkillers, Jost Van Dyke's signature rum drink; in Narragansett Bay along with a group of thirty or so wedding revelers (and I'm only slightly embarrassed to admit that I was the bride).
For me, the act of skinny dipping is rare, almost celebratory — it's invigorating, daring and a bit improper. And as such, I do not long for a naked world. I'm glad that people don't dine in restaurants unclothed, that Second Beach isn't crowded with sweating, sunburned bare bodies. But every summer when the water and air are warm, I wait for my opportunity — when I can jump into an ocean, a lake, a mountain creek and let the water swathe every inch of my skin. —O'rya Hyde-Keller
10 Bike to eat ice cream
Ice cream is one of summer's greatest indulgences, but, alas, the calorie-laden treat is not so bikini-friendly. Our solution: a ride on the East Bay Bike Path, with breaks for ice cream along the way. Grab a small scoop at each of the places below, and you'll add about 600 calories to your day. Bike the path's 14.5 miles at a moderate pace, and you'll burn around 650 — the perfect cancellation.
Mile 4.5 DariBee, Riverside
The specialty at this former train depot is soft serve.
Mile 8.5 Daily Scoop, Barrington
Here you'll find really good homemade full-fat
varieties, as well as a selection of low-fat flavors.
Mile 10.25 Fruity Cow, Warren
This new addition to the ice cream trail offers cones and, if you're having a healthy urge, fruit smoothies.
End Gray's Ice Cream, Bristol
Park your bike and get your land legs back with a walk to this outpost of the Tiverton favorite (on the dock at the end of State Street) for your last lick and a view of the bay.
11 Kayak from Bold Point Park (East Providence) up the Providence River to Waterplace Park at sunset. Go to:
ricka.org
12 Imbibe by the bay
Maybe it's just our imagination, but booze seems to taste better by the bay. Here are five places to quench your thirst and admire our watery environs.
South County
Amalfi
1 Beach St., Narragansett, 792-3999, amalfiri.com
Scene: URI students and beach house vacationers bypass the Mediterranean menu for the scenic outdoor porch.
Drink: The Amalfi
Cocktail. A frozen —and potent — blend of four flavored vodkas mixed with mango and strawberry purees and finished with blue Curacao.
View: The deck is perched high enough to see over Route 1A to Narragansett Beach, the Towers and the ocean.
Newport
Castle Hill Inn
and Resort
590 Ocean Dr.,
Newport, 849-3800,
castlehillinn.com
Scene: The Nantucket red set installed in Adirondack chairs that dot the hotel's expansive lawn.
Drink: Key Lime Martini. This cocktail is one part comfort, two parts tropical oasis.
View: The Newport Bridge and the Castle Hill Lighthouse hedge your view of the East Passage to the right and left respectively. If you're lucky, you might spot a regatta.
East Bay
J. G. Goff's
251 Thames St.,
Bristol, 253-4523
Scene: Young and old, tourists and residents: all clamor for an empty table on the waterfront porch. (Some even come by boat.)
Drink: Dark and Stormy. You'll find only real ginger beer here mixed with Gosling's rum in this appropriately named Bermudian classic.
View: Always-busy
Bristol Harbor, stately homes on Poppasquash Point and the Newport Bridge off in the distance.
Block Island
Ballard's Inn
42 Water St.,
Block Island, 466-2231,
ballardsinn.com
Scene: Live music plus booze brought to your beach chair plus a bunch of crazy college kids (and the forty-plus set who wish they still were) equals one giant party.
Drink: Mudslide. The island's official drink won't quench your thirst, but this frozen concoction sure goes down easy.
View: The beach faces due east, so you have an unobstructed view of the Atlantic.
Providence
Hot Club
575 S. Water St.,
Providence,
861-9007
Scene: Twenty-somethings from nearby bars mingle with rugged biker-types and a refined after-dinner set.
Drink: Narragansett Beer. Light, refreshing, and full of local flavor.
View: The least offensive-looking power plant we've ever seen, the hurricane barrier, the placid and calming Providence River and the ultra-chic new Providence River Bridge.
13 Play with the kids5 keep-the-kids-busy, no-crying-allowed summertime activities.
1 Pick-Your-Own Fruit
For kids, picking berries isn't a chore. Where else can they get rewarded for getting dirty with a sweet treat (one berry for me, one berry to take home)? Start the summer at Four Town Farms (Seekonk, 508-336-5587), which offers tractor rides and rows of strawberries in June. July brings gargantuan blueberries at Schartner Farms (Exeter, 885-5510), and in September, Jaswell Farms (Smithfield, 231-9043) offers several varieties of apples that kids can pluck right off their pint-sized trees.
2 Camp
During the summer months, Blithewold hosts more than just a spate of weddings. It's also the gorgeous setting for week-long kids camps. During the sessions, kids (grades one to five) can scamper on the lawns, and study everything from bugs to shrubs to — for those with a decidedly more reserved style — artists whose work highlights the outdoors. July 9–August 17, from 9–3, with extended care options. $155 per week for non-members. 101 Ferry Road, Bristol, 253-2707, blithewold.org.
3 Hike
Cover acres of wetlands, scoping fox holes, snapping turtles and, of course, skunk cabbage as part of the Rhode Island Audubon Society's one- to two-hour guided nature walks in Bristol. Birthday parties are available as well as week-long day camps that cater to bird-lovers and coastal explorers in Bristol, Smithfield and Seekonk. 1401 Hope Street, Bristol, 245-7500, asri.org.
4 Polo
The Newport International Polo Series isn't just for adults (though they come in demure droves). Horses speed by, just a stone's throw from your lawn chairs, and kids can dash onto the field in between chukkers to replace the divots. (No open shoes unless you want to clean horse dung from foot bottoms on Sunday morning.) Saturday 4 p.m. June–August, 5 p.m. in September. $10 for adults, children free. 2503 East Main Road, Portsmouth, 846-0200, glenfarm.com.
5 The Circus
The Big Apple Circus is sweet enough for toddlers (no booming cannons, no creepy clowns) but engaging enough for the rest of us. It's housed in a classic big top and features everything from trapeze artists and pony tricks to a truly hilarious bicycle act. Every dollar is well spent as this non-profit pours its funds into programs for disadvantaged and sick children. July 9–15 at Ninigret Park, Route 1A, 4890A Old Post Rd., Charles-town, bigapplecircus.org.
14 Buy the perfect summer outfit
A splash of bright color, a flash of metallic leather and an effortless cover-up make the transition from daytime sun to nighttime fun fabulously simple. —Courtney Anderson
The bathing suit
Fantasie jade and coral bikini, $79, Beach Party, Newport
The dress
Bianca coral linen shirtdress, $153, Michael Hayes, Newport
The accessories
Suzi Roher gold mesh d-ring belt, $212, Michael Hayes
White plastic bangle, $18, Michael Hayes
Gold teardrop earrings, $8, Sole Desire, Newport
The shoes
Tory Burch "Gaby" slides, $225, Michael Hayes, Newport
The bag
Annabel Ingall large "Goya" tote, $325, Angela Moore, Newport
The shades
Black sunglasses, $15, Sole Desire
15 Charter a sailboat
But don't just go where the wind takes you. Follow this week-long itinerary — charted by veteran sailor and owner of Newport-based Bareboat Sailing Charters Brian Blank (bareboatsailing.com, 800-661-4013) — to watery bliss. If you're of no mind, or body, to trim the Beneteau '42's jib on your own, they have captains for hire, too.
Day 1 Newport
Spend the night in Brenton Cove in the shadows of Dwight Eisenhower's summer house, the Newport Yacht Club and Bonnie Crest — originally owned by the family that made Worcestershire sauce (hence the bottle-shaped chimneys).
Day 2 Block Island
A 4.5-hour sail brings you to New Harbor. Take the dinghy to the east side of the harbor, cross the street and sunbathe on Crescent Beach.
Day 3 Montauk
A mini Newport with quaint fishing-village appeal, Montauk (the South Fork of Long Island) is just a half-day's sail from the Block. Explore the town, try hooking a striped bass, or take the dinghy to Gin Beach, a family-friendly spit of sand.
Day 4 Greenport and Shelter Island
Greenport, an old whaling (and rum running) port on the North Fork, is five hours from Montauk. If you miss Christy's in Newport, belly up to the bar for a steamed lobster at the similarly-vibed waterfront Claudio's. Just a thirty-minute sail from Greenport is the exclusive Shelter Island (the only way to get here is by boat) and the ultra-fashionable Sunset Beach Restaurant where Uma Thurman has been spotted.
Day 5 Shelter Island
Lay day. Translation: Stay put. See and be seen lounging on the sand in front of Sunset Beach. BYOB: drinking on the beach is legal in NY.
Day 6 Fisher's Island
After a four-hour sail, pick up a mooring in West Harbor and explore this one-restaurant (the Pequot) island. The scene is decidedly low-key, but high-end. Don't be surprised if you spot some celebs — John Lennon had a summer home here and scenes from the movie The World According to Garp were filmed here.
Day 7 Newport
Eight hours (forty-nine miles) at sea returns you to Newport. Spend your last night dining on the boat or take the launch into town (it runs until 1 a.m.) and grab dinner at the Clarke Cooke House's summer sushi bar. You may have time for a quick sail to Jamestown's Mackerel Cove in the a.m.; drop anchor and swim in to the beach.
16 Catch a flick at the Rustic Tri-View
The flashing vintage marquee signals that you're in for some retro fun. A flat rate ($20) admits you and a carload to the only drive-in left in Rhode Island. Three screens, first-run movies, buttery popcorn and — be forewarned — plenty of old-school "necking." Eddie Dowling Hwy. (Rte. 146), North Smithfield, 769-7601. Open April–September.
17 Play tennis on the grass
Your backhand's weak, your serve sporadic. But don't let that dissuade you from donning your tennis whites. At the International Tennis Hall of Fame they reserve court time for anyone — no matter ability — who wants to play where greats like Chris Evert and Jimmy Connors have competed (and were later inducted into the Hall of Fame). The only competition grass courts in the world open for public play, the Hall of Fame is also the original site of the U.S. Open. The always freshly painted courts (they run through 165 gallons of white paint each season) are available through September 30 starting at $40 for a half hour of singles play. A word of caution: even if you don't have Sampras's serve, don't let that bring out your inner McEnroe — decorum rules here (just witness the sun hats and seersucker suits that take over the stands during the July championships). To make a reservation: 849-6672, tennisfame.com.
18 Do a cannonball off a boat in the middle of Mount Hope Bay.
19 Dine surfside
To knock the sandals off your loved one, consider the ultimate in al fresco dining: a five-course meal served on a Block Island beach, complete with a tuxedo-clad chef cooking a discreet distance from your private table and an ocean breeze unfettered by walls. Chef Dusty Smith hits the beach with white linens, fresh flowers and chilled wine, carting them up bluffs and down dunes to set the scene for proposals and anniversaries. He'll toss locally grown greens, sear plump scallops and grill filet mignon just for the two of you; request the flambeed cherries Jubilee, and he'll flame the pan tableside as the sun sets. Book the meal with the Hotel Manisses (466-2836) and ask for the island's West Side (Dorry's Cove) for the best ocean sunsets and the sand to yourselves. June 1 to mid September, $325 for a couple includes gratuity and transportation, but not a selection from the hotel's well-stocked wine cellar; or bring your own special bottle for a $15 corkage fee.
20 Pick out the largest, prettiest and juiciest-looking Brandywine heirloom tomato at the Saturday morning Hope Street farmers' market. Go to:
farmfreshri.org
21 Watch the Bristol Fourth of July parade

I have seen every single parade during my twenty-three years and have never once tired of the crowds and chaos that overtake my town every summer. Maybe it's hometown pride, but more likely it's that growing up on Hope Street — our front stoop just twenty-five feet from the patriotic stripe painted down the center of the road — has allowed me to experience the parade in a way visitors cannot. Racing outside at 5 a.m. to claim seats on my own front lawn, thousands of people crowded around our house — it's akin to hosting the biggest party of the year. Daunting, yes, but never dull.
It's the one day of the year when it's not unusual to invite a perfect stranger in to use the bathroom or crack open a cold one as a gesture of hospitality. One year we woke up to find a man asleep in our backyard. Another especially muggy Fourth, my dad ran inside for a bucket of water to keep a massive Clydesdale from toppling over in the street. You never know what's going to happen. But it's not all drama. It's also the day to invite over everyone you know to spread out the chairs and blankets on the lawn, throw some burgers on the grill and sit back as the world passes before you and know that — on this one day — you literally have the best seats in town. —Courtney Anderson
22 Spend a day in the big city
And we don't mean New York. We mean right here in Providence. If you're over the dinner and WaterFire routine, try this summery, day-long itinerary instead.
10 a.m.
Grab a filling, cheap breakfast at one of the outdoor tables at the Butcher Shop (157 Elmgrove Avenue, 861-4627), with offerings like omelets and breakfast burritos. On weekends, there's also a friendly guy who sells the Boston Globe, New York Times and ProJo out of the trunk of his car.
12 p.m.
Head to Westminster Street for some shopping. Our favorites: art and eclectic gifts at risd/works, West Village-esque threads at Clover, and quirky-elegant home decor at Butterfield.
2 p.m.
Walk, don't drive, through the Benefit Street historic district (how long has it been since you've done that?). Refuel with an iced coffee on the porch of Coffee Exchange (207 Wickenden Street, 273-1198).
4 p.m.
Check out a Laser at the Community Boating Center in India Point Park (open to the public, season's adult membership is $195; communityboating.com) and view the city skyline from the sea.
6:30 p.m.
If it's Thursday, grab a blanket, a picnic basket and a bottle of wine, and head to the John Brown House lawn for their weekly concerts ($8, 52 Power Street, rihs.org. Our concert pick: the Driftwoods, a Beach Boys tribute band, on July 19.
8:15 p.m.
Order a scoop of Maximillian's Vermont maple walnut ice cream from Three Sisters Café (1074 Hope Street, 273-7230).
8:25 p.m.
Cone in hand, stroll down Blackstone Boulevard. Keep your eyes peeled for the coyotes that frequent this area. Yes, coyotes.
9:30 p.m.
End the day with blue-berry daquiris at the Big Fish tiki bar (370 Richmond Street, 751-3474).
23 Go clamming
Few things are more atavistically satisfying than yanking tonight's dinner from the sea. Check the tide charts for negative numbers and the shellfishing closure maps with the DEM (dem.ri.gov, 222-2900) before you go. Rhode Island residents don't need a license, unless digging on Block Island where they fetch $20 a week. Wear a swimsuit and bring a small shovel, a bucket and — if you're really serious — a bull or basket rake. On the flats, look for small oval holes and dig fast to catch the delicate soft-shell clams (the ones that squirt water) before they retreat further into the sand. These bivalves, traditionally served with drawn butter or fried, usually hide about eight inches down. Wade out to waist-deep water and feel around with your bare feet for the more sedentary hard-shelled quahogs — best on the half shell or in chowder; they're only an inch or so under the sand, and you can feel their tell-tale ridges with your toes. Avid clam diggers have their secret spots, but some that have proven lucky for us are Galilee Salt Pond, the sand flats around Quonset and off Prudence and Patience islands, and the inner ponds of Block Island's Great Salt Pond.
24 Run a 5K.
Go to: coolrunning.com
25 Picnic in a vineyard
First stop at Tiverton Four Corners for picnic supplies — salads and sandwiches at the Provender (3883 Main Road, 624-8084). Continue down Route 77 to Sakonnet Vineyards (162 West Main Road, Little Compton, 800-919-4637, sakonnet
wine.com). From the visitors' center set out on foot past all the vinotourists, due east along the winding gravel road flanked by old stone walls and fields that reach to the sky. Once you've covered (an easy and less traveled) 1/3 mile, you'll come to a Nantucket gray-shingled cape — built by the vineyard's original owners. Spread a blanket out by the flower garden and take in the easterly view: hayfields, the Watson Reservoir off in the distance and the knotty Vidal Blanc vines (early June equals young grapes; late June brings flowers). No surprise, a glass of the winery's Vidal Blanc — floral and fruity — pairs perfectly with the bucolic scenery, your picnic fare and the sticky summer temps.
26 Explore Block Island like a local
My favorite summer activity is walking the peerless two-mile stretch of unbroken sand that starts just a few feet from where I work on Block Island. When summer is in full swing and downtown's long lines and stop-and-go traffic are unbearable, I just walk away. When I hop the dunes that separate Corn Neck Road from Crescent Beach, and the sea breeze hits my face and the blue, blue water spreads out before me, I have an "ah" moment. Every single time. Besides my daughter's face, it's the sight I long for most.
You can always find the right spot to sunbathe or swim no matter how many others have headed for the sand. First comes Baby Beach, where parents camp out with coolers and umbrellas while kids swim and build sand forts; then Town Beach, where the smell of grilled burgers lures tourists to the pavilion. Teens flock to Scotch Beach to ogle the opposite sex and play pick-up volleyball games, and Mansion Beach is always mobbed because of the guaranteed strong surf. In between are stretches with fewer people, and the further you walk, the bigger those stretches become. I love to skim past it all, barefoot and unencumbered, and then stop for an evening swim. Afterward I head home, sandy, a little tired, my skin salty, my shoulders lighter. —Pippa Jack
27 Check out a music festival
And you don't have to head to Newport to do it. Skip the crowds of thousands fighting for blanket space at Fort Adams, and check out these alternatives instead. Or go to both. The more (insert favorite music genre here), the better, right?
If you like: The Newport Folk Festival (Folk/Roots)
THEN CHECK OUT: Rhythm and Roots Festival
At this three-day party (both biker- and family-friendly), Natalie MacMaster and Bela Fleck join headliners the Red Stick Ramblers on four music stages. There's also tasty Creole and Cajun cuisine, kids' activities, and Charlestown's beaches just a short walk away. August 31 to September 2, $145 includes a campsite at Ninigret Park and three days' admission; $30 to $45 at the gate each day, rhythmandroots.com.
If you like: The Newport Jazz Festival (Jazz/World)
THEN CHECK OUT: Providence Sound Session
This multi-venue event brings jazz, the spoken word, Latin and reggae to the city. This year, the Youngblood Brass Band headlines. Its worthy aim: to create community and understanding through culture. A tall order very well delivered.
July 15 to 21, ticket prices vary, providencesoundsession.com.
If you like: The Sunset Music Festival (Eclectic)
THEN CHECK OUT: Block Island Music Festival
Festival director Marc Scortino calls this unique festival "musical gumbo," meaning there is no single genre represented. The vibe: decidedly local. The music: all day everyday, featuring forty-eight bands from around the Northeast. And the best part? This fest is free (take that, Festival Productions!), as is the nightly barbecue. June 12 to 17, free, blockislandmusic.com.
If you like: The Newport Music Festival (Classical)
THEN CHECK OUT: Kingston Chamber Music Festival
Each year, this festival brings out the big names: works by Chopin, Schubert, Beethoven, Debussy and more are featured in this year's lineup, played by established and rising stars in the classical world. This year, they include The Biava Quartet, Ricardo Morales and Elizabeth Hainen. July 17 to 27, $15 ($75 for a six-concert subscription), kingstonchambermusic.org.
28 Section hike our local long trail
To all those who scoff at the notion of wilderness in Rhode Island, consider this: The North-South Trail — seventy-five walk-worthy miles that run from the Atlantic Ocean to the Massachusetts border. What you'll see: rustic stone walls, a covered bridge, an old church, ponds, streams and towering trees. It's a little bit country, a little bit wild — and a huge, surprising escape from the maddening, sweltering crowd. For info, go to rigreenways.org.
29 Chase after the ice cream man.
30 Catch a striper three ways
Looking for a big haul? Head out to Watch Hill and pick one of these spots. Your dinner will be biting at all three.
1 Sightfishing from your boat on the flats off Sandy Point
2 Flyfishing off Napatree Point's sandy beaches or
3 Fishing heavy gear among Napatree Point's rocky areas.
For supplies and local beta, go to Captain Don's in nearby Charlestown (322-0544).
31 Stroll the market
London's Portobello Road meets Providence at downcity's new open market.This tented bazaar at the corner of Westminster and Union streets features more than seventy rotating vendors, from indie clothing designers to mid-century antiques dealers. It's an old-world experience to stroll through the space, bantering with a baker about his sourdough recipe or hearing the inspiration behind a watercolor seascape. Modeled on Boston's South End venue, the Providence Open Market will also feature live music, caricaturists, make-your-own pottery booths and face painting for kids. Many of the artists are RISD alums or students, so their fused glass jewelry and mod screen-printed cards are one-of-a-kind designs. You save by eliminating the middleman, plus you're supporting the arts. And where else can you buy vegan brownies and folk art from the man who creates both? $5 parking in nearby lot at Westminster and Snow streets. Saturdays, 11a.m.–5 p.m., May 12–October 27, providenceopenmarket.com.
32 Add a shot of vodka to your frozen Del's lemonade.
Edited by Lisa E. Harrison
Photography by Patrick O'Connor
Illustration by Susanne Saenger
Contributors O'rya Hyde-Keller • Karen Deutsch • Courtney Anderson • Pippa Jack • Denise Dowling • Ann Hood • Clare Leschin-Hoar
Fashion Styling Courtney Anderson
Hair & Makeup Gregorio O'Neil
Model Lauren Fitzgerald/Maggie