31 South County Holiday Shopping Destinations
Find gifts for everyone on your list.v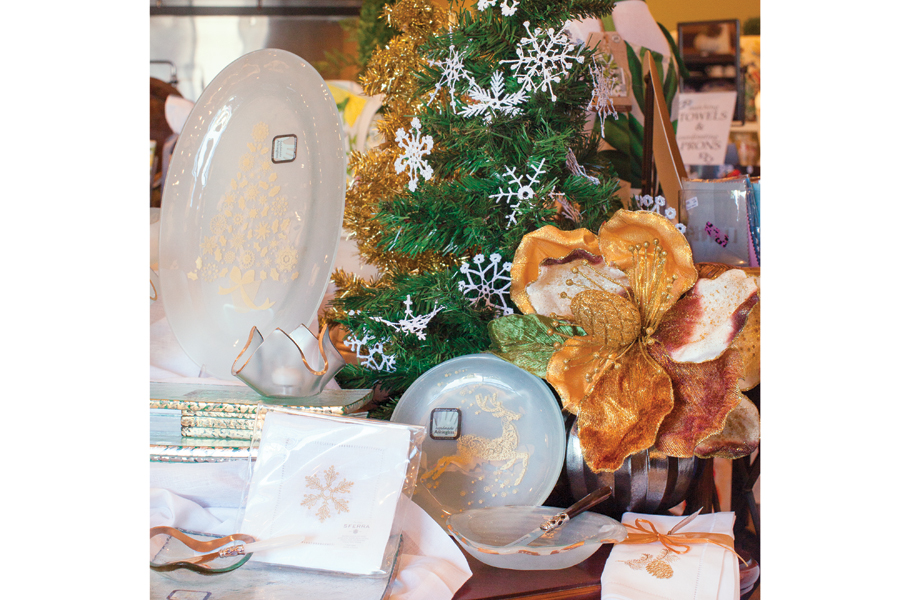 Rustic, trendy or seaside chic, South County boasts shops for all styles.
CHARLESTOWN

Galapagos Boutique
5193 Old Post Rd., Charlestown, 322-3000, shopgalapagos.com
Filled almost to capacity with edgy duds for women and men. On previous shopping expeditions, we've found Paige Denim, Joie and Vince brands next to perennial favorites like Old Gringo. For that special someone, try one of the stunning necklaces or rings.

Mills Creek Natural Market
4436 Old Post Rd., Charlestown, 364-9399
How sweet! Vintage cocktail napkins for $5 to $10. Mills is loaded with the kind of worthwhile handmade items you'll never find in a mall, including pottery, jewelry, photography, glasswork and accessories by more than fifty local artists.

EAST GREENWICH

Blueprint 5
631 Main St., East Greenwich, 885-2500
More gallery than retail in feel, this new boutique features glorious finds: bags and watches nestling with European knits and suits and sharp bespoke tailoring. Playful scarves and cheeky socks will release any potential stuffiness in your favorite male.

Chef-a-Roni Fancy Foods
2832 South County Trl., East Greenwich, 884-8798, chefaroni.com
Every noon, the parking lot fills with hungry patrons in search of robust sandwiches and baked goods. But don't let its unassuming vibe fool you; there are also plenty of offerings for serious cooks, such as candied ginger. Assemble a basket of goodies for that aspiring chef, and they might just invite you over for a delicious meal.

David-Max
187 Main St., East Greenwich, 885-1732, david-max.com
Owner Courtney Grady has decorating in her DNA. As a kid, she antiqued with her parents and helped refurbish an old house. Now she's turned her passion to curating work by talented local artists; choose from textiles, stationery, handmade jewelry, cute pet accessories and more.

The Green Door
130 Main St., East Greenwich, 885-0510, thegreendoorathome.com
Elegant classics like Herend porcelain as well as made-in-Rhode-Island gifts, from afghans to jewelry, to marble personalized coasters made in Providence.

The Savory Grape
1000 Division Rd., East Greenwich, 886-9463, thesavorygrape.com
Sophisticated wine baskets and curated craft beer selections that can be picked up in-store, shipped or delivered. Try a wine club membership for the explorer, enthusiast, connoisseur or collector. The selections in the monthly craft brew club are niche and limited in production.

Therapy Boutique
35 Main St., East Greenwich, 884-3130, therapyboutique.com
Shopping is our favorite form of retail therapy and this recent Wakefield transplant lets us indulge. Browse the collections of must-have cashmeres, high-end denim lines and sweet separates.

EXETER

Davin and Kesler
24G Dorset Mill Rd., Exeter, 295-7515, davinandkesler.com
Thomas Davin and Mary Kesler are known for their handmade contemporary crafts. Amid their gorgeous designs are a bounty of food-related items like chopsticks and sushi boards fashioned of exotic hardwoods from maple to cocobolo. Don't miss the couple's line of stunning wooden jewelry.

HOPE VALLEY

URE Outfitters
1009 Main St., Hope Valley, 539-4050, ureoutfitters.com
Whether they're gearing up for backpacking, rock climbing, hiking, kayaking or canoeing, sportsmen and naturalists couldn't find a more complete source. The adventuresome shop specializes in the great outdoors and all that you or yours will ever need to enjoy it.

JAMESTOWN

Grapes and Gourmet
9 East Ferry Wharf, Jamestown, 423-0070, grapesandgourmet.com
Grapes and Gourmet has a pleasing inventory of vinos with new varieties arriving all the time. There's also a delectable assortment of cheeses and pates sure to impress the guests at your next holiday get-together. If you're heading out, a wedge of Stilton and a complementary wine make stellar hostess gifts.

Jamestown Art Center
18 Valley St., Jamestown, 560-0979, jamestownartcenter.org
There's no nicer gift than something made by hand, be it a holiday ornament or a ceramic mug in a glaze as blue as the bay. The center has earned a devoted group of talented members and when their works are for sale, it's impossible to exercise restraint.

NARRAGANSETT

Simply Natural
24A Pier Marketplace, Narragansett, 782-3400
Celebrate the season with planet-friendly gifts. This bright and airy shop specializes in organic, recycled, eco-friendly products for feel-good gift-giving for family and friends. Simply Natural also offers 100 percent natural baby clothes, lead-free candles, organic soaps and skincare, jewelry and much more.

Willywaw
31 Sextant Ln., Narragansett, 742-9641, willywaw.com (seasonal hours)
Ashley Van Ettenhand prints her immensely appealing designs — many with garden or sea-related motifs — on all-natural fabrics with water-based ink. Collect the pillows or grab a tea towel to elevate drying dishes.

NORTH KINGSTOWN

Allie's
3700 Quaker Ln., North Kingstown, 294-9121, shopallies.com
Even urban types could love a place like this. The pet section is full of stocking stuffers, from leashes to treats. If you don't actually have a need for a saddle, you'll still enjoy browsing the Western boots and hats while dreaming of your next country getaway.

Purebred Editions by Lorena Pugh
323 Harrison St., North Kingstown, 885-9438, purebrededitions.com (by appointment)
Pugs, labs, daschunds: Pugh's limited edition prints, giclees and paintings cover a wide array of popular breeds. But what the North Kingstown artist's fans really love is how she manages to capture the pets' personalities too.

Wickford Gourmet Factory Outlet
21 West Main St., North Kingstown, 294-8430
Everyday cooking equipment, tableware and glassware. And we're not talking below-quality goods. Experience has shown you can buy wine glasses, linens and even casseroles at a substantial discount; they'll last.

WAKEFIELD

All That Matters
315 Main St., Wakefield, 782-2126, allthatmatters.com
Shopping for yoga enthusiasts should be stress-free. We recommend bundling — a mat, yoga pants and a book on meditation. Throw it all together in one of the store's cute totes, and even the wrapping is a cinch.

Elle G
330 Main St., Wakefield, 284-2091; 99 Fortin Rd., Kingston, 782-9080, ellegri.com
Clothes of every color and chic accessories with purse-friendly price tags make Elle G a go-to for fashionistas. This Wakefield and Kingston boutique offers classic and contemporary attire, all high quality and less than $100.

The Purple Cow
205 Main St., Wakefield, 789-2389, thepurplecowco.net
This eclectic store has become a one-stop shop for all the tough-to-buy-for women in our lives, and it doesn't matter whether we're shopping for someone who is eight or eighty. Check out the first-rate selection of must-have jewelry, hand-painted pottery and comfy loungewear.

South County Art Supply
430 Main St., Wakefield, 783-2749, southcountyartsupply.wordpress.com
South County Art's growing stock includes everything artists want, from brushes to reams of watercolor paper with much in between.

Store Four
673 Kingstown Rd., Wakefield, 783-7388, storefour.net
This family-owned gift and gourmet shop includes a functioning kitchen where cooking classes regularly take place to standing ovations. Gift possibilities range from luscious linens and tableware to glassware, fine foods and more.

Wakefield Liquors
667 Kingstown Rd., Wakefield, 783-4555, wakefieldliquors.com
Stuck for a hostess gift? Check out the expanded wine room with areas featuring the latest staff picks and best values, or browse the rest of this well-stocked emporium for an extensive selection of wines, spirits and domestic and imported craft brews.

WESTERLY

L'Interieur
18A High St., Westerly, 348-0045, linterieur-jcrawford.com
This holiday season boost the would-be decorator's spirits with an eye-catching home accessory or two. A stunning pillow or mirror, for instance, can be put to good use immediately.

WICKFORD

Blue Hydrangea
2 Main St., Wickford, 295-2583, 295blue.com
At Blue Hydrangea, you'll find that proprietor Donna Trottier has culled a sweet collection of thoughtful luxuries. Armed with an assortment of her home decor items, you'll please mothers, sisters, teachers and even the last-minute extras who surprised you by crashing — er, showing up — for the festivities.

Different Drummer
7 West Main St., Wickford, 294-4867, differentdrummerri.com
The one-of-a-kind cards and gifts we've found here over the years could reach the North Pole. An eclectic range, from earrings and charms to pottery, baby presents and Old World ornaments, never fails to yield a prize during the holiday season.

Gossip Boutique
16 Main St., Wickford, 294-7333; 94 Main St., Wakefield, 783-2300; 391 Thames St., Newport, 849-3571, shopgossip.com
Femmes fatales continue to stream through the door for the trendy clothes — upbeat, youthful designs by companies like Sucre Soir and Free People. (We've been eyeing one of their luscious cashmere tunics, if anyone's looking for ideas!)

Green Ink
89 Brown St., Wickford, 294-6266, greeninkboutique.com
Gorgeous women's clothing in natural fabrics vies for attention alongside stunning scarves, handbags and jewelry in this airy, fun-to-browse space. In sizes to flatter all shapes, the threads here, from designers like Eileen Fisher and Cut Loose, are all as comfy and breathable as they are stylish.

JW Graham and Yes! Gallery
26 and 17 Brown St., Wickford, 295-0757, 295-5525, jwgraham.com
This long-established shop features soft leather bags and silk scarves in its original location on Wickford's main thoroughfare. Step across the street to its sister store, however, and enjoy browsing a spacious gallery with a tranquil, creative vibe.

The Wickford Collection
30 West Main St., Wickford, 295-7222, thewickfordcollection.com
Nautical doesn't necessarily mean lobster mats and fish netting. The sophisticated items that nod to the sea in this trendy shop include antique ship models, lovely oyster shell-encrusted mirrors and beaded starfish pillows. Look around and you'll find a handsome painting of a boat or a painted wooden sign with a watery theme. We always find something for the nautical types in our life (and land lubbers, too).

Wickford Gallery Home and Garden
14 Phillips St., Wickford, 447-3700, facebook.com/wickfordgallery
There's almost nothing in Richard Kazarian's shop that we don't covet, from the stunning metal lamps and sculpture to the art. Never the same from one day to the next, vintage (and antique) items seem to pop up overnight along with curiosities.