3 Ways to Honor International Women's Day
Here are a few women-centered local events where you can show your support today, later this month and in April, too.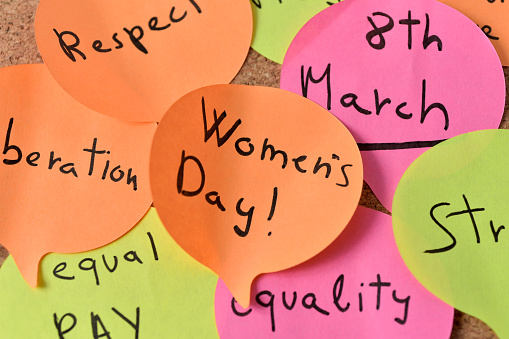 Today is International Women's Day and we can think of no better way to honor women than to continue supporting them not just on one single day, but every day. Today, special events across the world appreciate the great work women are doing to improve our society. Here are a few women-centered local events where you can show your support today, later this month and in April, too.
1. PVD Lady Project: International Women's Day Celebration
March 8. 6−8 p.m. Slater Mill, 67 Roosevelt Ave., Pawtucket.
At this International Women's Day celebration, attendees will mix and mingle with PVD Lady Project's motivated and successful women while enjoying appetizers provided by Delsie Catering as well as beer and wine provided by Narragansett Beer and Chloe Wine Collection. There will be a speaker lineup, including Erika Davis, the events and programs manager for Slater Mill; Erin Dube, educator, mother and elected official for the City of Pawtucket; and Kelly Nevins, executive director of Women's Fund of Rhode Island. Tickets are $15 per person, and you do not need to be a Lady Project member to attend. There is also plenty of free parking on site.
March 25. 7 a.m. to 8 p.m. Veterans Memorial Auditorium, 1 Avenue of the Arts, Providence.
The Summit brings together more than 300 driven, entrepreneurial women for a day filled with inspiring speakers, professional workshops and so much more. Check out ladyprojectsummit.com for a list of workshop leaders and descriptions, panelists, partners, the full schedule and more. Check in for the event starts at 7 a.m. where you can enjoy breakfast and coffee by New Harvest Coffee, visit the Lady Project Shop by Craftland and more. After breakfast, hear from the opening keynote speaker, Lisa Jakub, and head into the first few workshop rounds. After lunch by Ellie's Bakery, there will be three more workshop and panel rounds, followed by closing keynote speaker, Rhonesha Byng from Her Agenda. There's even an after party with treats from Easy Entertaining, drinks by Chloe Wine Collection and Narragansett Beer, and more special surprises throughout the night. Tickets are $225 per person. Purchase your tickets here.

Plating dessert at the 2016 Eat Drink RI Festival Dinner by Dames, at center Chef Sara Reilly, at right Chef Melissa Denmark. Photo by Stacey Doyle Photography
April 27. 6−10 p.m. Skyline at Waterplace, 1 Finance Way, Providence.
Taste the food and drink produced by Rhode Island's best women chefs and bartenders at the Eat Drink RI Festival's popular annual event, Dinner by Dames. The multi-course dinner will be held at the brand new Skyline at Waterplace in downtown Providence. This year's Dinner by Dames is a part of Paint the Town RED to benefit AIDS Care Ocean State. This female-driven dining experience brings together five of Rhode Island's most talented chefs, Melissa Denmark of Gracie's and Ellie's Bakery, Jordan Goldsmith of Moonrose Farm, Maria Meza of El Rancho Grande, Ashley Vanasse of Easy Entertaining and Jessica Wood of Fire and Water Restaurant Group, for a multi-course dining event with guest dames Rebecca Lentrichia of the Renaissance Providence Downtown Hotel and Sarah Williams of Seven Stars Bakery. Jen Davis of the Eddy will also lead a group of RI's top bartenders in creating cocktail pairings for each course with spirits provided by Origin Beverage Co. Tickets are $150 per person and can be purchased here.