3 Bar Menus
Creative and intimate, a bar menu takes its rightful place and promises some of the best food in the house.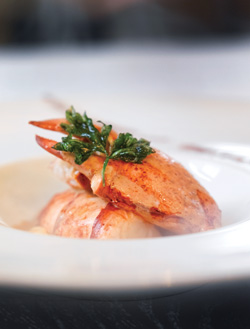 Muse
41 Mary St., Newport, 846-6200, vanderbiltgrace.com.
Hours
Open seven days a week. Wheelchair accessible. Valet parking.
Capacity
Two dozen would be standing room only.
Vibe
Modern with a whiff of Whit Stillman's Metropolitan.
Prices
$5–$18 (discounting the classic martini).
Away from the tourist spots, Newport maintains a high-minded bar scene over on Mary Street. Vanderbilt Grace, spearheaded by Jonathan Cartwright's mindful Muse, may be less restrained than its contiguous dining room but no less mature. In truth, there's an aesthetic levity throughout the hotel as evidenced by the pinup girls who look out across wainscoted walls. But make no mistake: Cartwright's Muse is serious indeed and requires a certain reserve from its patrons. The small bar, however, makes no such demands. With six stools at the counter and additional seating for a tight twelve, it could be strictly cocktails, albeit expensive ones. Most mixed drinks are $15 though a classic martini will cost you a cool twenty.
But it would be a misuse of space to come to the Grace bar only for drinks. The room is striking if small, with imposing iron pendant lamps hanging over what is still, in some way, a distinctly residential space. But it's also a more approachable rendering of the restaurant's identity. While there are plates that represent pub fare — charcuterie with olives and assorted bread, clam chowder, even a modern take on sliders with foie gras as a proxy for beef — the hotel has an attentive staff in and out of the kitchen that refuses to make mundane bar food.
On a slow night, a single bartender might handle the whole operation but it's not unusual to hear a guest ask for something from the Conservatory menu (the hotel's less formal option). Subsequently, the bartender is across the lobby retrieving a pristine halibut while the hostess makes convivial conversation with European cadence. The bar menu as it's presented, however, is more impressive on the tongue than on paper and, in some sense, eclipses the restaurant's showier dishes. Muse's smoked lobster, for instance, is impressive the moment it comes out the door: its presentation, campfire smoke and sheer indulgence stir the pot of anticipation. What can bar-side gnocchi really do?
Part of what makes gnocchi a perennial favorite dish is its toothsome texture but here, the dough is flattened out and pan-seared ($14). The result is a core even richer when juxtaposed with an exterior crunch, creating an altogether elevated dish. Paired with sweet garlic and Parma ham on some nights, roasted mushrooms and arugula on others, it resonates with modernity despite its humble origins. The same holds true for a sweet potato croquette with chili sauce ($8) as well as risotto with fresh peas or butternut squash ($11–$14). Even ice cream, in a myriad of home-churned flavors, validates the theory that comfort food can be distinctive.
Muse doesn't reduce the kitchen's talents by crafting a more colloquial menu — which may be why people sit, stand or sidle up to the bar on any given weekend. It's an urbane crowd but certainly not an antiquated one as at least three generations are perfectly comfortable claiming a bar stool and peering at the plate next to them for a recommendation. The august mansion that houses Vanderbilt Grace may speak to its history, but the bar is building the future one gnocchi at a time.
---
117 Memorial Dr., Newport, 847-1300, thechanler.com.
Hours
Open seven days a week. Wheelchair accessible. Valet parking.
Capacity
A dozen at the bar, several more on the sofa and a contingency of twenty at cafe tables by the sea.
Vibe
Like you just crashed the wedding of the century.
Prices
$9–$29.

The thought of planning a late evening at the Chanler might be exhausting. Just a simple drink at the imposing wooden bar — elaborately carved and surrounded by French-inspired seating — could require extensive planning in company, clothing and culinary prowess. A half-dozen cafe tables, overlooking the crashing sea at the start of the Cliff Walk, are picked off with glee.
Sort of.
In truth, the bar right outside Spiced Pear is disconcertingly casual. Where the dining room maintains a sense of serenity as guests eat their way through a many-hour, multi-course spectacle, the regular bar crowd mixes formality with unabashed familiarity. Yes, the servers are still in streamlined tuxedoes; the weekend musical trio is often sporting suits and bucks; and yes, the requisite restrooms are gilded to the handles of their gold-tipped vanities. But ambling drinkers who speak amiably to each other — and the band, servers, staff and everyone in earshot — are decidedly informal. Even the stately elders, still dressed for the occasion (any occasion), offer civilized shouts of encouragement ("I love Sinatra!") or sporadically rise to dance alone in zealous fashion. "I must say," noted an elegant server to an energetic samba enthusiast, "you do have the moves."
Fueling the unexpected informality is the bar menu. Though there are a handful of brassy options (the $29 Kobe burger, tuna carpaccio with soy pearls, oysters with pear mignonette), it's the kitschy approach that differentiates the bar from the adjacent, grand dining room. Cocktails are an indulgent array of pear-based drinks: pear vodka mixed with pear nectar, pear puree, cinnamon, sugar rims and even hard cider. Prices — given the surroundings — are a steal (averaging $9-$14) and the staff pours tableside, gracious and good humored, even when every crystal glass is looking for a refill.
But the bite-sized morsels are still unexpectedly laid-back. Kobe pigs en croute ($14) taste a lot like the kind kids love, though, adorned with wasabi aioli, they do bear more heat. Logs of fried brie served with a nearly savory cherry jam ($12) are the bar's answer to mozzarella sticks and marinara — though slightly less successful paired. Better are the artichoke hearts stuffed with boursin ($10) and deep fried as well.
There are certainly opportunities for a true Chanler experience: You can get a dish from the dining room brought over or sit broodingly with a glass of twenty-five-year-old Macallan single malt scotch ($89). But there's also something comforting about the fact that there's an unbridled side to this regal inn. It turns out that Newport's neighborhood bar comes wrapped in privilege but remains decidedly playful.
---
A-Bar
311 Westminster St., Providence, 521-3333, aspirerestaurant.com.
Hours Open seven days a week. Wheelchair accessible. Valet parking. Capacity Fifty-plus in booths, at tables and on sofas. Vibe Beach wedding brought indoors. Prices $5–$12.
If Newport personifies the regal head of household, as bars go, the Hotel Providence's A-Bar is the son sporting shorts with his navy blazer who offers up a surfer shaka in every family photo. There may be a suggestion of formality but the underlying backbone is a timeless party vibe, that elusive disco ball aura that pervades the air of any soiree that seeks to shock and awe guests with fruity cocktails and pop-rock style appetizers.
One look at the disparate attire and it's clear A-Bar is a hotel hangout. Suits next to sweats, expansive tattoos just across the way from a collection of Hawaiian shirts paired with khakis. All rest against a backdrop of purple, black and white — beaded leather chairs and velvet booths — that recalls a perpetually bubbly '80s aesthetic. And it has a lot of space.
While most bars serve as an appendage to the dining room, Aspire's A-Bar is a room all its own, seating three dozen and expanding outward onto a sprawling patio when the warm weather hits. Their menu is equally liberal, appealing to any and all diners rather than expecting the crowd to acquiesce to a set identity. In fact, though there's a Caribbean edge to the menu, the only hard and fast culinary rule is that extreme is standard.
The dishes are not only bold, they're magnified: rainbow-hued cocktails are sweet, and a slab of pork belly could have come out of a state fair if it were served on a stick. Like everything on the menu, the pork belly ($9) is meant for a group to graze on but the four-inch slab is, well, audacious by any standard. Topped with a banana brown sugar chutney that mimics the molten texture of the pork, consuming the dish could take up a full episode of "Man v. Food."
Every option is a form of party food. Vibrant wedges of roasted pineapple play against an acidic Asian tuna poke ($11) as well as the house Hawaii pizza ($10) loaded with bacon and enough jalapeno to have you downing a melon martini with abandon. The duck spring rolls, deep fried confit with orange chili sauce, could be piled on a tray and passed around at a wedding with convivial conversation and the knowledge that you're just traveling through town with a bunch of one-night friends. Even the chocolate lava cake makes a displaced traveler feel as if they've found their bearings.
There are more mature options — a cheese plate paired with chestnut puree and housemade apricot preserve — but they're better suited for the main dining room where red wine rules and conversation comes in hushed tones. Servers in A-Bar certainly spread the joy though, eager to chat through a menu that changes with the seasons. They're experts in small talk as the crowd is a transient but zealous one and the party begins again tomorrow.