26 Places for Beautiful Gifts in Newport County
Browse a wealth of gifts in the City by the Sea and beyond.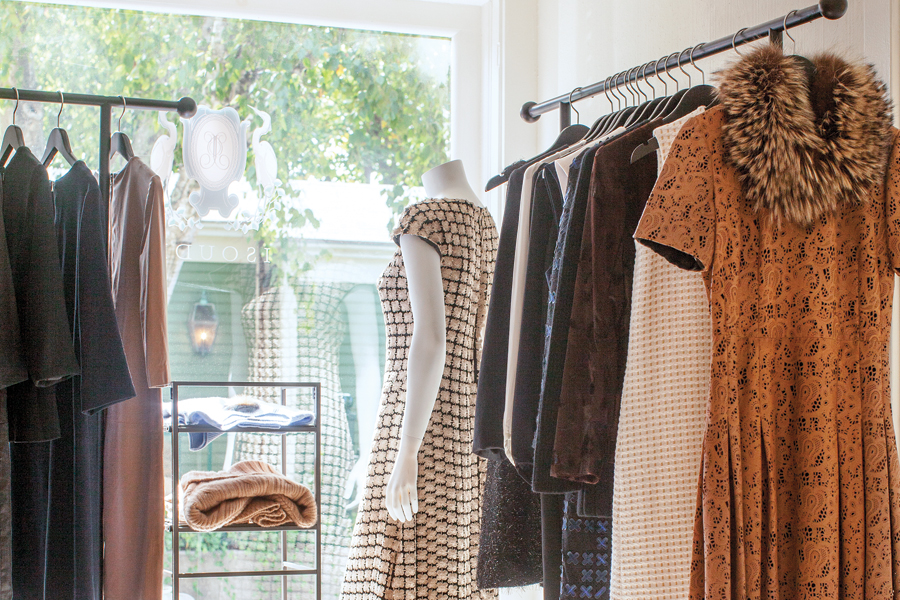 Alloy Gallery
125 Bellevue Ave., Newport, 619-2265, alloygallery.com
This is not where you'll find big pearls and a brooch set, but rather items that are dainty and audacious, blending metals with fabrics, enamels, stones and rubber in playful shapes and unusual compositions.

Angela Moore
190 Bellevue Ave., Newport, 619-1900, angelamoore.com
Thinking of running away to the tropics this winter? Flip-flops, sarongs and totes are ready for the beach or an island-cruising yacht. But a colorful hand-painted bead bracelet or necklace is a precious accessory to keep the beating-feet-to-the-sun vibe strong once you've come home to winter again.

Blink Gallery
478 Thames St., Newport, 619-3717, blinkgalleryusa.com
Photographer Alexander "Sandy" Nesbitt's striking photographs from traveling around the world captivate alongside creative photographs of Newport. A reclaimed wood table or mahogany bowl by Jeff Soderbergh and striking carbon fiber bracelet by Diana Hall are also beautiful to give, get or just ogle.

Chateau and Bungalow
106 William St., Newport, 619-1966, chateauandbungalow.com
A shop as chic as they come. And to our benefit, all the items in its stylish inventory — from furniture and lamps to candles and trays — complement each other.

Cottage and Garden
9 Bridge St., Newport, 848-8477, cottageandgardennewport.com
Step inside and you'll feel inspired to tackle any decorating project, large or small. A copper tray, an iron bench or a flowered finial suitable for someone's mantel are just a few memorable items we've found. As the name implies, these garden wares, which range widely in price, effortlessly enhance both indoor and outdoor settings.

Green Envy
8 Franklin St., Newport, 619-1993, greenenvyshop.com
The green-friendly items here, from jewelry to skin and hair care products and candles, jostle together comfortably over two floors. Items either come from fair trade countries or the USA, and many are locally made.

Grenon's of Newport
210 Bellevue Ave., Newport, 846-0598, grenons.com
The dark wood cabinets and rich silk wall coverings create the ultimate backdrop for this upscale jewelry store. And the stunning items live up to the polished setting, with case after case of heart-stopping couture jewelry of the highest quality. Watches, many handcrafted, are the main attraction.

Hooley/Re-Sails
33 America's Cup Ave., Newport, 849-8623, resails.com
A 10,000-square-foot emporium for outdoor lovers features distinctive sailcloth accessories and bags, including made-in-Newport one-of-a-kinds fashioned from recycled sails. Check out the rugged men's and women's clothing and footwear, cruising bikes, paddleboards and wetsuits.

Isoude
18 St. John St., Newport, 619-5775, isoude.com
The flagship store of designer Kate Brierley is a spare and quiet space, offering a canvas for her original, often hand-dyed, hand-painted and printed dresses and gowns, which were hailed by Vogue as "incredibly chic," and all of which we covet.

J.H. Breakell and Co.
132 Spring St., Newport, 800-767-6411, breakell.com
Breakell's jewelry in sterling silver and gold is known beyond Newport, and no surprise. Who could resist the necklaces, bracelets, pins and rings in irresistible shapes including buoys, tugboats, starfish and flowers?

Karol Richardson
24 Washington Sq., Newport, 849-6612, karolrichardson.com
From beautiful knit scarves and intricate beaded bags to racks of gorgeous seasonal clothing and tables of sparkly jewels and hair accessories, each item here seems to be painstakingly picked to complement the rest. Good luck exiting without something new in tow.

MacDowell Pottery
138 Spring St., Newport, 846-6313
The wonderful pottery, hand-thrown and lovingly painted in an adjacent studio, continues to be the attraction here. Handsome cups, plates and bowls are created daily.

Michael Hayes
204 Bellevue Ave., Newport, 846-3090; 19 Bowen's Wharf, Newport, 849-1888, michaelhayesnewport.com
This iconic Newport mainstay caters to a well-dressed set. For women, there is classically trendy clothing by Tory Burch, Marc Cain and Clover Canyon, while men have their pick of Vineyard Vines and Canali.

Newport Mansions Store
1 Bannister's Wharf, Newport, 849-9900, newportmansions.org
Only a dusting of snow could make this waterfront shop more picture-perfect. Furniture, ship models, books and housewares all reflect a nautical lifestyle theme. Even the Astors and Vanderbilts would have approved.

Ö Decor
10 Franklin St., Newport, 846-9369, o-decor.com
The Swedish tone is set by the umlaut and is consistent within the store, where every item offers the kind of beautiful, elegant design we've come to expect from our Scandinavian friends.

Pan Handler's
35 Broadway, Newport, 619-3780, panhandlersnewport.com
Equipment for serious cooks who would swoon at an orange Le Creuset lidded casserole under the tree on Christmas morning. Many kitchen lines are awarded prime space, and dozens of tools cover the walls.

Pink Pineapple
380 Thames St., Newport, 849-8181; 106 Clock Tower Sq., Portsmouth, 293-5490, pinkpineappleshop.com
In addition to the eponymous line of cashmere and cotton wear, as well as the eye- popping stock of statement jewelry, you'll find everything from bejeweled cocktail dresses to hipster-esque skinny cords.

Royal Male
104 Spring St., Newport, 846-8465; 18 Bannister's Wharf, Newport, 846-7097, royalmale.com
Imagine you're one of the royals looking regal in this collection of luxe European-made clothing and accessories for both men and women.

Sequin
474 Thames St., Newport, 619-0015; 119 Bellevue Ave., Newport, 619-5713; 182 Bellevue Ave., Newport, 619-5865, sequin-nyc.com
From bracelets to necklaces to earrings, there's a little bit of love in each piece from the Deco-inspired to colorful enamel. Browse the Mystic Talisman, Color Karma and other collections; you may want to splurge on yourself.

Shore Soap Company
424 Thames St., Newport, 619-5788, shoresoapco.com
Soaps of sea salt, sugar scrubs and other bath products take inspiration from nearby coastal surroundings. Indulge a favorite someone with divine body washes, shaving oils, lotions and butters.

Spring Fever
235 Spring St., Newport, 849-3707, springfeverri.com
Stepping into Spring Fever is like setting foot in a beautifully decorated beach house. Plenty of the goods are nautical in theme, making them perfect gifts for someone who has a home, or just lusts for one, near the ocean.

Swift-Morris Interiors
69 Mill St., Newport, 849-3229, swiftmorrisinteriors.com
Tasteful sparks emanate from the furnishings and accoutrements here. If you admire elegant, walnut-framed yacht designs and classic wicker seats, you're in luck.

Team One Newport
561 Thames St., Newport, 848-0884, team1newport.com
Equipment for your favorite salty type: From footwear, gloves and sunglasses to Henri Lloyd jackets, nothing is lacking.

The Tennis Store
194 Bellevue Ave., Newport, 846-1203, shoptennisfame.com
A slew of goods decked out in green ball and racquet motifs. Greeting cards, belts, jewelry and books all pay homage to the game.

Toci
18 Franklin St., Newport, 848-9600, thisistoci.com
Cashmere items in a dizzying array of colors and styles, from sweaters to pashmina scarves. Hats in Scottish cashmere share space with nubby sweaters and cable wraps.

Vintage to Vogue
Long Wharf Mall North, Newport, 855-2443, facebook.com/vintagetovoguenewport
We searched all over for a certain kind of lapel pin and found it here. In fact, we discovered several that were reminiscent of decades past amid the dazzling array of necklaces, bracelets, cufflinks and earrings.