Congrats to our 2019 Common Good Award Winners!
Help us celebrate the state's most philanthropic businesses at an awards reception on January 17.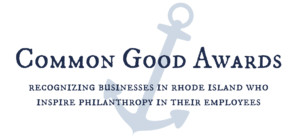 Our second-annual Common Good Awards, in collaboration with the Rhode Island Foundation and presented by Citizens Bank, honors local businesses that inspire philanthropy and volunteerism in their employees. Their teams get out and do the work, constructing playgrounds and offering pro-bono legal services to people in need.
This year's recipients were selected by a panel of judges across four categories.
Common Good judge and Rhode Island Monthly publisher, John Palumbo, says of the winners: "These are the stories of good deeds by companies large and small that seldom make headlines or attract notice."
Neil D. Steinberg, president and CEO of the Rhode Island Foundation — the state's largest funder of nonprofit organizations — also judged this year's contest.
"We commend every company that won and every company that entered. By supporting philanthropy in Rhode Island, companies can enrich the communities around them, boost employee retention and recruiting, enhance teamwork and imbed their brands more deeply into the markets they serve," Steinberg says.
Here are this year's winners:
Micro (1-9 employees) – Gray Matter Marketing
Small (10-49 employees) – Barton Gilman LLP
Medium (50-249 employees) – Pare Corporation
Large (250+ employees) – Amica Insurance Company
Honorable Mention – The Washington Trust Company
Honorable Mention – HiRoad Insurance
Read all about this year's honorees in the January issue of Rhode Island Monthly, and join us in celebrating the winners on Thursday, January 17, 2019 from 5:30 to 8 p.m. at Aldrich Mansion in Warwick. Tickets are $55 in advance and may be purchased here.