2017's Design Awards
Our annual awards celebrate the very best in architecture and interior design.
Commercial Renovation/New Construction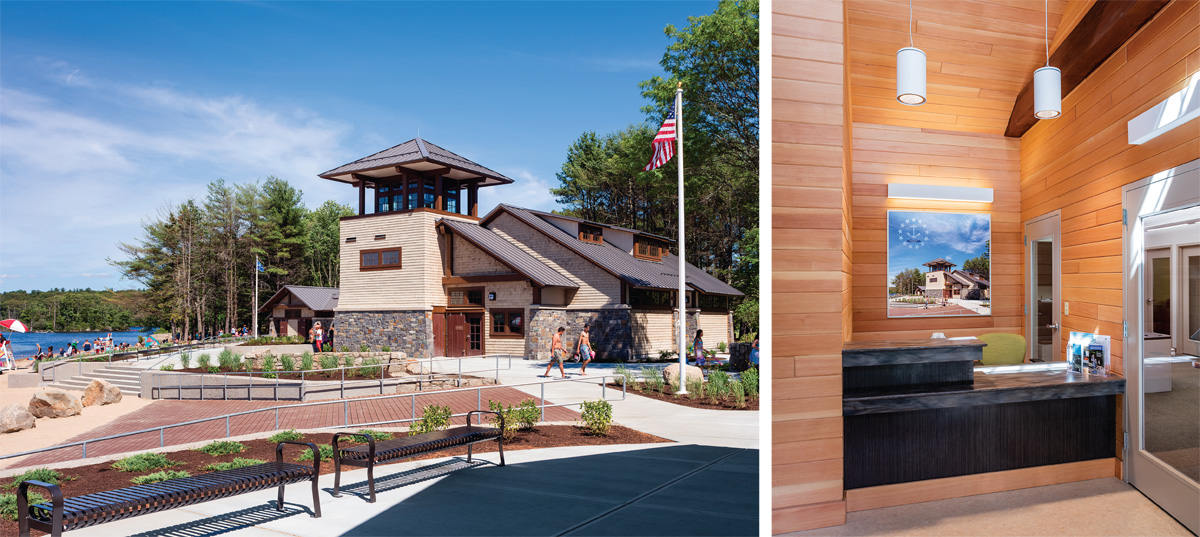 GOLD: Rustic Retreat
"Rich and well-done" was how jurors described the design of three new RI DEM buildings at Lincoln Woods State Park. Located on the southern shore of Olney Pond, the structures were built to replace three previously existing buildings that, after decades of use, needed an upgrade. Today's versions, which house restrooms, concessions, offices and a nature center, were designed with a classic park style in mind, communicated through the use of simple, rustic materials including granite, timbers and metal roofs. The location of the buildings was carefully considered to ensure that approaching visitors can scope out the pond, while an observation tower in the main building allows lifeguards to keep watch over beachgoers enjoying the summer sun and the park's new additions.
Architect: Nathaniel Ginsburg, Brewster Thornton Group Architects, Providence
Contractor: Ahlborg Construction Corporation, Warwick
Civil Engineer: Joe Casali Engineering, Warwick
Landscape Architect: Landscape Elements, Warwick
MEP Engineer: Garcia Galuska and DeSousa, North Dartmouth, Mass.
Structural Engineer: CA Pretzer Associates, Cranston
Photographer: Robert Brewster, Warren Jagger Photography
---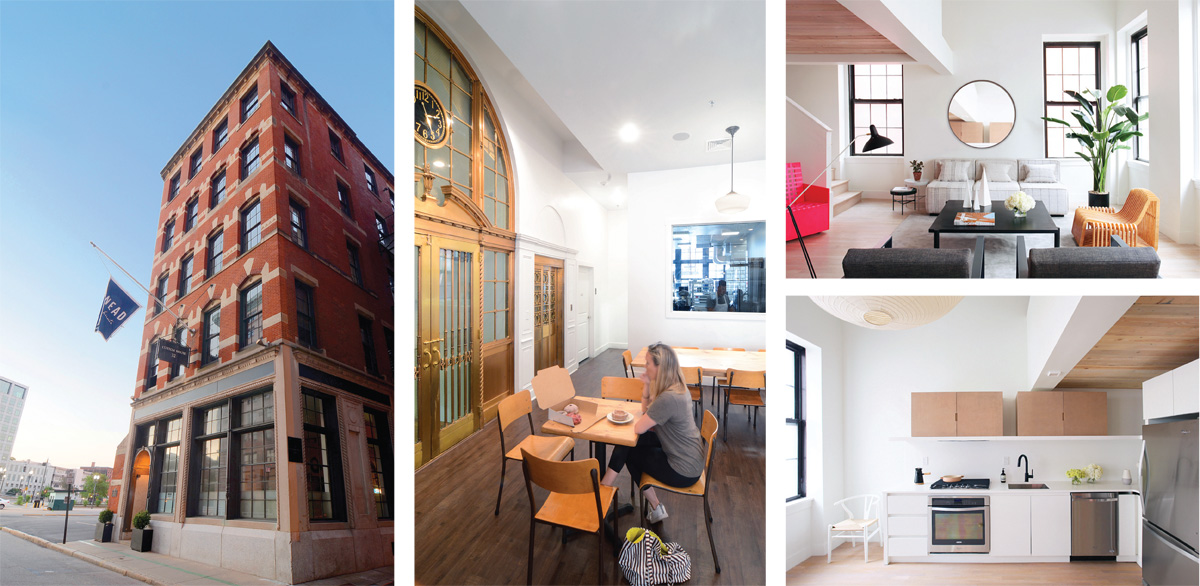 SILVER: Born Again
Everybody wins when a beautiful old building is given a second life, and this transformation of 32 Custom House Street is no exception. Seeing value in the vacant 1875 structure that once held roles as a bank and office space, developer ASH NYC scooped it up and tapped local firm KITE Architects to convert it into ten apartments with a first-floor commercial space. Together, the team worked to ensure the preservation of the building's much-loved historic details, including a stunning bronze-framed stair and elevator enclosure on the ground level. Above, the apartments got a more modern treatment by way of marble bathrooms and wood
accents. It's a thoughtful balance of old and new that's a winning combination.
Architects: Christine West, AIA; Kyle Bamrick, AIA; Erin Hunter, KITE Architects, Providence
Owner/Developer: ASH NYC
Interior Design: ASH NYC
Structural Engineer: C.A. Pretzer, Cranston
MEP Engineer: Creative Environment Corp., Cranston
General Contractor: South Coast Improvement Company, Marion, Mass.
Photography: Christian Harder, Patrick Cline, Albert Garcia
---

BRONZE: Living History
The goal of this project was to bring the building at 369 South Main Street in Providence closer to its original 1770 state, while preserving its function as a modern office for Lila Delman Real Estate. Since its humble beginning as a cooper's shop and warehouse, the brick and stone structure had been destroyed by fire and rebuilt more than once, so the design team had their work cut out for them. Drop ceilings were removed to expose historic wood beams, bricks covering original window openings and loading doors were taken down, and enclosed staircases were removed to bring in more natural light. Period-appropriate windows, new wood floors, copper gutters and a new synthetic slate roof were added. Our jurors called this an "impeccable" restoration that does right by the building and its historic College Hill surroundings.
Architects: J. Michael Abbott, AIA, CNU-A, Northeast Collaborative Architects, Providence
Contractor: Jeremy Sherer, Suburban Renewal, North Kingstown
Structural Engineer: Ben Brungraber, Fire Tower Engineered Timber, Providence
---
Honorable Mention:
Federal Hill Pizza: Billy Manzo/Christine Arvanigian.
Architect: Frank Karpowicz Architects, South Kingstown.
Painter: Andrew Campagnone, Finished Work Painting, Somerset, Mass.
Electrical: Griff Electric, Portsmouth.
Plumbing: Perez Plumbing and Heating, Cranston.
Sound: Balanced Input, North Attleboro, Mass.
Graphics: Monsters Are Good, Northborough, Mass.
Custom metal work: RI Welding and Fabricating, Providence.
Signage: AA Thrifty Sign and Awning, Warwick.