2017's Design Awards
Our annual awards celebrate the very best in architecture and interior design.
Residential Interior Design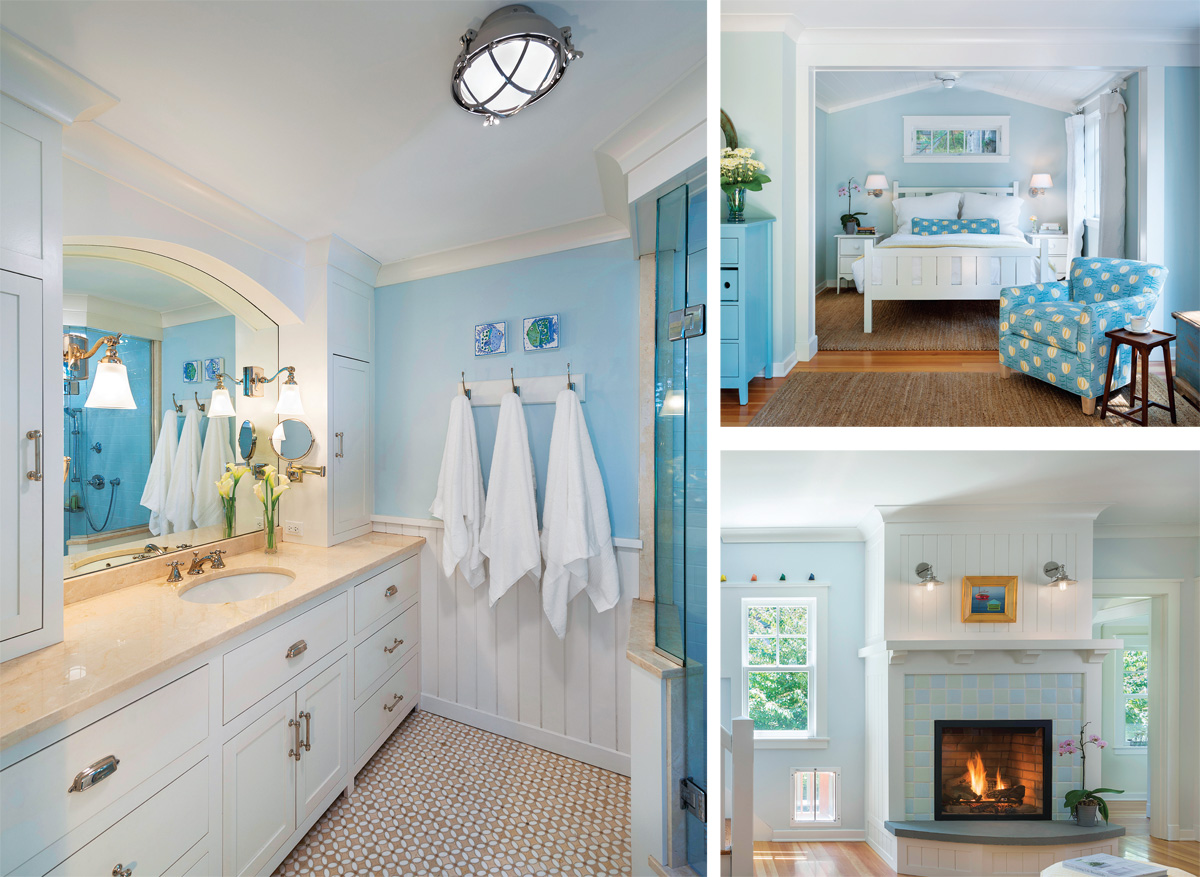 GOLD: Beachin' It
The ability to edit is key to the successful execution of coastal decor. Happily, this Jamestown cottage hits all the right notes with an interior that's welcoming, warm and beachy without feeling cliche. Instead, the seaside vibes come through in subtle touches with light blue walls, white cabinetry, light wood floors and silver hardware. To keep the layout as relaxed as the decor, the fireplace and powder room were moved to open things up and make room for a kitchen island. The master bedroom is a sunny sanctuary thanks to oversized windows and French doors that lead to a deck and garden. Overall, it's a "remarkably consistent design" that hints at a beachside locale where anyone would be happy vacationing.
Architect: DiMauro Architects
General Contractor: Pastore Builders
Landscape Designer: Martha Moore, L.A.
Landscape Contractor: Matarese Landscape Construction
Photographer: Nat Rea
---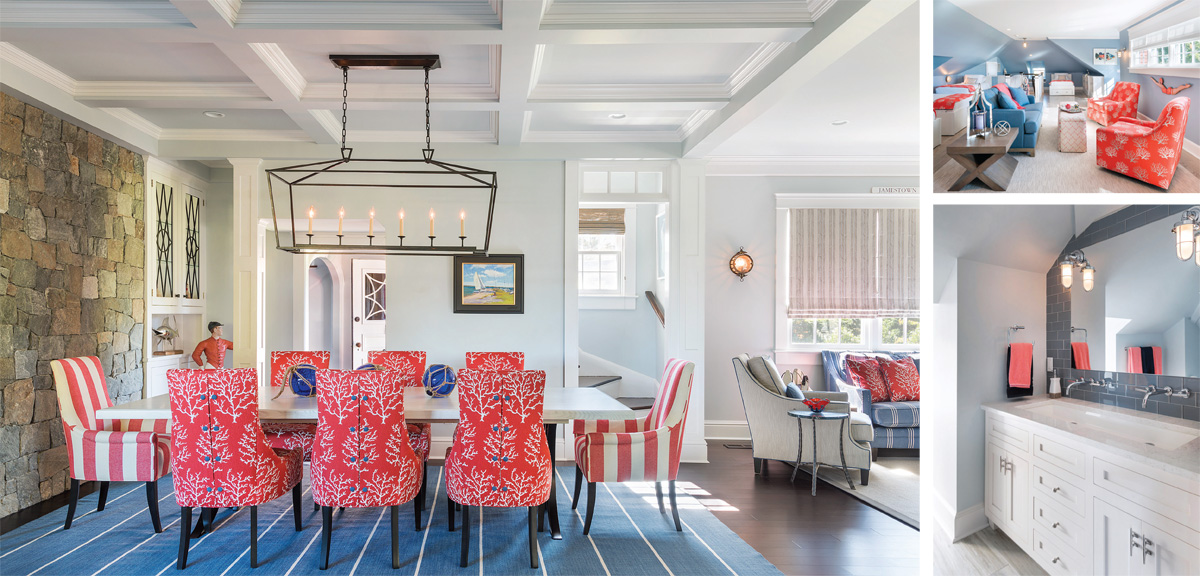 SILVER: Upstairs Upgrade
Attics often fall into the category of neglected space unless a creative solution is found. Luckily, these owners had the talents of interior designer Kim Elliott-Peterson to transform their house's third floor. Originally the servant's quarters in the 1895 building, the attic was given a modern-day spin with the addition of a front dormer to add headspace and natural light and to expand the view of the Newport Bridge. A bathroom was added and the entire floor was made over with a nautical feel and plenty of beds to accommodate guests. It's an update that was deemed a "much more cheery" look that no doubt has guests searching for any excuse to stay over.
Interior Designer: Kim Elliott-Peterson, West Greenwich
Architect: Karl Sauerbrey, West Greenwich
Contractor: RA DeCesare Builders, Chepachet
Lighting: Mancini Fine Lighting, East Greenwich
Painting: Elco Painting, North Kingstown
Custom Vanity and Beds: Martin Woodworks, West Warwick
Bedding: Fabrication Studio, Wakefield
Photographer: Nat Rea
---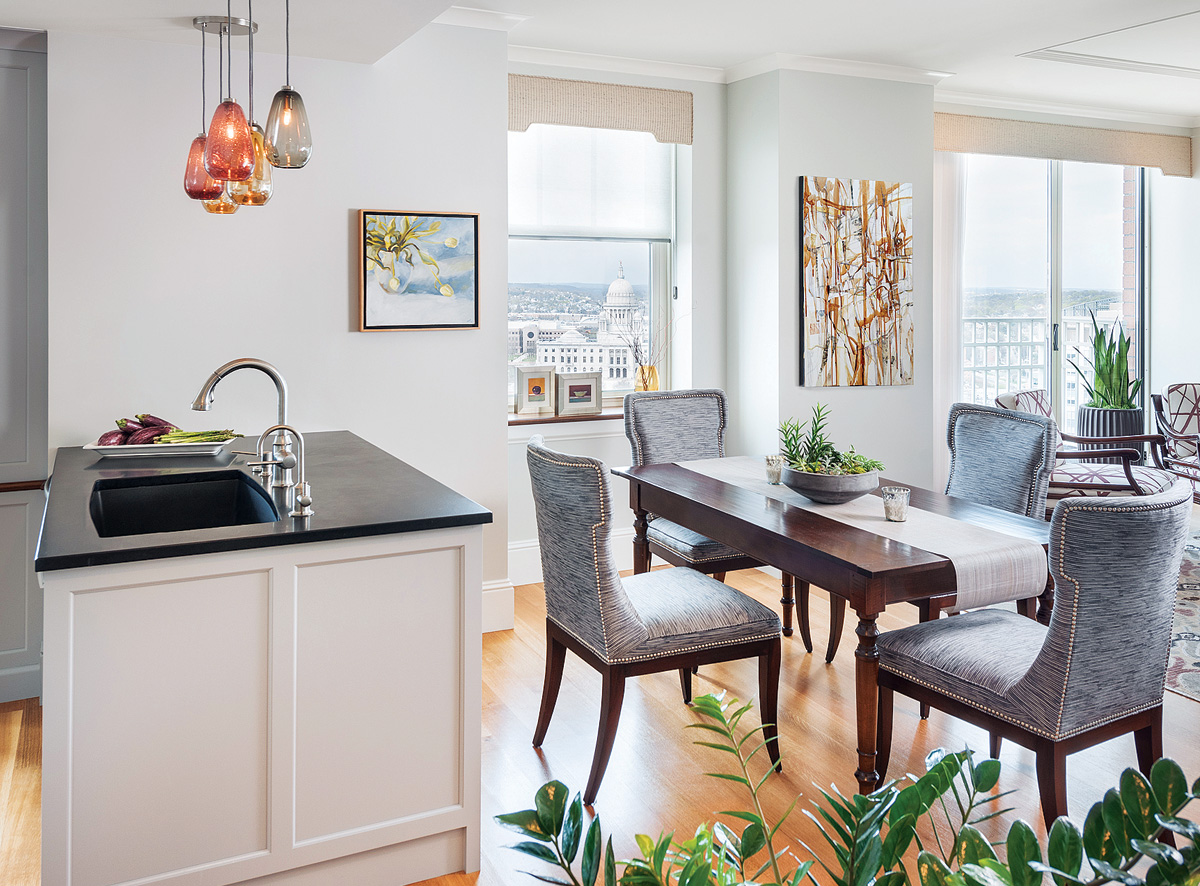 BRONZE: Class Pad
The male owner of this condo in the Residences at the Omni wanted a space that was cozy but didn't go the usual neutral route of most bachelor pads. To give him exactly that, designer Kelly Taylor worked hand-in-hand with the architect to create a space with an inviting color palette of plums, grays, blues and golds, and plenty of custom and personal details. No surface was left untouched: woodwork, wall coverings, flooring and paint were all carefully selected, and custom light fixtures add interest without breaking up the space. The owner's love of fishing is evident throughout in the form of rocks he has collected on trips and a custom shower door handle in the shape of a trout. Other touches, like a dry bar and television cabinet with lift, guarantee the owner will be proud to call this space home for years to come.
Interior Designer: Kelly Taylor Interior Design, Providence
Architect: Scott Weymouth, Arris Design, Providence
Builder: Butera Building, Barrington
Custom Lighting: Tracy Glover Studio, Pawtucket
Art Consultant: Candita Clayton Gallery, Pawtucket
Photographer: Nat Rea