2015 Metcalf Awards for Diversity in the Media
Casey Nilsson of Rhode Island Monthly received one of six awards for diversity in the media.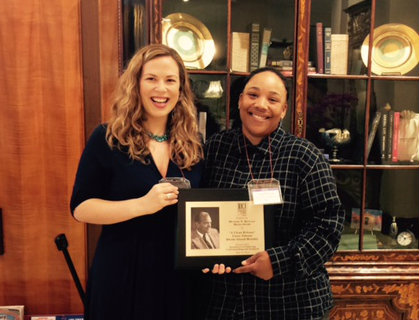 Six awards for diversity in the media were presented to local journalists this morning at a breakfast celebration at the Hotel Providence. For twenty-seven years, the Metcalf Awards for Diversity in the Media organized by Rhode Island for Community and Justice (RICJ) has been the only program in our region to honor journalistic excellence in reporting the stories of our diversity in ways that inspire, engage and empower.
Rhode Island Monthly associate editor and writer Casey Nilsson earned the Print Monthly award for the story "A Clean Release," which spotlights Anchor DryDOC, a popup recovery community center inside the women's Rhode Island Adult Correctional Institutions that teaches inmates how to stay sober on the outside. The story follows Tarah Dorsey's journey of becoming an addictions counselor while still incarcerated. She teaches people in recovery how to support peers who are struggling with drug and alcohol addiction. Dorsey presented Nilsson with the award at the breakfast after sharing an anecdote about how the article changed her life.
"It's not every day that you hear a story of recovery in the media, let alone from behind the walls in prison, but the big question in the recovery community and even here in the world is, do people recover when leaving prison? Well I stand here today as a result of a woman who served a twelve-year sentence in prison. I now work for the Anchor Recovery Community Center, and I want to tell a story on how Casey's story had offered me forgiveness," says Dorsey. "A few months ago at my job, a woman walked into Anchor Recovery Community Center, and said, 'Can I speak to you please?' I said, 'Who are you?' And she said…the victim of your crime.' I got nervous and I said yes. She said, 'I read your article in Rhode Island Monthly.' She said, 'I didn't know that your life was so hard. I didn't know that you faced the struggles that you did,' and she said, 'I read your article and now I understand and I want you to go on with your life. I forgive you.' "
Watch the Video:
Congrats to all of the other journalists, media and subjects honored at today's awards presentation:
Film: "The Good Radical" by Kendall Moore from the University of Rhode Island's Journalism/Film Department, received the Film Award for a documentary about the relationship between former radical activist Dr. Cynthia Hamilton and her mother Evelyn. This was a heartbreaking, yet life-affirming glimpse of how lives can change overnight, as Cynthia is diagnosed with multiple sclerosis and her eighty-year-old mother comes to care for her.
Print Daily: "On Patrol, Reflections About Race," by Tom Mooney from the Providence Journal, received the Print Daily Award for a post-Ferguson story on two Providence police officers, officers Brain Auclair and officer James Lanier, on patrol together, and their perspectives on doing their job in a climate of racial tension.
Radio: "Transgender Bullying" by Elisabeth Harrison of Rhode Island Public Radio, received the Radio Award for a follow up feature about an openly transgender student, Hannah Rini, who faced bullying during her first year of middle school, that included interviews with both this courageous young student and school officials.
Community Journalism: Carlos Spinola, a volunteer community journalist, earned the Community Journalism Award. Spinola is a social worker and before coming to Pawtucket, he worked for the Cape Verdean government's Department of Health Promotion and Social Service. On a completely volunteer, unpaid basis, Spinola has also been a journalist for years. He began writing for newspapers and magazines while in junior high, and never stopped. Today he is a Community Representative and writer for Evolution Cultural Group Magazine, the Brava News Network correspondent, secretary of the Cape Verdean Media Association, is published in many local, regional and international publications – and much more. Spinola exemplifies the dedication and passion of community journalism.
Series/Unique and Community Journalism: Evolution Cultural Group Magazine, its editor and founder Miguel Ángel Odio, writers and staff (web) earned the Series Award honoring this new magazine's impressive body of work. This magazine, using creative design in eye-catching colors, is focused on diversity. Articles in Spanish, Portuguese, Cape Verdean Creole and English, and coverage of literature, poetry, current events, history, inspirational figures and local events and people give a sense of its wide outreach.