2014 Rhode Island Red Awards
The Dumbest Moments in 2014.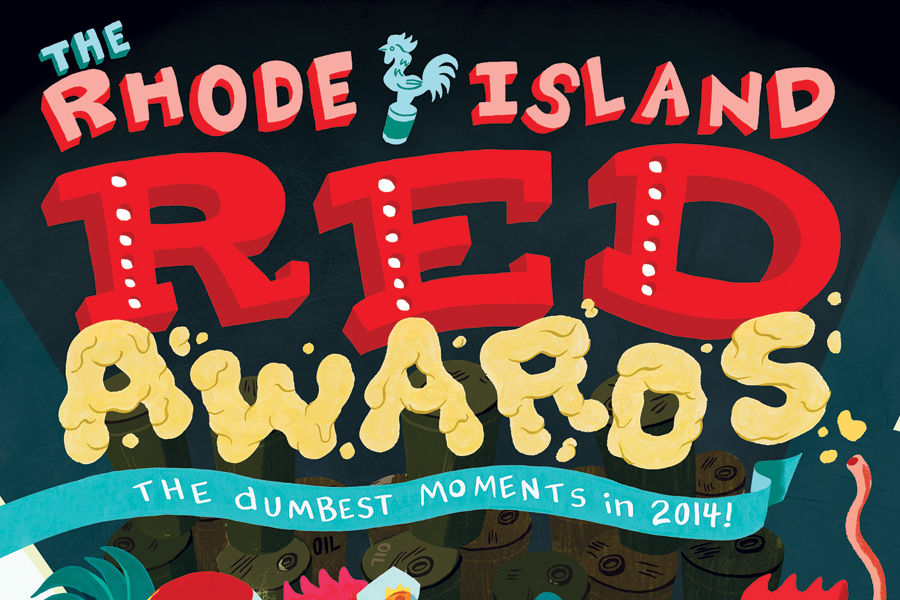 Here at Reds HQ, we've always admired Rhode Islanders' entrepreneurial spirit, that ability to sniff out opportunity, no matter how impromptu, and turn it into a thriving commercial enterprise. Which is why we're dedicating this year's awards to our favorite siblings and enviro-conscious businessmen of the year, Cranston's Andrew and Bruce Jeremiah. The seventy-something Jeremiahs, you may recall, pleaded guilty to conspiring to sell 200,000 gallons of used, somewhat aromatic cooking oil, stolen from restaurants in Massachusetts and Rhode Island, at an estimated value of $430,000. The brothers, who'd had previous encounters with the law, sounded philosophical about the latest entanglement. "You can't be stupid and lazy and keep being a criminal," says Andrew, seventy-eight. "That's how people get caught."

Business as usual
Get these guys a Smart Car.
Thieves lifted Congressman David Cicilline's wallet and iPad from his Ford Explorer, while he was in a restaurant. A month later, Cranston Mayor Allan Fung's iPad was stolen from his Acura as he listened to the State of the State address. And shortly after, a light-fingered sports fan took off in Michelle Kwan's Prius, with a hockey stick signed by Wayne Gretzky inside, after her husband, Clay Pell, left the keys between the seats.
We're confused already.
Warwick officials advised 23,000 residents who'd received delinquent tax notices that at least some of them might not owe money after all, because the notices had been sent out to try to resolve old billing problems. But, acting tax collector David Olsen later warned, just because people have been advised they might not owe the city money, they shouldn't assume that's the case. "Since these notices went out, we've collected about $741,000, so obviously many are legitimate."
"High there, officer."
A twenty-one-year-old Newport woman faced bribery charges after Newport cops say she offered them some of the pot they'd found in her car, in exchange for letting her go. She was also charged with resisting arrest.
Going nowhere fast?
Former Republican presidential hopeful Mitt Romney campaigned for gubernatorial candidate Allan Fung, high atop the Biltmore Hotel, only to be temporarily stranded because of an elevator malfunction.
Here's something to digest.
Diane M. Nicoletti was charged with larceny after Providence police say she tried on a $4,000 diamond ring at JCPenney, swapped it for a fake version, then swallowed the real one before the sales clerk could stop her. Police took Nicoletti to the hospital, where a nurse and an officer waited several hours until the ring re-emerged. It was returned to the store.
This spud's for you.
Providence police arrested a man they said held up a gas station on Branch Avenue and, thirty minutes later, attempted to rob a dry cleaner's on Charles Street. Investigators say the perp was armed with a knife and a potato.
Who doesn't like a little fun in the sun?
Onetime state Democratic Party Chair David Caprio hired friend and State Rep Peter Palumbo to run Caprio's three beach concession stands after Palumbo had withdrawn his own, higher bid to do the same job. "I don't understand why it wouldn't look good," Palumbo said. "It was the way it was."
Crystal ball predicts new job in their future?
Four ACI employees were put on leave after reports they participated in a séance on state time. The psychic readings were performed by a corrections officer who goes by the name, "The Mystical Medium."
When you're hot, you're hot.
Detectives arrested a Providence man suspected of holding up a Domino's deliveryman, after they sent the suspect a photo of a fictional beautiful woman, using the number still on the pizza guy's phone. The woman, "Samantha," texted the suspect they'd met before and she liked his looks. They arranged to get together in Kennedy Plaza. Alas, the only people who showed were the police.
Darn! We've always wanted a pet.
Sprouted chia seed powder products sold at Whole Foods in Providence and Cranston were recalled due to possible salmonella contamination.
Survey says…
According to Allstate Insurance, Providence drivers are the fifth worst in the U.S. And Rhode Island comes in dead last for deficient bridges, says the Reason Foundation. On a happier note, the American Litter Scorecard ranks us the twelfth cleanest state for daily waste removal, among other pluses.
---
Police Blotter: Could we make this stuff up?
True! A fifty-three-year-old Cumberland man was charged with drunk driving four times in two days, running into three cars and a tree.
True! State police charged former Bar Association President Richard A. Pacia with forgery after, they said, he signed his estranged wife's name to a car insurance application.
True! The owner of East Greenwich Farms, in downtown E.G., was charged with selling synthetic pot, with names like "Crazy Monkey" and "Bizarro," out of his convenience store on Main Street. Police seized $54,807 in cash when they raided the premises.
True! Police in Seekonk identified a man who'd hidden a camera in a women's locker room at Planet Fitness because he'd videoed himself with the camera in the process.
True! A Pawtucket poll worker was charged with loitering for prostitution after police said he offered to perform a sex act on a fellow volunteer at a polling station on primary night.

Rock Around Rhode Island
Cranston: A Garda armored truck swerved on Route 10, after the driver lost control, and wound up on the side of the road, spilling bags of money onto the grass.
Providence: A sinkhole, two feet deep and three feet wide, threatened to swallow up motorists on Wayland Avenue for two months.
East Greenwich: Police raided the Blissful Oak, a "relaxation studio," on Main Street in East Greenwich, which was actually selling sex and advertising its services on Craigslist and Backpage.
Rhode Island: There are 180,000 more registered voters in R.I. than there are voting-age residents.
Aquidneck Island: A Pawtucket man pleaded guilty to cooking meth in a room he'd maintained at the Pineapple Inn.
---
Quotables!
"They may call it partying, but we call it a riot." Narragansett Town Manager Pamela Nolan, following an out of control off-campus party by roughly 1,000 students, shown on YouTube throwing beer bottles and mailboxes and standing on rooftops.
"Never to go there again. That's number one. The warden in prison is not exactly a cruise director for Carnival."
Buddy Cianci, former Providence mayor and convicted felon, on what he learned from his four-plus years in incarceration.
"There's only so many words in the English language."
Republican State Senator Nick Kettle, when asked to explain why a passage on his campaign website repeated, virtually word for word, a political position previously posted online by Kentucky Senator Rand Paul.
---
5 reasons we love our public officials!
They're thrifty!
A fifty-three-year-old security specialist at the Department of Corrections was charged with two felony counts after he used a department credit to buy $4,681 worth of personal ammunition.
They recycle!
The Rhode Island Turnpike and Bridge Authority said it may reuse or sell more than $4 million in newly installed toll equipment after the General Assembly voted to eliminate a 10-cent charge to cross the Sakonnet River Bridge. The bridge authority may also be on the hook for a $1 million termination fee to the company that pursues toll violators.
They multitask!
A Providence police patrolwoman was photographed apparently napping in her cruiser while working a business detail in South Providence.
They rise above adversity!
State Rep Joseph McNamara successfully co-sponsored a lobbying effort in the General Assembly to make calamari Rhode Island's official appetizer. The bill had died in a previous session due to what McNamara called "petty politics."
They lend a hand!
Chuck Newton was fired as state GOP spokesman after admitting he helped Republican State Senator Nick Kettle create a fake Facebook page with an illustration of a political rival as an octopus clutching bags of money.
---
Celebridiculous!
Tay-Tay troubles, part one: Three Connecticut residents were arrested after Westerly police said they'd thrown beer bottles and expletives at security guards at Taylor Swift's beachfront mansion.
Tay-Tay troubles, part two: A Massachusetts man pleaded not guilty to trespassing and disorderly conduct, after he was arrested outside Taylor's Watch Hill estate. He'd explained to a mansion security guard, "she had called him and asked that he come down to visit." It was the third time he'd been told to stay away.
Don't folk around with this band. U.S. Airways refused to board John McCauley of Deer Tick on a Providence-bound flight, because the Rhode Island native wanted to carry on his guitar. The airline later apologized and paid for Amtrak tickets for the group, which was on its way to the Newport Folk Festival from Philly.
---
Animal House, hairy leg division:
An East Greenwich police officer corralled a six-inch tarantula on the sidewalk in front of the library. It was taken to a temporary home at Sabrina's Reptile Kingdom in Cumberland.
Animal House, fur flying division:
Some 4,450 National Grid customers lost power for almost two hours, after a squirrel had an unfortunate encounter with a Providence power station. No one was injured; no immediate word on the furry intruder's fate.