2014 Design Awards
We've turned a galactic corner: It's our twentieth annual Design Awards and we're not ashamed to be self-congratulatory.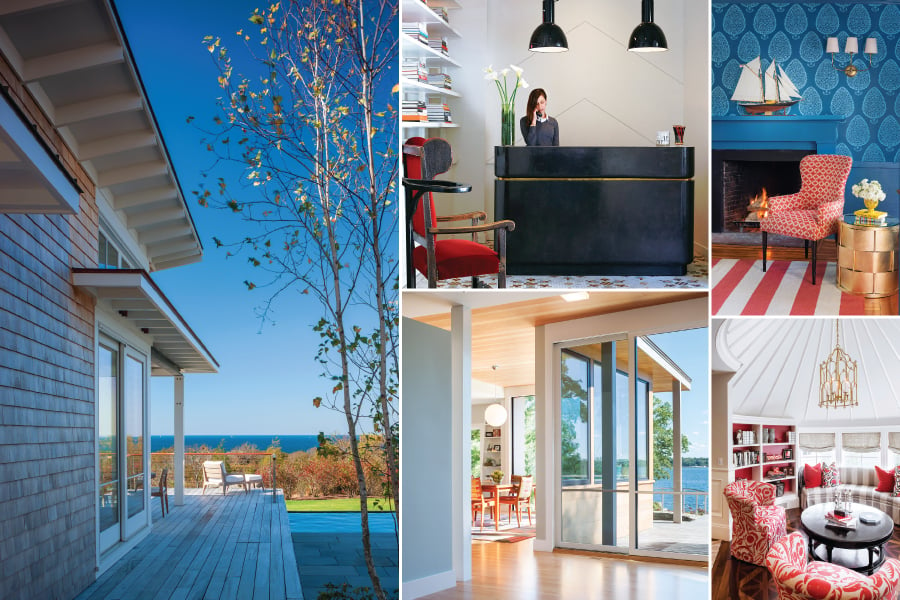 Residential New Construction
Gold
Our judges were hard pressed to find one thing they didn't like. "With the use of a rainwater collection system, native plantings, high performance insulation and solar hot water and pool heating," architect Peter Twombly explains, "this building is designed to LEED gold standards." All that aside, there's the skillful siting and Twombly's ingenious plan that riffs on old New England farmhouses and sheds. A trio of connected and highly livable buildings — great room, three bedrooms and guesthouse — nimbly folded around a courtyard give the owners a sheltered outdoor space on windy Block Island. The materials are honest and time-tested too, helping to link exterior and interior. Restrained but elegant, this is a house designed to brave the elements and look fabulous while it does.
Architecture: Peter Twombly, AIA; Estes/Twombly Architects, Newport
Contractor: Dan Kinsella, Kinsella Building, Portsmouth
Interiors:  Karyn Downes, Aquidneck Properties, Middletown
Landscape Architect: G. Bourne Knowles and Company, Fairhaven, Mass.
Photographer: Warren Jagger
---
Silver
That all the entities — architect, contractor and owner — work out of the same building and collaborated on this efficient tier-three Energy Star home (one of the first in the state) explains in good part why it all came together so successfully. Built affordably on a forty-foot-wide lot, the two-family Providence townhouse is a worthwhile model for the future. Not only does it fit within the context of its urban setting, it does so gracefully, providing occupants comfortable two-bedroom residences with the added bonus of a full basement. With an exterior as uplifting as the interior, the inspired building brings a positive note to the whole neighborhood.
Architecture: Truth Box, Providence; Peter Gill Case, principal
Contractor: Durham Construction, Providence; Jordan Durham, president
Owner:  Infill, Providence
Steel railings: Nate Nadeau, Iron Origami, Pawtucket
Photographer: Jason Wessel (staging: O and G Studio, Warren)
---
 Bronze
A young professional needed a place to decompress. But site constraints dictated locating his house close to the road. Uh oh, noise, zero privacy? No way. The savvy architect used a "series of layers," he says, including landscape (think rebuilt stonewall and hedge) along with architectural elements (in and out) to tamp the hubbub and limit views from the street. The strong linear facade with garage, porch and trellis greeting traffic divulges little, while the adjoining courtyard reinforces the separation from passersby. To the back of the lot where there's plenty of green space, outdoor rooms transition seamlessly into the yard. Inside, rooms open one to another and the architect's clever use of translucent material plays with light, furthering visual interest and meriting an award all by itself.
Architecture: James Estes, FAIA; Estes/Twombly Architects, Newport
Contractor: Rick Messier, Messier Construction, Tiverton
Landscape Architect: Martha Moore, Tiverton
Photographer: Warren Jagger
Residential Renovation
Gold
Built in 1888 as a one-and-a-half story clapboard cottage, the house was timeworn and minus amenities. The dedicated owners recruited Patrick Connors for an update that would maintain the place's character. The architect managed to walk the delicate line with aplomb, introducing life-enhancing improvements (among them: a modern kitchen and master suite), while replicating certain existing antique elements to highlight the past. Looking at the lovely Yankee-flavored exterior (original front door reproduced and weather-stripped), no one picks up on the twenty-first-century leap and that's impressive. "This project found the balance the owner needed between restoration and renovation in order to maintain period charm while incorporating modern living essentials," the architect told the panel. Unanimously, they agreed.
Architecture: Patrick Connors, AIA; Brewster Thornton Group Architects, Providence
Contractor: Jim Deslandes, Deslandes Construction, Warwick
Structural Engineer: Peter Grafe, C.A. Pretzer Associates, Cranston
Kitchen cabinets: Joan Cirillo, ASID; Fox Kitchens, Seekonk, Mass.
Landscape Contractor: Kevin Fox, Yard Works, Warwick
Photographer: Rob Brewster, Warren Jagger Photography
---
Silver
Backstory: a greenhouse first occupied this Edgewood lot; a simple but graceful hip-roofed, L-shaped house appeared in the '50s, followed in the '70s with the addition of a sunroom and stair on the inside of the "L." With that last clumsy maneuver, views and integrity went out the door. The new owners recognized the building's potential as did architect Peter Twombly, who, as he recounts, "stripped back the house to its original shape and filled in with a one-story, glazed set of spaces." The infill serves as an extension, allowing activities to spill out to where sun and views are prime — privacy intact. The inspired manner in which the architect "fit and tied the pieces together," our pros claimed, along with the carefully chosen materials, ensure the family-comfortable house a solid future.
Architecture: Peter Twombly, AIA; Estes/Twombly Architects, Newport
Contractor: Walter Pilz, Darlington Home Builders, South Kingstown
Landscape Architect: Andrew Grossman, Andrew Grossman Landscape Design, Seekonk, Mass.
Photographer: Warren Jagger
---
Bronze
Victorians aren't often bright and airy. But thanks to an astute architect, this is the exception. Once an inn, the aging lady needed rehabbing. Ron DiMauro preserved the original layout, while thoughtfully updating throughout. Focused on gathering light, he expanded existing windows and plugged in transoms. The home's turret — insulated and finished — became part of a guest room; forgotten-under-layers-of-paint details (long leaf pine posts and handrails on the hallway banister among them) surfaced; and extra space emerged (a breakfast bay with a view of the pretty courtyard for the new kitchen). The jury admired DiMauro's light touch and also the dramatic altering of the landscape, which helps protect and separate the distinguished house from the street.
Architecture and Interior Design: Ron DiMauro, AIA; Ronald F. DiMauro Architects, Jamestown
General Contractor: Steve Ray, Steve Ray Construction, West Greenwich
Landscape Architecture: Patrick Sweeney, Infinity Design Group, Warwick
Landscape Construction: Dave Meloni, David Meloni Landscaping, Johnston
Photographer: Warren Jagger
Residential Interior Design
Gold
And you thought Colonials were boring. The experts labeled Jocelyn Chiappone "bold and passionate" for transforming a slumbering East Greenwich beauty into a lively, accommodating home. The owners have heirlooms (ship models, a pool table and more) but they also have three young kids. The designer was enlisted to mix old and new treasures to produce a contemporary vibe. To that end, Chiappone repurposed awkward spaces and shooed away cobwebs with terrific wallpapers, fabrics, furnishings (the kind that are easily upholstered for upgrades down the road), rugs and lighting. After McLaughlin and Buie Housewrights masterfully enclosed an existing porch to forge a family room, the anti-conformist designer marched through there as well, adding more fun colors — all of which, to the owner's great joy, give a subtle nod to their love of the sea.
Interior Design: Jocelyn Chiappone, Digs Design Company, Newport
Architect and Contractor: McLaughlin and Buie Housewrights, East Greenwich
Painting Contractor: Ryan Somers, Charlestown
Photographer: Nat Rea
---
Silver
The spectacular exterior of Bob and Karen McGinnis's Shingle-style Bristol home gives way to an equally dazzling interior. Architect Gregory Snider spared no effort when it came to details. To complement his composition and their client's lifestyle, interior designers Ashley Dortch and Robin Liotta did the same. Having worked with the owners on previous projects, they were well familiar with their aesthetic. This home may be by the water, but a "beachy house" look was not what the couple envisioned. They created "…a more formal and yet very current take on those 'grand cottages' Rhode Island is so famous for," says Liotta. The designer's confident meshing of colors, patterns and textures sets the glorious rooms ablaze with layering and depth.
Interior design: Ashley Dortch and Robin Liotta, HB Home, Westport, Conn.
Interior Architecture: Gregory Snider Architects, Providence; Gregory Snider, principal; Alex Bilotti, project architect; Bob McGinnis, owner
Architecture: Gregory Snider Architects
Structural Engineer: David Odeh, Odeh Engineers, North Providence
General Contractor: David Butera, Butera Building Company, Barrington
Civil Engineers: David Gardner, Gardner Associates, Warwick
Photographer: Aaron Usher
---
Bronze
Apartment living can be limiting. But that's not the way Melissa Lawson perceived it. When asked to give this formerly lackluster Providence abode a personal ambience, she designed artful living room and bedroom furniture pieces that integrate lighting, sound and storage. The entertainment piece rising up the living room wall and blending with the ceiling turns the main area into a personal theater. As sculptural as they are functional, the cool custom elements also give the rooms continuity. Furnishings, rugs and drapery "balance the heaviness of the walnut millwork," according to Lawson. The sumptuousness they add is icing on the cake.
Architecture: Lacuna Design, Architecture and Interiors, Providence; Melissa Lawson, principal
General Contractor: Sixteen on Center, Tiverton
AV Consultant/Installer: HomeTech Custom Design, Lincoln; Michael Conners, president
Photographer: Nat Rea
Commercial Renovation/New Construction
Gold
We heard nothing but praise for Providence's Dean Hotel. The collaboration of Kite Architects and interior designer/developer ASH NYC seems heaven made. Once — as the architects proclaimed — "arguably the most wretched building" in the city,  it's now a celeb. Attributes reflecting its colorful past are preserved, giving an age-appropriate patina to today's makeover. Along with all that's new — and that's just about everything — there's an old mosaic lobby floor, for example, and a vintage lift. Eschewing the usual away-from-home accommodations, guest rooms are well edited and understated. It could have ended otherwise in less capable hands. Thanks to Kite's stewardship, the 1912 building is back and better than ever.
Architect: Kite Architects, Providence
Interior Designer/Developer: ASH NYC, Brooklyn, New York
Construction Manager: Pezzuco Construction, Cranston
Owner's Representative: Lucie Searle, Providence
Photographer: Christian Harder
---
Silver
The University of Rhode Island's commitment to making its newest student housing energy efficient is commendable. Equally trophy-worthy, however, is the livable design. No dark corridors, no overcrowding. Instead, the 429-bed Hillside Hall is all about light and transparency. Two bar-shaped residential wings are connected by a glass bridge, which "houses stacked sky lounges and a monumental circulation stair," the architects wrote. Bedrooms clustered around the lounges help students interact and promote a sense of community, while the abundance of see-through glazing not only gathers natural light but provides a greater sense of safety as people move about.
Architecture: LLB Architects, Pawtucket
Associate Architect: Mackey Mitchell Architects, St. Louis, Mo.
Contractor: KBE Building, Farmington, Conn.
Structural Engineer: Odeh Engineers, North Providence
Mechanical, Electrical and Plumbing Engineer: Creative Environment, Providence
Landscape Architect: Carol R. Johnson Associates, Boston
Lighting Designer: Earleylight, East Providence
Photographers: Paul Burk, Baltimore, Md., Warren Jagger, Nat Rea
---
Bronze
Okay, a climbing wall surrounded by forest may sound funny — no one climbs trees anymore? — but, in truth, it's an innovative, use-all-year addition to University of Rhode Island's North Woods Challenge Course, part of the school's Center for Student Leadership Development's Adventure Based Learning Initiative. The thirty-eight-foot top rope-climbing wall is tucked inside an appealingly shaped building that's reminiscent of a barn and well-suited to the country setting. Most important is the wall's rock-solid purpose: "…with five active belay stations and three new high elements," the architects emphasize, the wall is "designed to incorporate individual challenge and growth with teamwork and community building."
Architect: Durkee, Brown, Viveiros and Werenfels Architects, Providence
Contractor: Tower Construction, Cranston
Structural engineer: Yoder and Tidwell, Providence
Mechanical, Electrical and Plumbing Engineer: Creative Environment, East Providence
Photographer: Heidi Gumula, DBVW Architects
Commercial Interior Design
Gold
Just heading down the metal stairs — GPub occupies the lower level of the Providence G complex in the downtown area — gets the adrenaline pumping. The grand building's existing structure, with its century-old age beams and columns, is a heady bit of history. In contrast, at the bottom of the stairs, the stellar 5,000-square-foot space opens up, revealing a sophisticated marriage of materials and appointments. Banquettes are leather-wrapped, classic subway tiles clad the game nook, and oak lattice screens (the building's original elevator doors) conceal new elevators and facilities. This virtuoso merging of yesterday and today — did we mention a fifty-foot-long bar and backlit industrial windows revealing subtle views of kitchen activity? — nailed the prize.
Design: Studio Meja Architects, Providence; Eric Army, principal
Owner/Operator: Providence G, Providence
Photographer: George Lavoie
---
Silver
Dave's Coffee already has a faithful following but, according to the architects, it was their task to devise a second Providence location "…that would embody and develop a design language and brand image for future Dave's coffee and espresso bars." In other words, something standout and memorable. Check and check. In addition to the obvious quality of design and craftsmanship, the blend of materials (warm, naturally aged cedar board and hot rolled plate steel), the imaginative signage — projected onto the display wall's flat surface and recesses — gets it done. You may forget what kind of coffee you last ordered, but you won't forget where.
Owners: David Lanning
Architecture: 3six0 Architecture, Providence; Kyna Leski and Chris Bardt, AIA, principals; Jack Ryan, senior associate and project architect
General contractor: 2Story Design Build, Cranston; Casey Foster and Aaron Brode
Photographer: John Horner
---
Bronze
When Carlo and Gennaro Slaughter decided to open Garden City's Bistro 22 in a space formerly occupied by another eatery, they needed a look as fresh and upscale as their fare. Without any major construction, interior designer Libby Slader worked her magic using new finishes, lighting and furnishings. With ship lap paneling covering the walls and exposed brick painted white, it's a whole different world. The full service sit-down bar — so long, old deli cases and counter — doesn't hurt. But it's the overall lightness of being (not to mention the food) that Slader has so capably conjured that draws crowds.
Interior Design: Libby Slader Interior Design, Providence
Owners: Carlo and Gennaro Slaughter
Contractor: G. Slaughter Corporation, Warwick
Photographer: Stephanie Alvarez Ewens