2013 Design Awards
There are more reasons than ever to celebrate our nineteenth annual Design Awards.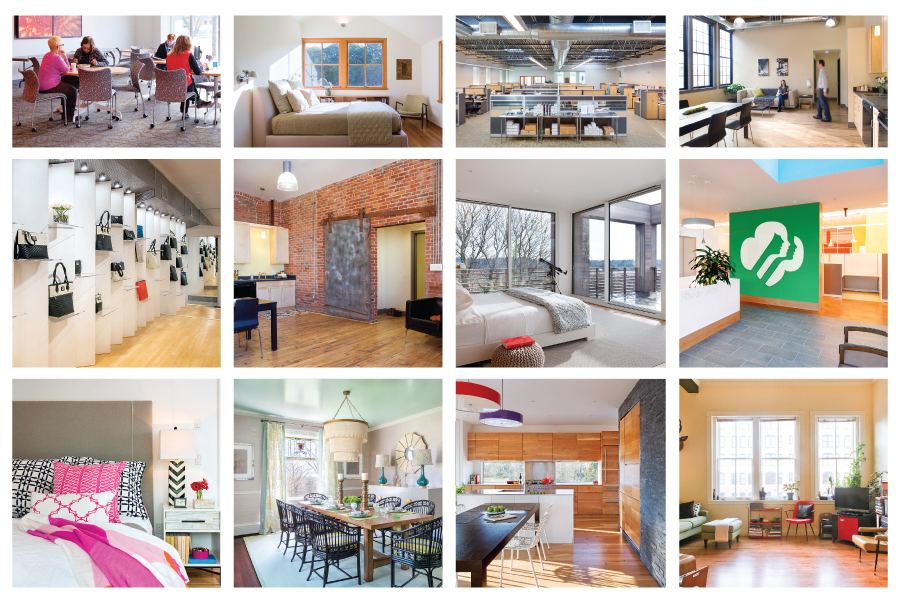 Maybe July wasn't a big deal for you, but even after almost two decades, we could hardly contain our excitement. Our stellar judges — interior designer Eric Roseff and architect Beth Worell, both of whom head eponymous Boston firms, along with architect Marie Adams, principal of Landing Studio in Somerville, Massachusetts — were greeted with piles of entries. It took an entire day of deliberation (make that agony) and discussion to cull the winners amidst so many worthy contestants. We love their final choices — the nautical-inclined house, the cheery Girl Scout headquarters and upbeat bank — and we hope you do too. Each project, whether it nabbed a prize or not, entailed plenty of work and talent. So, out goes our sincerest thanks to our dedicated panel and to every contestant who shared. As for the winners? Mighty congratulations to you. Champagne, anyone?
Bucking Tradition | Gold
Not timid about expressing their taste in an area where classic New England homes abound, the owners embraced the architect's modern concept for a weekend retreat. And really, who could have resisted such a seductive silhouette? The striking Watch Hill house doesn't just command the site, it has a dialogue with it, pulling in the landscape from all directions. Our jury applauded not just the accommodating open design and masterful detailing, but also the well-considered palette of natural materials, including the cedar siding and the architect's savvy use of slate. The latter serves as the building's base outside, then wraps inside to the stairwell, living room and kitchen. The skillful play of lights and darks, verticals and horizontals (there's a lean pool house too) along with the home's livability for a family of five made this, no question, a blue-ribbon taker.
Architecture: Lubrano Ciavarra Architects, PLLC, Brooklyn, New York
General Contractor: Gary M. Vacca Building Contractor, Pawcatuck, Conn.
Structural Engineer: Edward H. Wenke II, PE, Ledyard, Conn.
Landscape Architect: Keith LeBlanc Landscape Architecture, Boston
Landscape Implementation: GrandScapes, Charlestown
Furniture and Window Treatments: Sasha Nostrand Interiors, South Hamilton, Mass.
Photographer: Chris Cooper

Space Saver | Silver
A Providence artist craved a rural escape. Her pint-size (530 square feet inside) cottage is formed as if by a gemologist, the architects explain: "Facets are cut to shed water, or carved into a protected entry or shaped for a venting chimney." And size aside, the building incorporates everything comfort requires. Natural light fills the interior cavity that rises seventeen feet to the diagonal ridge. In addition to a streamlined galley, there's a sleeping nook (and bath) on the north side with a very cool skylight that doubles as a nighttime observatory. Our panel commended the project's beautifully conceived design and planet-friendly materials. Simple and elegant, this is small living — we hear the future calling — at its best.
Architecture: 3six0 Architecture, Providence; Kyna Leski and Christopher Bardt, AIA, principals; Jack Ryan, RA, senior associate and project architect; project team: Rachel Stopka
Structural Engineer: Erik Nelson, Structures Workshop, Providence
General Contractor: Norman Machon, Machon Custom Builders, Exeter
Photographer: 3six0

Farm Days | Bronze
Had the scale or proportions faltered or the buildings not been in tune with their pastoral surroundings, the results would have been far different. Instead, architect Peter Twombly devised two studios for the artist owners and a generous, well-considered house that coexist in perfect harmony. Subtly riffing on the New England vernacular, the passive solar structures maximize natural light. Stone, metal, wood and glass — the primary materials — help bind the trio, creating a stunning modern compound that's a grand place to live and work.
Architecture: Peter W. Twombly, AIA, Estes/Twombly Architects, Newport
Contractor: Gilbert Pires, Highland Builders, Tiverton
Landscape Architect: Martha Moore, Tiverton
Photographer: Warren Jagger

Breaking Out | Gold
"Far and above" is how one jury member described this dazzling transformation. Previously a lackluster '50s ranch, the Newport home has become the neighborhood's hippest abode. In accordance with the Coastal Resources Management Council's requirements and without blowing up the existing footprint, the house was opened and expanded (the original sun room departed and the living room grew) to maximize water views. Michele Foster avoided complicated structural solutions by scrapping yesterday's gable roof for a truss version carried at the east end by a bank of personality-changing glass doors and clerestories. Amidst all the changes, ceilings rose, windows were reconfigured and replaced and a galvanized spiral stair (so long, rickety wood steps) arrived to connect the reworked deck and lower level. It's so wonderfully current — can it really be the same house? — the humble ancestor seems like a dream.
Architecture and Interior Design: Foster Associates, Portsmouth; Michele Foster, principal; Chris Cote, architect, associate principal; Kristen Goldsmith, intern
General Contractor: Highland Builders, Tiverton
Landscape Architect: Sharon Mooney, Mooney Landscape Architects, Portsmouth
Photographer: Warren Jagger

Game Changer | Silver
DBVW's astute renovation of the Mercantile Block, owned by the nonprofit arts organization AS220, can be seen as more than saving a building: It's about uplifting an entire neighborhood. The architects restored the old Mercantile Building, creating twenty-two handsome, affordable apartments for artists (featuring sustainable design elements like low-consumption bath fixtures and history-referencing tin ceilings) eleven studios and offices. There's also a public access print shop, a series of spaces where artists display and sell their creations and a whole lot more. Case in point: DBVW's praiseworthy revitalization of Martha Street at the same time. Uncovering and restoring original building openings has rejuvenated the street and forged a happy, safe path for pedestrians.
Owner: AS220, Providence
Architecture: Durkee, Brown, Viveiros and Werenfels Architects, Providence
General Contractor: Pezzuco Construction, Cranston
Structural Engineer: Yoder and Tidwell, Providence
MEP Engineer: AHA Consulting Engineers, Lexington, Mass.
Photographer: Heidi Gumula, DBVW Architects

Saving Grace | Bronze
This project, Westfield Commons, is the second phase of the inspired rehabilitation of the 1890 Rau Fastener Complex on Providence's West Side. Having won an award from the Providence Preservation Society for rehabilitation and neighborhood revitalization, it's no surprise the historic building garnered another. The project included the reworking of the wood-framed Charles W. Perkins mill building to yield sixteen airy living units (with New York loft-style brick walls and wood floors) and 5,000 square feet of commercial office space. Once again, DBVW took a sustainable path, installing solar panels along the roof's south side and recycling materials. It's a happy ending all around: Another aged building has gained a bright future and, put your hands together, more Rhode Islanders have a place to call home.
Developer/Sponsor: West Elmwood Housing Development Corp., Providence
Architecture: Durkee, Brown, Viveiros and Werenfels Architects, Providence
Contractor: Case Construction, Riverside
Structural Engineer: Yoder and Tidwell, Providence
Mechanical Engineer: Regan Heating and Air Conditioning, Providence
Electrical Engineer: Tri-State Engineering, Lincoln
Civil Engineer: Woodward and Curran, Providence
Owner's Representative: Jerold Ehrlich, Providence
Photographer: Heidi Gumula, DBVW Architects

Personality Change | Gold
Overly cozy (no inch to spare) may be a good way to describe this East Side of Providence house before its rescue. Having inhabited the place for thirty years, the owner enlisted Stack and Company to turn a new leaf: open the floor plan, create a master suite and renovate a bath. KTID hopped on board to help with the scheme and assist the owner in choosing everything from cabinetry and lighting (all forty-four lights in the house are LED) to tile (linear glass for the contemporary kitchen), floor paint and all that goes between, including new furnishings. Her major campaign has given the reborn rooms "an eye-pleasing continuity," noted our judges. The mood is fresh but also personal. A favorite painting hangs over a marble fireplace surround Kelly Taylor designed, while a newly purchased grid of Tom Sgouros watercolors floats above the sofa. She credits a bevy of local vendors for their part in the process, but it takes a keen visionary to lead the charge.
Interior Design: Kelly Taylor Interior Design, Providence
Architecture: Stack and Company, Providence, Boston
Builder: Stack and Company, Providence, Boston
Photographer: Nat Rea

Sleight of Hand | Silver
Imagine a glam Victorian that has year by year become disjointed and, well, dowdy. And then look! Interior designer Jocelyn Chiappone has given the Cowesett lady a different spin. The new owners wake to colorful rooms and glorious fabrics that withstand life with kids. In addition to designing a sit-down-and-stay banquette for the kitchen and cleverly updating the family-room built-ins, Chiappone devised a wet bar with a hammered apron sink that fairly promotes entertaining. Peek into any of the dynamic refurbished spaces and it's easy to see the old house has recaptured her stature, but in an accomplished, relaxed manner that's all about today.
Interior Design: Jocelyn Chiappone, Digs Design Company, North Kingstown
Contractor: Paul Norbury, Norbury Construction, Portsmouth
Painter: Ryan Somers, Somers Painting, Charlestown
Photographer: Nat Rea

Dollar for Dollar | Gold
When Coastway Community Bank needed a location for a new branch, they headed to Providence's arts and entertainment district. Amidst the city's medley of old and new architecture, they found a two-story brick building on a corner lot and set about making it their own. To that end, they retained the existing 6,000-square-foot footprint and two floors, but what a difference. The reconfigured first floor holds all the typical bank elements like tellers and office space; the second level, with its view-grabbing windows, is devoted to corporate functions. And the exterior is icing on the cake — a handsome building that while adhering to historic district standards brings more than just money downtown.
Architecture: Saccoccio and Associates Architects, Cranston
Contractor: A. Autiello Construction Co., Cranston
Structural Engineer: Yoder and Tidwell, Providence
Engineering Design Services: MEP Engineering, Slatersville
Landscape Design: Gates, Leighton and Associates, East Providence
Photographer: Aaron Usher III
On My Honor | Silver
Our experts were taken with the functionality and cheerful ambience of the new headquarters and center for training development for the Girl Scouts of Rhode Island. Formerly a ho-hum big-box space, the Warwick building has become a bright, spirit-lifting environment. Strategically placed windows and skylights, cost-effective materials and plenty of color made a limited budget seem more than enough. And then there was this: Early on, the thoughtful architects staged a workshop and invited the scouts to contribute some of their own ideas, no doubt igniting a passion for design in more than one girl. You can't get more award-worthy than that.
Architecture: KITE Architects, Providence; project team: William L. Kite Jr., FAIA, principal-in-charge; Carrie Patricio, Philip Derby
General Contractor: E.W. Burman, Warwick
Photographer: Albert Garcia, AIA, and project team

Brain Power | Bronze
Brown University's Department of Continuing Education recently got a huge boost with DBVW's renovation of 198 and 200 Dyer Street in Providence. The impressive program is broken into two components, the architects wrote. The 198 Dyer side contains 13,000 square feet of administrative space and the 200 Dyer side holds 9,000 square feet of educational program space. Private offices, conference, class and seminar rooms, a studio for filming interviews as well as inviting breakout areas and more — it's all here and, in all ways, it's practical and polished.
Architecture: Durkee, Brown, Viveiros and Werenfels Architects, Providence
General Contractor: Shawmut Design and Construction, Providence
Mechanical Plumbing/Fire Protection Engineer: Wilkinson Associates, Warwick
Electrical Engineer: Wozny/Barbar and Associates, East Providence
Structural Engineer: Yoder and Tidwell, Providence
Telecommunications: Turning Mill Consultants, Sandwich, Mass.
Photographer: Heidi Gumula, DBVW Architects

A Sense of Touch | Gold
Anyone who knows designer Andrea Valentini's work will not be surprised that her Providence shop is anything but gorgeous. Dubbed "Moments of Texture," the sensuous gallery-like space tells a story. "All the industrial materials in the shop," says Valentini, "connect back to the process I use to manufacture my collections of bags, furniture and jewelry." The decorative ceiling, the perforated tin, even the fabric on the articulated wall where bags are displayed like sculpture — it all has a purpose, which is to make shoppers think and question as they move through. Our experts praised the edgy but also soft and feminine qualities the designer so ingeniously married to produce this perfect whole.
Interior Architecture: Andrea Valentini, Providence
Contractor: AV Studio LLC, Providence
Photographer: Aaron Usher III

Fashion Show | Silver
It was a super-size order: the repurposing of a humongous Providence building to serve as Metal Dynamics's new headquarters. The finished results, Lisa Foster told our judges, had to come across as "current, creative, classic, sophisticated and representative of the international company's aesthetic and fashion industry clientele." Mission accomplished. That's what our pros saw. They lauded the adroit use of lighting and the harvesting of natural light throughout with skylights and well-placed windows. And all hands went up for the gleaming offices and slick conference rooms, not to mention the fabulous concrete entry desk cast in place.
Interior Design: Lisa Foster, Reconstructure, Providence, in conjunction with Metal Dynamics's owner, Robert Adelstein
Photographer: John Horner

Food Network | Bronze
Everybody in Cranston's Pawtuxet Village knows Basta Restaurant. But have they stopped by to savor the remodel? Jacksoncreative Group's recipe of mixing traditional elements with contemporary furnishings and mood-bringing chandeliers cooks up the right tenor — in and out — for today's patrons, without diminishing what's kept the spot appealing for some twenty-three years. Kudos to JG and the very-involved owners too for reworking old booths, recycling wood and those decorative metal screens, which list regions of Italy in descending order of population. The last was the fun detail that sealed the vote.
Interior Design: Jacksoncreative Group, Middletown; design team: David Jackson, Amy Granieri, Neli Tihoynova, Alison Kowal
Owners: Ken and Alex Guarino, Night Owl Restaurant Group, Cranston
Graphics: Alex Guarino, Night Owl Restaurant Group, Cranston
Builder: Ed Nota, Cranston
Metal Fabricator: Randy Shapiro, Old Bristol Line Fabrication, Cranston
Lighting: Munroe Electric Supply, Cranston
Furniture: Action Marketing, Coventry, Conn.; C.B. Seating, Norwalk, Conn.
Photographer: Stephanie Ewens