18 Smoking Items to Get the Grilling Started
Aaah, summer! Time to fire up the barbie and get grilling.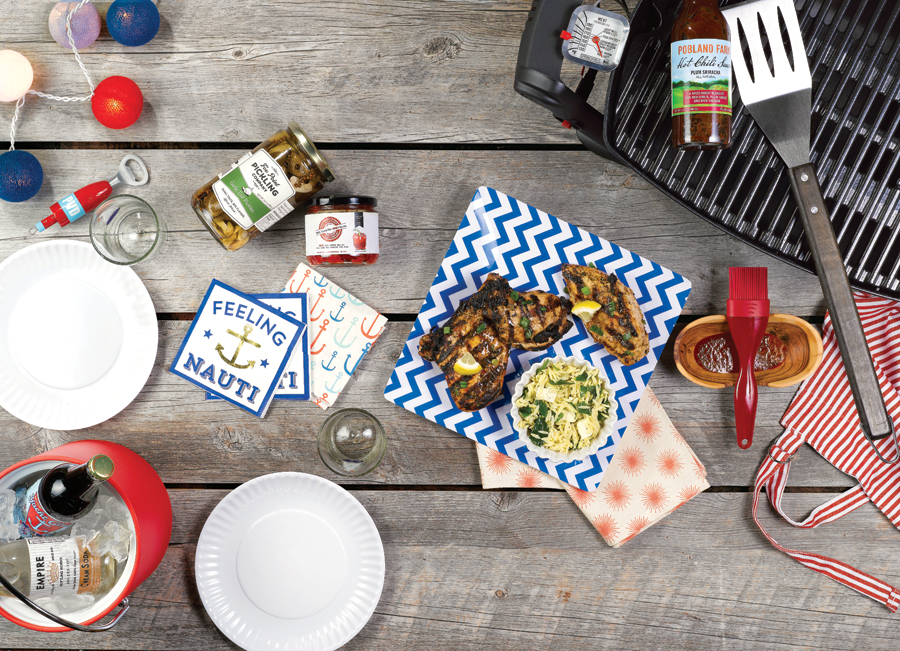 Globe lights, $36, Kreatelier, Providence.
PVD bottle opener, $35, Stock Culinary Goods, Providence.
Sailboat glasses, $15 each, Hollies, Barrington.
Pickles, $10.99, Fox Point Pickling Company, Persimmon Provisions, Barrington.
Sweet pepper relish, $10.95, Backyard Food Company, Hollies.
Tabletop grill, $169.99, Weber; meat thermometer, $4.99, both at Benny's.
Hot chili sauce, Poblano Farm, $6.95, Tom's Market, Warren.
Grilling spatula (part of a set), $29, Stock Culinary Goods.
Red and white striped apron, $20, Panhandler's, Newport.
Wooden olive bowl (two sizes), $24–$26, Homestyle.
Red silicone brush, $9.99, Panhandler's.
Printed cloth napkin, $12, Kreatelier.
Grilled chicken and lemon orzo salad courtesy of Tom's Market.
Chevron melamine platter, $3.95, Wickford Gourmet Outlet.
Anchor paper napkins, $5, Hollies.
Feeling Nauti napkins, $6.50, Homestyle, Providence.
Eco-friendly non-paper plates, $18 set of four, Homestyle.
Red ice bucket, $18, Wickford Gourmet Outlet, Wickford.