18 Places to Watch the Big Game on Sunday
Here are some of your best bets for bars airing the final showdown. Go Pats!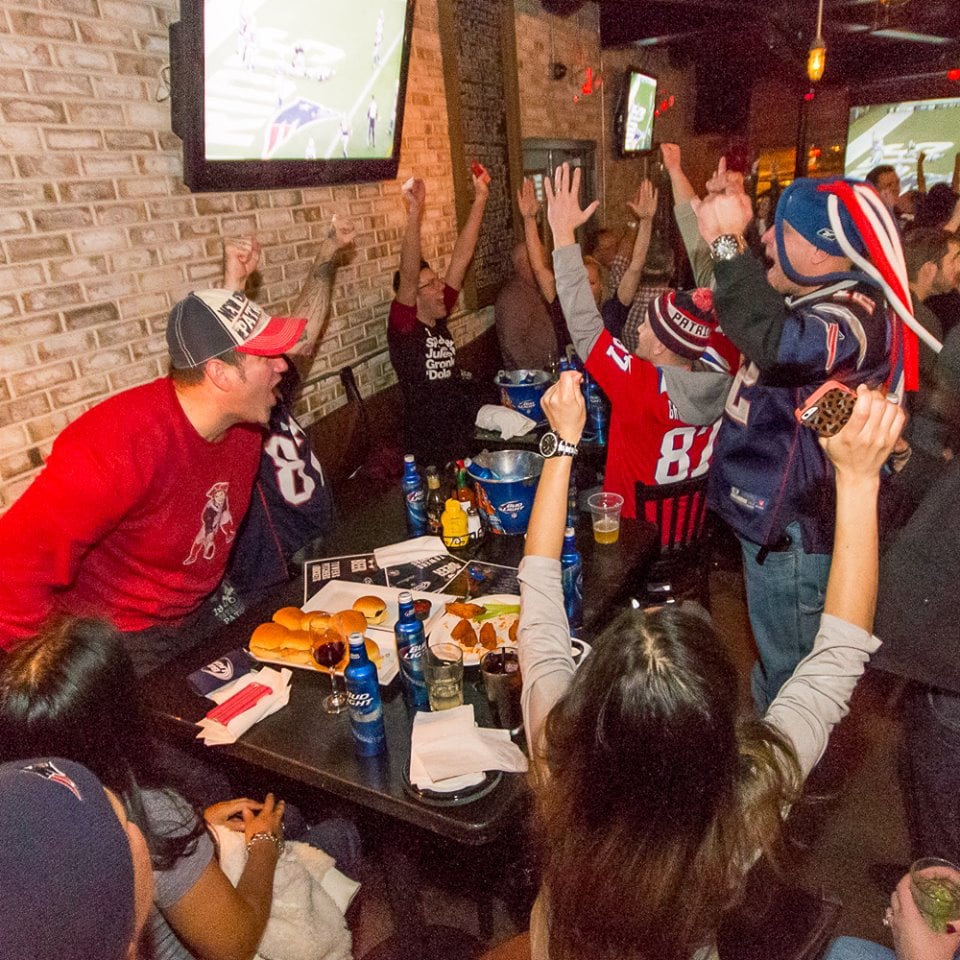 The Big Game is upon us on Sunday, Feb. 1 at 6 p.m., and our beloved Patriots will take the championship turf for the eighth time in Super Bowl XLIX. This year, tuning in is even more imperative as the home team defends both the Phoenix field and our New England reputation. Many bars and restaurants around the state are hosting parties to spark camaraderie amongst loyal fans. Here are some of your best bets for bars airing the final showdown. Go Pats!
1. Aruba Steve's locations in Providence and Warren will be offering beer specials, and the Warren location has a 120-inch projector and eight TVs.
2. Brutopia Brewery and Kitchen in Cranston is the hottest new brewpub in Rhode Island with craft drafts produced by none other than the original brewmaster Sean Larkin, plus an outdoor barbecue smoker for incredible ribs, beef brisket and pulled pork.
3. DeWolf Tavern in Bristol is hosting a Super Bowl party. The restaurant will play the game on its seventy-inch flat-screen TV and passed appetizers will be served. The cost per person is $25, but you'll save $5 if you wear your favorite team's jersey. Pabst beers are $3 and they will offer $5 special cocktails as well as a full cash bar.
4. Doherty's East Avenue Irish Pub in Pawtucket is a great place to watch the game with numerous TVs and an extensive craft beer list, affectionately called the Libation Ledger with eighty-five selections on draft.
5. Join Pats fans at Providence's gastropub, G Pub, where you can watch the game on one of seventeen LED TVs, and if you get bored following football, you can also pile into one of three private karaoke booths or play pool or shuffleboard.
6. Hanley's Ale House in Providence is offering $2 drafts, $0.35-cent wings, Yuengling buckets, appetizer platters and $1 shots whenever the Pats score. The bar is also organizing giveaways and prizes, including two Hanley's gift cards and Bruins tickets, plus you can enter to win a free trip to Vegas. Place takeout orders for wings for pickup on Jan. 31 or Feb. 1.
7. The Hot Club in Providence offers free wings and barbecue ribs on Patriots game days all season long, provided by Trinity Brewhouse.
8. Ladder 133 in Providence is throwing a Super Bowl party and they are taking table reservations. The bar offers thirty HDTVs, plus beer specials like sixteen-ounce brews for $3, $13 beer buckets and $12 sixty-four-ounce pitchers of beer.
9. McBride's Pub in Wayland Square in Providence has a lively crowd that isn't afraid to shout at the TV or jump up in joy. We can't say the same for the inhabitants at the attached funeral home. Stay for last call at 10 p.m. when you can make a toast to a lost loved one.
10. Mews Tavern in Wakefield is always a good choice for game day based on their terrific craft beer selection, great food and twenty-two flat-screens plus a crowd of passionate sports fans.
11. The Parlour in Providence will be throwing a party with lots of live local musicians. Host Matthew Odabashian will help you cheer on the home team in between jazz, funk, reggae and rock acts. Come drink, cheer, sing and dance.
12. Hang with the locals at Pour Judgement in Newport, known for its fantastic craft beer lineup and farm fresh comfort food.
13. Providence Coal Fired Pizza is offering specials for both dine-in and takeout at both locations in Providence and North Kingstown. Buy three large orders of coal fired wings and get one free, or buy two specialty pizzas plus one large order of wings for only $45.
14. Rick's Roadhouse in Providence has a nine-foot projection television and eighteen high-definition TVs, plus some of the best barbecue in Rhode Island.
15. Tavern on Broadway in Newport is known to be good place to watch the game with three HD TV's, great bar food and drink specials.
16. You can always watch the game at Trinity Brewhouse while enjoying some Rhody craft beer. The brewpub is celebrating its twentieth anniversary, which means the spot was hot way before everyone else jumped on the craft brews bandwagon.
17. Wes' Rib House is throwing the ultimate party with half-price appetizers during the game and special prizes.
18. Whiskey Republic is hosting a pregame reception with a complimentary gourmet nacho bar and a new Super Bowl menu. HJY and Bud Light will be on site giving away prizes, organizing halftime games and offering more surprises throughout the night. Email sam@thewhiskeyrepublic.com to reserve a table.
Special Note: North restaurant is taking special orders for takeout football food. Place your order by Fri. Jan. 30 for pickup at north Bakery on Jan. 31 or Feb. 1. Items include whole smoked local(ish) pork shoulder with chile vinegar barbecue sauce, Savoy cabbage, black pepper and scallion slaw and soft sesame Portuguese sweet buns. This option feeds five to eight people for $90. You can also add on sides like a quart of dan dan chili and corn bread (five pieces) for $15, sweet potato chips and German/Korean potato salad for $12 and football cookies (one dozen for $22). Email foodbynorth@gmail.com to place your order.