15 Artsy Holiday Sales
The holidays, already? Hit up each of these holiday sales and give something worth keeping.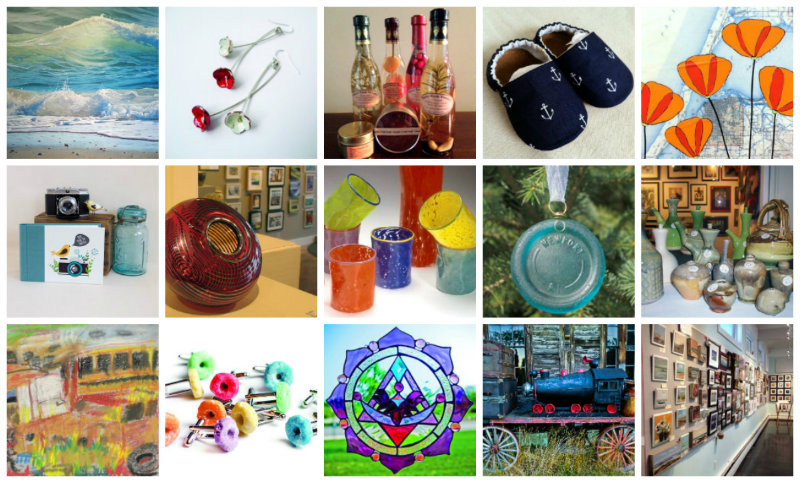 Back away from the mass-marketed whatsit and gift something original. These artisan shows offer affordable options for everyone on your list; try a classy vase for the in-laws or a scene-specific painting for your Rhode trip buddy. Plus, the goods are tax-free and purchases support our talented arts community. Is there a better way to spread holiday cheer? We don't think so.
Portsmouth Arts Guild: Holiday Show and Sale
Where: 2679 East Main Rd., Portsmouth, 293-5278, portsmouthartsguild.org.
When: Nov. 14–Dec. 21. Fri.–Sun. 1–5 p.m.
Why: Mingle and make merry with local artists and art connoisseurs. Pore through jewelry, oil paintings, pastels, prints, photography and a range of other pieces, all priced at less than $200.
How much: Free
Rhody Craft 100: Craftopia! Holiday Edition
Where: Hope Artiste Village, 1005 Main St., Pawtucket, rhodycraft.com.
When: Nov. 16. 10 a.m.–4 p.m.
Why: Looking for the perfect gift for an eccentric friend? Maybe a hand-woven Loomination scarf, a pair of itty bitty baby booties by Edie and Fin (above) or one of Fakhouri Pottery's Homer Simpson-adorned ceramic pieces? Enter this world of indie crafts, with offerings from more than seventy local artists, and discover funky finds around every corner.
How much: $1
Artists' Cooperative Gallery of Westerly: Small Treasures
Where: 7 Canal St., Westerly, 596-2221, westerlyarts.com.
When: Through Nov. 30. Tues.–Sat. 11 a.m.–7 p.m., Sun. 1–5 p.m.
Why: Get in the gift-giving mood at the Artists' Cooperative Gallery of Westerly, which is stocked to the brim with small artwork, pottery, fiber arts, sculpture and jewelry. Peruse glorious glassworks like handcrafted beads by Mimi Huszer Fagnant and sea-inspired pieces by Nancy Nielsen, or pick up a nostalgic photograph by Paul M. Murray (above). Art enthusiasts are invited to bring non-perishable food items for the Johnnycake Center of Westerly.
How much: Free
Providence Art Club: Little Pictures Show and Sale
Where: 11 Thomas St., Providence, 331-1114, providenceartclub.org.
When: Nov. 16–Dec. 23. Mon.–Wed. and Fri. noon–5 p.m., Thurs. noon–6 p.m., Sat.–Sun. noon–4 p.m.
Why: Since 1904, this iconic gallery has exhibited works by Rhode Island artists. This year's exhibit will showcase the pint-sized work of more than 100 Providence Art Club members. Pick up one of these little pictures for $250 or less and gift a guaranteed heirloom.
How much: Free.
MUSE: Awesome Affordable Art Show
Where: MUSE, American Handcrafted, 279 Water St., Warren, 401-289-2150, musehandcrafted.com.
When: Nov. 20. 5–8 p.m.
Why: Check out MUSE's new space on the town wharf in Warren while browsing low-cost prints, both framed and unframed, plus jewelry and other affordable artworks. Shop the charming and quirky pieces — think mini-level earrings, metal ruler bracelets and compass cufflinks — of Individual Icons, colorful California poppy art prints by Rachel Austin (above) and the pretty printed textiles of Betsy Olmsted.
How much: Free
Wickford Art Association: Little Picture Show and Sale
Where: 36 Beach St., North Kingstown, 294-6840, wickfordart.org.
When: Nov. 28–Dec. 18. Tues.–Sat. 11 a.m.–3 p.m., Sun. noon–3 p.m.
Why: Make your way to Wickford for a bevy of creative works. Starting the Friday after Thanksgiving, the Wickford Art Association will be offering up its own array of petite pictures. Survey the eight-by-ten-inch works of dozens of artists, all for under $200.
How much: Free
Ocean State Artisans: Holiday Craft Festival
Where: Community College of Rhode Island, Knight Campus, 400 East Ave., Warwick, oceanstateartisans.com.
When: Nov. 28–29. Fri. 10 a.m.–5 p.m., Sat. 9 a.m.–4 p.m.
Why: Give way to gifting greatness. Shop the stalls of more than 100 different crafters for wares both handmade and affordable, including funky stained glass mosaics by Glass Monkey Arts. Make a difference in the lives of hungry neighbors by bringing canned food items for the Rhode Island Community Food Bank.
How much: $1 with canned food donation.
Christmas in the Valley: Holiday Craft Show
Where: Foster Country Club, 67 Johnston Rd., Foster, 595-2098, christmasinthevalleyri.com.
When: Nov. 28–30. Fri. 5–9 p.m., Sat. 10 a.m.–6 p.m., Sun. 10 a.m.–4 p.m.
Why: Hunt for holiday goodies like gourmet dry rubs, sauces and vinegars from Thyme Farm Vinegars (pictured above) hand-poured soy candles, local wine, handcrafted handbags and more at this three-day annual juried show. Bop around to live music, say hi to Santa and snack on specials at the Foster Country Club. Bring in a non-perishable item to participate in a free raffle of vendor-donated items.
How much: Free
Craftland Holiday Show
Where: Craftland, 212 Westminster St., Providence, 272-4285, craftlandshow.com.
When: Nov. 28–Dec. 31. Mon.–Sat. 10 a.m.–6 p.m., Sun. 10 a.m.–5 p.m.
Why: Check out Craftland's new space during this holiday show, which features an eclectic collection of jewelry, accessories, clothing and art — with prices that won't break the bank. With cozy crochets, a satisfying selection of artwork and homemade stuffed animals perfect for little gift lovers, you're sure to find something for everyone. Reward yourself for a job well done with a pretty set of holiday earrings by Heather Wang Jewelry, above.
How much: Free
South County Art Association: Holiday Art Sale
Where: Helme House, 2587 Kingstown Rd., Kingston, 783-2195, southcountyart.org.
When: Nov. 28–Dec. 20.Wed.–Sun. 10 a.m.–6 p.m.
Why: Quaint Kingston plays host to this great holiday pottery and art sale, which boasts dozens of practical gifts by South County Art Association members. Festively decorated and teeming with unique finds, it'd be a shame to miss this special display.
How much: Free
Charlestown Gallery: Holiday Group Show
Where: 5000 South County Trl., Charlestown, 364-0120, charlestowngalleryri.com.
When: Nov. 28–Dec. 28. Thurs.–Sun. 10 a.m.–5:30 p.m.
Why: Comb through creative offerings at this annual group show. Charlestown's well-known gallery will be full of potential gifts like paintings (including Antonia Tyz Peeples's oceanic beauty, above), photographs, sculptures and other unusual pieces created by professional regional artists.
How much: Free
Deblois Gallery: Holiday Fine Arts and Crafts Show
Where: 134 Aquidneck Ave., Middletown, 847-9977, debloisgallery.com.
When: Nov. 29–Dec. 24.Wed.–Sun. 1–5 p.m.
Why: Mosey over to Deblois Gallery for mosaics, greeting cards, original art, jewelry, nautical ornaments by Suegray Jewelry (above) and more. Local artists and art-lovers alike are invited to this much-loved holiday show.
How much: Free
Foundry Artists Holiday Show
Where: The Pawtucket Armory Center for the Arts, 172 Exchange St., Pawtucket, foundryshow.com.
When: Dec. 4–7, 12–14. Thurs. 5–9 p.m., Fri. noon–8 p.m., Sat.–Sun. 10 a.m.–6 p.m.
Why: Buy or bid on fine art and functional crafts from more than sixty regional artists at the thirty-first annual show. Gift-worthy goodies include paper goods by Rag and Bone Bindery (above), handmade jewelry, ceramics, glassworks and more. Be sure to bring a non-perishable food item for the Rhode Island Community Food Bank.
How much: Free
Mad Dog Artist Studios: Holiday Sale
Where: 65 Blackstone Ave., Pawtucket, 722-7800, maddogartiststudios.com.
When: Dec. 4–7, 11–14. Thurs. 5–9 p.m., Sat.–Sun. 10 a.m.–6 p.m.
Why: Dozens of member artists pool their best gift-giving wares, from jewelry and sculpture to mixed media art and glassware, such as Pean Doubulyu's funky cups, above. Check out the opening wine and cheese reception on December 4 and the private shopping experience with wine, tapas and gift-wrapping on December 11.
How much: Private shopping experience $35; all other events free.
Rhode Island School of Design: Alumni Holiday Sale
Where: Rhode Island Convention Center, 1 Sabin St., Providence, risdalumnisales.wordpress.com.
When: Dec. 13. 10 a.m.–5 p.m.
Why: Rummage through handmade treats both fun and funky at this year's art sale. Items include furniture, ceramics, paintings, clothing and other works designed by Rhode Island School of Design alumni (Chris Haines's cereal cufflinks, above). A portion of the proceeds support RISD scholarships.
How much: $7