13 Valentine's Day Options for Everyone
Depending on your romantic situation − newly coupled up, long-term relationship, married with kids or single − we have great options for you to have fun this Valentine's Day weekend.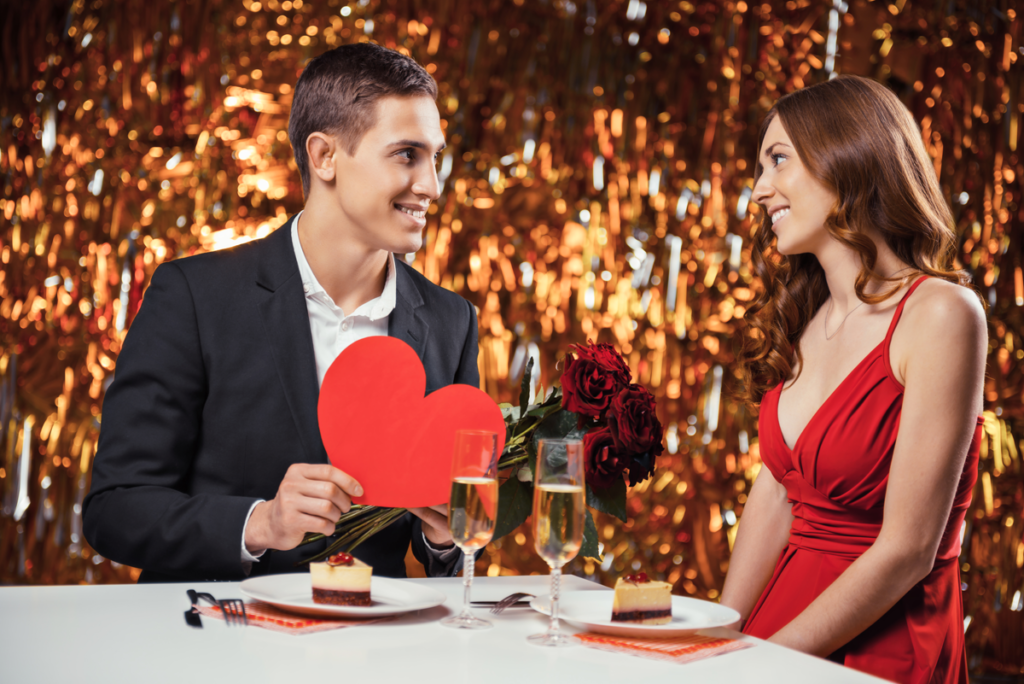 No matter your romantic situation, be it single or married with kids, we've figured out your V-Day game plan. Simply choose the category that suits you and take your pick of fun activities.
Married Couples
Valentine's Day is the one day of the year when you can forget about stress and have a romantic night out with your partner. For couples who have been through this day with their loved ones many times, it can turn into more of a hassle than fun. Many restaurants are making it easy with prix fixe menus.
ProvidenceG: Providence G is hosting special Valentine's Day weekend events at two of its restaurants.
1. Garde de la Mer will serve an elegant three-course prix fixe dinner with live entertainment from Fri., Feb. 12 to Sun., Feb. 14 for $50 per person or $75 per person with optional wine pairings, not including tax and gratuity. Seatings for this romantic dinner will be held at 5, 7 and 9 p.m. on Friday and Saturday with open reservations on Sunday. The menu starts with cured hamachi, Boston bibb salad and calamari. Entree choices include pan roasted pollock, buttermilk brined chicken breast or braised beef short rib. Share a dessert with the person you love, including a choice of a flourless chocolate torte or a passion fruit semifreddo. Reservations are recommended. 86 Dorrance St., Providence, 401-632-4799, gardedelamer.com
2. Choose the Rooftop at the ProvidenceG if you're looking for dinner with a view. Located seven stories up, overlooking the Providence skyline, this will be one romantic evening. Stay warm under the fully-enclosed glass roof or sit around one of six fire pits while enjoying the three-course prix fixe dinner. Some dishes to look forward to are Moroccan lamb, Faroe Island salmon, pan roasted chicken breast and steak frites. Seatings will be offered on Fri., Feb. 12 and Sat., Feb. 13 at 6 and 9 p.m. The price is $75 per person, not including tax and gratuity. The venue will also host brunch on Sun., Feb. 14 from 11 a.m. to 3 p.m. featuring omelets, crepes, flatbreads and fresh baked goods. Reservations recommended. 100 Dorrance St., Providence, 401-632-4904, rooftopattheg.com
3. Seasons at the Ocean House is hosting a Valentine's Day dinner and concert with Scott Dreier on Fri., Feb. 12 from 6 to 10:30 p.m. Seasons will offer a four-course prix fixe meal before entering the ballroom for the dessert buffet and concert performance. Some of the meal choices are Rhode Island's finest Matunuck oysters, winter mushrooms and lobster served with linguine. For $125 per person, not including tax and gratuity, you will enjoy dinner and the performance. Other options available. 1 Bluff Ave., Watch Hill, 888-552-2588, oceanhousevents.com
4. Providence Getaway Package: Are you looking to get away for the weekend but not go too far? Enter to win a Getaway Package at Providence Marriott Downtown. This package includes overnight accommodations, a bottle of wine upon arrival, breakfast buffet for two and a $25 credit to the Bluefin Grille. Entries must be submitted by Feb. 12. Don't worry if you are not the lucky winner, there are many other getaway ideas. Local getaways can be found at the Providence Biltmore Hotel, Holiday Inn South Kingstown, Bristol House Bed and Breakfast and Hyatt Regency Newport Hotel and Spa. goprovidence.com
New Relationship
If you've just entered into a new relationship, spending a lot of money might not be in the cards for your first Valentine's Day, but don't worry, there are plenty of options for you.
5. Free Wine and Beer Tastings: For couples ages twenty-one and older, Campus Fine Wines is located right near the Brown University campus, and it hosts weekly beer tastings on Fridays from 5—8 p.m. and wine tastings on Saturdays from 4—7 p.m. If you find a beer or wine that you like, buy a bottle to drink with a romantic homemade meal. This is the perfect low budget Valentine's Day date. 127 Brook St., Providence, 401-621-9650, campusfinewines.com
6. Bottles Fine Wine, also located in Providence, offers another option for beer tasting. On Fri., Feb. 12 from 4—7 p.m., Dogfish Head Brewery will be on site, featuring Piercing Pils, Palo Santo Marron and Namaste. 141 Pitman St., Providence, 401-372-2030, bottlesfinewine.com
7. Frosty Drew Observatory: Frosty Drew observatory opens to the public every Friday night year round. Weather permitting, this could be a romantic and free Valentine's Day weekend date. On clear nights, Frosty Drew is in observation mode, where telescopes are brought out to look at the beautiful array of stars in the sky. Remember to bundle up and bring blankets to stay warm. Frosty Drew Nature Center and Observatory, Charlestown, 401-364-9508, frostydrew.org
Fun for the Entire Family
Can't find a babysitter or just want to spend Valentine's Day with your favorite little ones and the rest of the family? Here are some options for you:
8. Easy Entertaining: For something a little more family-friendly and less pricey, check out the prix fixe brunch menu at Easy Entertaining. For $29 per person, enjoy your choice of a beverage, a basket of freshly baked brioche cinnamon buns and donuts and your choice of entree. Some of the choices include steak and eggs, the classic egg sandwich and doughnut bread pudding. Children younger than ten will receive a drink, personal pastry bag, entree and coloring sheets. Some of the children's meals include eggs and hash browns and red velvet pancakes. 166 Valley St., Building 10, Providence, 401-437-6090, easyentertainingri.com
9. Blithewold's Valentine Teddy Bear Tea: This is the perfect event for a family with smaller children. Let your child bring along his or her favorite teddy bear to enjoy a special party in the mansion's prestigious dining room. Children can play dress up with their teddy bears and they will receive a photo session with their furry friend. Advanced registration is required for this event. Tickets are $22 for children and $32 for adults. 101 Ferry Rd., Bristol, 401-253-2707, blithewold.org
10. Ice skating at the Alex and Ani City Center is the perfect way to spend the night with the entire family. First have dinner at one of the many restaurants in Providence and then skate the night away. Tickets for adults are $7 each and children younger than twelve are $4. 2 Kennedy Plaza, Providence, 401-331-5544, alexandanicitycenter.com
Single
No relationship, no problem. Round up a group of your single friends and enjoy the holiday from a different perspective.
11. Contemporary Theater Company: Who doesn't love the taste of chocolate and wine? This event is a great way for you and your friends to celebrate Valentine's Day. On Sun., Feb. 14 at 7 p.m., Contemporary Theater Company will host its Fourth Annual Chocolate and Wine Tasting. Tickets are $30 per person and can be bought online. 327 Main St., South Kingstown, 401-218-0282, contemporarytheatercompany.com
12. Wine and Chocolate at Home: If you and your friends don't feel like leaving the house, there are still some wine and chocolate options. Pick up a bottle of wine from Newport Vineyards, grab a box of chocolates from Sweenor's Chocolates, watch a movie and call it a night. This is a great way to spend the night with the friends you love.
13. Bring Your Own Improv: If a night of laughs is what you and your friends need, go to Bring Your Own Improv at the Warwick Museum of Art. This performance allows people from the audience to become part of the show. Participation is encouraged in three ways: Applaud during a scene you like, yell out things you want to see and jump up on stage if you're ready for five minutes of fame. This event occurs weekly on Fridays. The family-friendly comedy show starts at 7 p.m. and the late-night comedy show starts at 9 p.m. Tickets range from $5−$8. 3259 Post Rd., Warwick, 401-737-0010, bringyourownimprov.com