11 Great Fall Getaways
When summer temperatures and crowds dwindle, it's time for a road trip. Whatever your type — foodie, adrenaline junkie, relaxation expert — we've found perfect places for a weekend autumn getaway. So grab a map and plot your escape before winter arrives.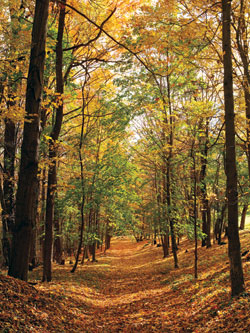 The Food Lover's Getaway
Blueberry Hill Inn
Goshen, Vermont
Drive time: four hours, thirty minutes
As Route 73 meanders through mountain gaps and meadows, the road offers postcard views of the Champlain Valley and the Green Mountain National Forest. You might not expect that six miles off a mountain pass dirt road is what Saveur called "the coolest inn in Vermont." The motto at Blueberry Hill Inn and Ski Center is "Tour it if you can; eat cookies if you can't." Since this is a fall visit, you'll just have to eat cookies. In fact, non-guests have been known to stop by just to drain the cookie jar. The nut-studded chocolate chip cookies are so addictive that the inn ships boxes to former guests around the world.

A wakeup call is a gentle knock at your door in the morning. The 1813 farmhouse in the shadow of Romance Mountain features original stenciling and wide plank floors with antiques and quilts in its eleven rooms and detached cottage. There's a wood-fired sauna overlooking a spring fed swimming pond, which is stocked with trout — you catch it and Tony will serve it up, pond-to-plate style.

Owner and cookie-baker Tony Clark is the other draw for repeat customers. A charismatic storyteller, Clark grew up in France and learned to cook from his mother (he has also taught guests how to bake). Every day, mother and son would forage for ingredients at the farmers market, which spurred his lifelong commitment to fresh ingredients. Clark shares the kitchen with Tim Cheevers, who comes out of retirement to make a cameo for the busy season. This master chef of Great Britain has served canapes to the Queen and boasts a five-star resume with accolades from Michelin guides to The New York Times.

They dish up a four-course family-style meal in the fifty-seat dining room with a grand fieldstone fireplace; more intimate dinners are served by the rainforest-like atrium. An exposed beam kitchen is warmed by a Glenwood cast iron stove where dried herbs hang from the beams like chandeliers next to the atrium. Entrees range from Vermont goat-cheese souffle to organic free-range chicken stuffed with woodland mushrooms. Breakfast might be a blackberry, pecan and apricot jam tartlet, mushroom and leek omelet, and homemade granola. There are many foraging opportunities besides the cookie jar: Hogback Mountain is ripe with wild blueberries (Clark has a one-for-you, one-for-me policy). Clark or a naturalist can take guests to search for chanterelles or you can find your way to a nearby apple orchard or sugar shack. The inn's garden features carrots, leeks, tomatoes and other veggies; culinary and medicinal herbs are grown in the greenhouse.

He and fellow outdoor enthusiasts had the surrounding forests and hills designated as Moosalamoo National Recreation Area, named after Mount Moosalamoo. The 22,000-acre preserve in the heart of Green Mountain National Forest includes more than seventy miles of trails that wind through hard and softwood forests, rugged cliffs, waterfalls, lakes and streams. The inn's 100-acre property also contains forty miles of hardwood forest and walking trails and forty-three miles of cross-country ski trails hand-cut by Clark and his family.
The details: 1307 Goshen-Ripton Rd., 802-247-6735, blueberryhillinn.com.
All-inclusive rates start at $140 per person a night.
Other getaways feature in the October issue:
The Adventurer's Getaway
The Just For Two Getaway
The Family Getaway
The Girlfriends' Getaway
To read more of this story please visit your nearest newsstand or click the link below.