10 Scoops of Summer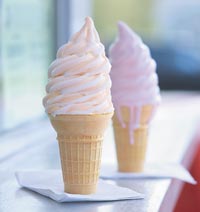 Like crowded beaches and Paw Sox games, long lines at the local ice cream stand are a sure sign summer has arrived in Rhode Island. We gladly braved dozens of those queues in our quest for superior scoops. And after all this sweet research, we found ten locally made cones that topped the rest. While the ice cream quality at all these spots is second to none, we've given you another reason below to try each one. So whether you're looking for a quick sugar fix, a leisurely summer drive or an excuse to visit the city, we've found the cone for you.
The Sunday Drive Cone
Ice Cream Machine Co.
4228 Diamond Hill Road, Cumberland,
333-5053, icecreampie.com
Exotic Flavors: raspberry chocolate truffle, brownie batter, amaretto almond
Small serving: $3.19
Scooping Season: year-round
The Melt-Down: Since 1977, this popular northern Rhode Island destination has been serving up ultra-rich scoops of ice cream. And the business's beginnings are as sweet as its product, which started with the current owner, Gary Caron's, father-in-law. Diagnosed with multiple sclerosis, he was forced to leave a job as a corporate executive, so he began selling homemade ice cream, using a family recipe, out of a one-car garage. From day one, business was booming, according to Caron. Today, Ice Cream Machine Co. offers more than sixty flavors and is so popular that it wholesales to many businesses throughout the East Coast including Cumberland Farms and Chelo's Restaurants. Located across the street from scenic Diamond Hill State Park, this ice cream stand is the perfect place to head on a lazy afternoon, when a massive scoop of your favorite flavor is the ideal end to a drive through the historic Diamond Hill area of Cumberland.
The "And Then Some" Cone
The Inside Scoop
1105 Scituate Avenue, Cranston, 944-0707
30 Ten Rod Road, North Kingstown, 294-0091
Exotic flavors: pumpkin, blueberry pie, chocolate mousse
Small serving: $2.82
Scooping Season: March to Thanksgiving

The Melt-Down: The North Kingstown location is where all of the ice cream gets made, but it's the Cranston shop where you get more than you pay for. Every Tuesday at dusk, The Inside Scoop hosts a movie night under the stars. Admission is free, and you can watch a Disney classic projected onto the side of the building while partaking in one of more than sixty-four varieties, including coffee Oreo. The cooler months draw customers inside the Cranston store to huddle around the gas fireplace as they enjoy their ice cream, while the warmer summer evenings see a line of families out the door.
A Swirl of Nostalgia

Some things never change. Especially when it comes to ice cream. While homemade hard ice cream has been a national favorite since the late nineteenth century, there was a time when soft serve and the walk-up stands from which it was sold were all the rage. And though their popularity peaked in the forties, fifties and sixties, stands still exist where you can walk up to the window, read from a menu of flavors and sundaes posted around the takeout opening, and order a swirly cone. Eskimo King, Hill-Top Creamery and Lincoln Creamery are a few of the local shops that have not gone the way of gourmet. Still a lot has changed since the days of Tastee-Freez. Expect many more flavor options than the standard chocolate and vanilla, with lower-calorie yogurts and ice cream on the menu as well.
Eskimo King
29 Market Street,
Swansea, Massachusetts, 508-379-0202
Hill-Top Creamery
5720 Post Road,
East Greenwich, 884-8753
Lincoln Creamery
276 Front Street,
Lincoln, 724-1050.
The Vacation Cone
Daily Scoop

230 County Road, Barrington, 245-0100
446B Thames Street, Bristol, 254-2223
dailyscoopicecream.com
Exotic Flavors: Take Five (light chocolate ice cream with bits of the candy bar mixed in), banana peanut butter cup, lemon custard
Small serving: $2.75
Scooping Season: April to the end of September; Bristol closes a few weeks earlier
The Melt-Down: While the Daily Scoop has two East Bay locations, stop into the one in Bristol, and you'll feel like you've been transported to a far-off seaside destination. With a view of Bristol Harbor and a cone of their super rich ice cream in hand, the experience is unparalleled. Fittingly, owners Robert and Debra Saunders were inspired to open Daily Scoop after their own vacations by boat. During their travels, they sampled high-quality homemade ice cream in several destinations and wanted to offer the same to their fellow Rhode Islanders. Open for eight years in Barrington and four in Bristol, the Daily Scoop uses only the freshest ingredients and toppings, including freshly pureed fruit. Waffle cones and ice cream cakes are made in both locations, and they also sell hand-packed pints in markets throughout the state.
The Urban Cone
Three Sisters
1074 Hope Street, Providence, 273-7230
Exotic Flavors: Trinity Brewhouse beer, kulfe (cardamom, cinnamon, nutmeg and pistachios), chocolate drunk chunk (coffee and chocolate ice cream mixed with Jim Beam flavoring and chocolate chips)
Small serving: $2.75
Scooping Season: year-round
The Melt-Down: When Maximillian's closed their doors this winter, it left a void in East Side ice cream options. But a new owner quickly stepped in, renaming the place (after his three daughters) and renovating the space to give it a more upscale look. He also added a list of flavors that are as sophisticated as the redesigned cafe. Luckily the quality of the ice cream, still made using Maximillian's recipe, did not suffer with the change. With more than 100 flavors, any thirty of which are offered daily, as well as a frozen yogurt product called "Frogurt" from California, there are a number of sweet treats to satisfy. And if you plan on indulging a little, try topping your ice cream with a little "goop," a gooey concoction of peanut butter, chocolate and caramel. With the warmer weather upon us, East Side soccer moms are surely breathing a collective sigh of relief.

The Quintessential Cone

Gray's Ice Cream
16 East Road, Tiverton, 624-4500
259 Thames Street, Bristol
graysicecream.com
Exotic Flavors: ginger, Grapenut (pieces of the cereal mixed into vanilla ice cream), green tea
Small serving: $2.75
Scooping Season: Tiverton: year-round; Bristol: May to October
The Melt-Down: In its eighty years in business, Gray's has become as synonymous with summer in Rhode Island as Del's, clamcakes and chowda. Ask most Rhode Islanders, and they'll have some childhood memory of standing in line at the Tiverton stand for a cone only to feed the remainder to the cows in the adjacent paddock. The cows (Oscar and Emmy) are still there, and the menu has gone relatively unchanged in recent years. You can still order a thick coffee cabinet, a chocolate "malted" shake or a simple scoop of creamy vanilla in a sugar cone. And the lines still extend from the takeout window to the parking lot on any given summer night. The only difference is that those kids of yesteryear are now adults, who now stand in line with their children, waiting to give them that first taste of Rhode Island summer.
The Trick-Your-Tastebuds Cone
Krueger's Homemade Ice Cream and Gelato
7510 Post Road, North Kingstown, 294-4115
Exotic Flavors: chocolate walnut fudge, midnight espresso (coffee ice cream with a fudge stripe), Snickers (vanilla ice cream mixed with melted Snickers bars and combined with chunks of the candy bar)
Small serving: $3.15
Scooping Season: year-round
The Melt-Down: High butterfat content and very little air make for a super-premium product from Krueger's that is rich and dense. But if you are looking for something that is a little lower on the calorie scale, try the gelato, a frozen treat that is actually denser than ice cream, but made with more milk and less cream. In decadent flavors like Butterfinger fudge and red raspberry chip, you'll think you're eating a creamy cone of the real thing. Take your cone outside to one of the tables where chirping crickets evoke a country feel despite the shop's Route 1 location. For something even more indulgent, try one of Krueger's brownie sundaes, topped with any number of candy bar, cookie or melted toppings.
The Beach-goers Cone

Brickley's Homemade Ice Cream and Cakes
921 Boston Neck Road, Narragansett, 789-1784
322 Main Street, Wakefield, 782-8864
Exotic Flavors: pumpkin pie, peppermint stick, bubble gum
Small serving: $3
Scooping Season: mid-March to the end of October
The Melt-Down: On any typical summer afternoon at around 2:30 p.m., a line of cars begins to form along Boston Neck Road (Route 1A) as the beach crowd heads home from another day of sun and sand. Perhaps to assuage their road rage, many wait out the traffic jam with a detour to Brickley's, an ice cream pit stop that became an instant South County favorite when it opened thirteen years ago. A self-described "purist," owner Steve Brophy doesn't mess around with fancy flavors, but instead mixes up forty-eight favorites each season using fresh ingredients, and offers traditional mainstays like "jimmies," hot fudge and caramel to go on top.
The Retro Cone

The Ice Cream Factory
6710 Post Road, North Kingstown, 885-8640
Exotic Flavors: gingersnap, Kahlua fudge, Gone Fishin' (blue vanilla with sour gummy worms and Swedish fish candies)
Small serving: $2.50
Scooping Season: early April to Thanksgiving

The Melt-Down: Although this spot has been in business for fourteen years (three under the current ownership), walking up to the takeout window, framed by menus and pictures of perfectly scooped cones, is like visiting the soft serve stands that were popular decades ago. But instead of soft serve, The Ice Cream Factory serves the homemade hard stuff, with 150 flavors in all (though the shop also carries soft serve in thirty different flavors, as well as "Only 8," an all-natural yogurt sweetened with fructose that is ideal for diabetics and dieters alike). But, the Ice Cream Factory is dedicated to serving more than ice cream to the community. During baseball season, expect to see several North Kingstown Little Leaguers (Ice Cream Factory sponsors a team each season) peeking over the counter, proudly announcing their homeruns for the night for which they are rewarded a free sundae.
The Hidden Gem Cone
Powder Mill Creamery
777 Putnam Pike, Greenville, 949-3040
Exotic Flavors: coconut lemon cookie with white chocolate, white chocolate caramel pistachio, peanut butter chocolate chip cheesecake
Small serving: $3.80
Scooping Season: April to Thanksgiving

The Melt-Down: Unless you live in northern Rhode Island, you might not venture into that part of the state too often, but if you're an ice cream aficionado, this spot's worth the trip. Tucked into the outskirts of Greenville, this cafe has been serving gourmet ice cream in dozens of flavors for the past thirteen years. Additionally, freshly roasted coffee is poured daily, and there is a substantial menu where you might see Angus and Hereford burgers one week and James Beard meatloaf the next. If that's not enough to delight you, check out the view of Waterman Lake behind you. Plop down on a bench and savor your cone –– if you're patient enough, you'll catch a killer sunset.
The Quickie Cone

DeCiantis Ice Cream Co.
45 Quaker Lane, West Warwick, 821-2440
1373 Main Street, Coventry, 823-9160
2928 Post Road, Warwick, 384-6033
Exotic Flavors: peanut butter fudge, blueberry cheesecake, orange pineapple
Price: varies throughout season
Scooping Season: year-round
The Melt-Down: Throw a jimmy in the West Bay, and you're bound to hit one of DeCiantis' three locations. With shops in some of the busiest areas of the state, including Post Road and Bald Hill Road, you can easily make a quick pit stop at DeCiantis while shopping or errand running when the craving for a cone hits. A third generation player in the ice cream business, DeCiantis has been open since the 1960s when the family used to produce their own milk. Today, out of their retro-inspired West Warwick shop, they produce more than forty-five flavors of ice cream that they use in everything from sundaes and shakes to cakes.
Ice Cream Couture
Dessert at one of the state's best restaurants doesn't have to mean a fancy tart or creme brulee. Ice creams and sorbets have slowly but surely been sneaking from the grocer's freezer aisle to white linen-clothed tables. And the resulting creations from some of the area's top chefs are a far cry from what gets scooped out of a cardboard pint.
The Classicist

Laurent Vals, Pastry Chef, The Spiced Pear
The summer dessert menu here typically features an array of tropical fruit sorbets, as well as variations on French standards such as salted caramel ice cream and strawberry with orange-blossom extract. "A certain portion of our menu is always classic, but we do, occasionally, throw in some crazy stuff," says Vals of his European-influenced sweets. Aside from dessert, Vals's creations show up as beverages (his frozen mimosa consists of Champagne sorbet with orange marmalade, orange chips and a splash of Champagne) as well as intermezzos, a pairing of cantaloupe and celery sorbet that refreshes. 117 Memorial Boulevard, Newport, 847-2244, www.spicedpear.com.
The Innovator
Chrissy Banks, Pastry Chef, Gracie's

Although an apricot beer sorbet turned out to be one of the most popular flavors at Gracie's, Banks tries to temper the flavors of her adventurous offerings so as not to terrify customers. Still, that hasn't stopped her from creating a Mexican chocolate with cinnamon and Tabasco, caramel with morel mushrooms, and a white chocolate-white truffle with a tinge of orange for the dessert menu. 194 Washington Street, Providence, 272-7811, graciesprov.com.
The Purist

Champe Speidel, Owner and Chef, Persimmon
"I've done a Campari sorbet with oysters, but for the most part I'm just trying to perfect the art and highlight the flavor," says Speidel. Sorbets at Persimmon have included white peach, concord grape, lychee, coconut, blood orange and kalamansi lime. "Our most popular flavor, though, continues to be the dulce de leche gelato," says Speidel. "I could eat gallons of it and, apparently, so can everyone else." 31 State Street, Bristol, 254-7474, persimmonbristol.com.
That Takes the Cake
There was a time when Carvel's Fudgie the Whale was the only type of cake you could buy that didn't come out of the oven. And many, young and old, still admit a soft spot for those famous ice cream creations with the chocolate "crunchies" in between frozen layers. Today, ice cream makers put their own spin on that iconic cake with a wider range of flavors and toppings.
Brickley's owner Steve Brophy, who makes ice cream cakes in any flavor with chocolate cake crunch and chocolate fudge in the middle, says his customers get creative with their choices. He has concocted combinations like half bubble gum and half chocolate, and half malted milk ball and half chocolate brownie. Robert Saunders, owner of Daily Scoop, layers his ice cream with actual cake and says that there is such a demand that he has trouble keeping up, despite the fact that orders are limited to a few flavors. The Ice Cream Machine, Ice Cream Factory and DeCiantis all make their own unique versions of ice cream cakes — an evolution that proves these slices of nostalgia will never melt away.