10 Places Dads Love for Father's Day
Father's Day may be Sunday, June 21, but we'll be showing dad appreciation all week long.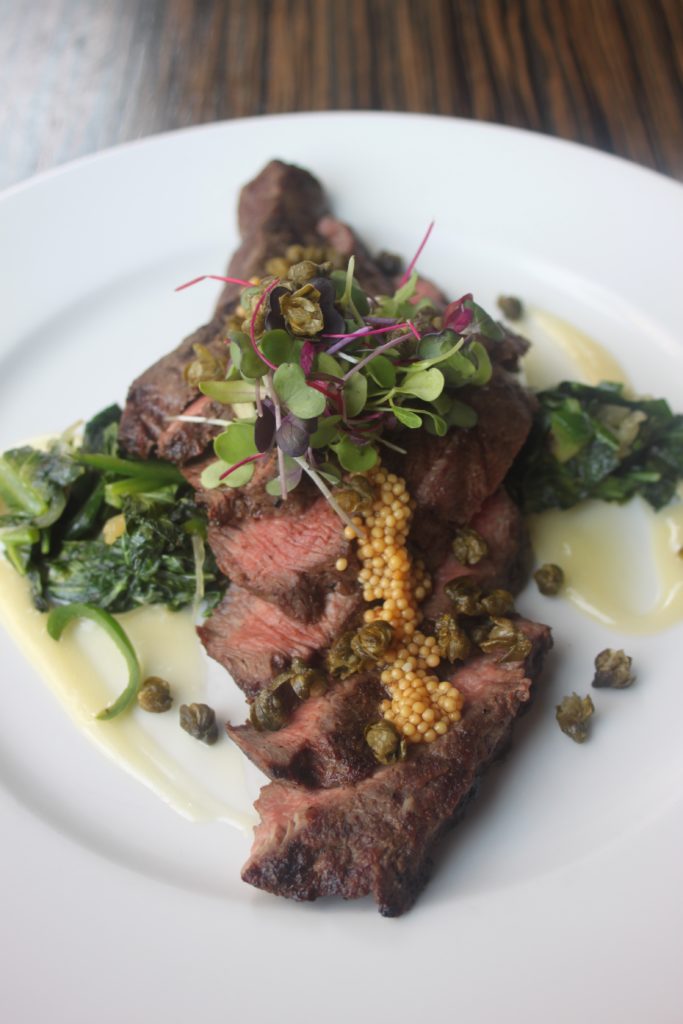 As Father's Day approaches, I am thinking about restaurants that my husband and father-in-law truly love. What they really want is a hefty portion of steak and potatoes, a good burger, an overflowing seafood platter or no-frills chicken parm, pasta and red sauce. Here are my picks for spots that can satisfy even the heartiest of appetites (with maybe a doggie bag to-go for me). Full disclosure: I'd have my father-in-law write this, but then we'd have to pay him. Happy Father's Day!
Editor's note: The restaurants are in alphabetical order and simply reflect my father-in-law's and husband's favorite restaurants. Think we missed a good spot? Tell us in the comments.
1. 10 Prime Steak and Sushi: All dads deserve Wagyu beef. And Ten Prime's specialty is top quality beef with the setting to do it justice. The restaurant is offering various specials for Father's Day in addition to the regular menu. Dishes will include Sriracha honey confit chicken wings (my hubby loves sriracha so much he'd put it on cereal), porcini seared Wagyu beef with crispy capers, truffle aioli, pickled mustard seeds and mustard greens, and dessert includes mint Oreo cheesecake. Plus beef-lovers and sushi-eaters can coexist peacefully. 55 Pine St., Providence, 401-453-2333, tenprimesteakandsushi.com
2. Apsara: This is not your average greasy American Chinese food. Traditional dishes from Cambodia, Thailand, Vietnam and China are meant to be shared by groups. For the budget-conscious diner, Apsara is a must. It's BYOB so you can pick up your own wine or beer and enjoy it without the markup. All of the dishes feature large portions at affordable prices, so don't be shy about sampling a little bit of everything with the family. We recommend nime chow, spicy chicken wings, Vietnamese bee bong and crispy scallops with ginger sauce. 716 Public St., Providence, 401-785-1490, apsarari.com
3. Brazilian Grill: Filet mignon? Yes. Sirloin? Yes. Bacon-wrapped filet? Yes. Wings? Thought you'd never ask. If you've never tried all-you-can-eat Brazilian churrasco a rodizio, you're in for a treat. Those little red and green cards on the table signify stop or go. Start off with the extensive buffet – they call it a salad bar? – but it contains not only salad, but seafood dishes like salmon, shrimp and haddock, stuffed chicken, chicken croquettes, soups, sliced prosciutto, grilled and roasted vegetables, cheeses and more. Then comes the fun part when the gauchos march in with skewers of every type of beef, pork and chicken you could ever imagine. Use your tongs as they cut off each slice of meat. Turn over your card to green and go, go, go. 680 Main St., Hyannis, Massachusetts, 508-771-0109; 464 State Rd., Dartmouth, Massachusetts, 774-202-4220, braziliangrill-dartmouth.com
4. Cassarino's: You know it's serious business when you take your boyfriend to meet your parents, but it's really, really serious if you introduce your parents to his parents. Cassarino's was the place where my dad met his dad. The restaurant works for everyone, because the food is fantastic at reasonable prices and good portions, while the atmosphere is comfortable for groups. Chicken parm, marsala, saltimbocca or Francaise are all winners, but there are many seafood choices as well, including fruitti di mare and clams zuppa. 177 Atwells Ave., Providence, 401-751-3333, cassarinosri.com
5. Harry's Bar and Burger: If the burgers are good enough for Julian Edelman's Burger Tyme, they are good enough for me. On Father's Day, Harry's on North Main Sreet is featuring a $15 prix-fixe menu that includes the Father of All Burgers topped with cheese, bacon, pulled pork and ham, plus haystack onion strings with chipotle ketchup, and for dessert, Guinness brownies topped with warm bourbon caramel. Harry's on the Hill is featuring a double bacon patty melt with Cajun fries. The regular menu is also available at both spots. 121 North Main St., Providence, 401-228-7437; 301 Atwells Ave., Providence, 401-228-3336, harrysbarburger.com
6. Los Andes: My father-in-law tells everyone he knows about the great food at Los Andes, including me. Even though I'm the one who told him all about it, but we'll keep that between you and me (or maybe not, now that this is on the Internet). He raves about the steak options, like lomo montado (pan seared top sirloin deglazed with Marsala wine, served with roasted potatoes, white rice and a chef's salad), because just potatoes, or just rice, isn't enough. You gotta have both! Or you can go for bisteca a la pobre, top sirloin in a jus, served with sweet plantains, French fries and white rice (triple carbs!), and topped with fried eggs. For seafood, I love pescado a lo macho (trout or tilapia pan-fried with shrimp, squid, mussels and clams, served with fried yucca and rice). Los Andes has a new outdoor patio with a koi pond, so be sure to ask if it's available when you dine out. 903 Chalkstone Ave., Providence, 401-649-4911, losandesri.com
7. Madeira: With a traditional Portuguese background, my father-in-law loves places that transport him back to the Azores. We can't get out of Madeira without him reminiscing about the old country with the restaurant's owner or other customers. The atmosphere makes everyone feel like they are at home with family (even I feel like an honorary Portagee). I am still earning my Portuguese last name, but I know what constitutes good Portuguese food, and Madeira lives up to its reputation. Go for the littlenecks Espanola with chourico, peppers and onions in a mild red sauce and fried calamari with hot peppers, followed by a Madeira-style shish kabob served on a giant skewer, or any of the steak options topped with a fried egg and smothered by gravy and the best crisp round French fries you'll ever have. 288 Warren Ave., East Providence, 401-431-1322, madeirarestaurant.com
8. Nonni's Italian Restaurant: With an Italian fiancée who is an incredible cook, my father-in-law knows his fresh pasta. Nonnie's has the best handmade fettuccini, angel hair and gnocchi around, made using only flour, eggs, water and salt. You can get whatever you want, just make sure you try the pasta with one of the housemade sauces (pink vodka, meat sauce, pesto or alfredo). They even have gluten-free pasta. We can vouch for the chicken Nonni (chicken, sausage, artichokes and mushrooms in a white wine sauce). If dads prefer beer over wine, you can also share thirty-two ounces of pail ale from Bucket Brewery. After you finish your dinner, stop at the retail shop and take home more fresh pasta and sauce for weekday meals. 1154 Stafford Rd., Tiverton, 401-624-3087, nonnispastashop.com
9. O Dinis: A word of advice? Celebrate Father's Day on a Monday and go to O Dinis. Mondays feature a buffet and live music, so you can try a sampling of traditional Portuguese dishes rather than just ordering one choice off the menu. Plus, weekends are too hectic here and you'll end up waiting for a table and service (unless you know someone, if you know what I mean.) Appreciate the antiques, photographs and deer heads on the wall, and then make sure to order the house wine and rip into plenty of fluffy, fresh Portuguese rolls. For dinner, you can't go wrong with pork Alentejana, bitoque (steak with a fried egg on top, gravy and fries) and shrimp Mozambique. 579 Warren Ave., East Providence, 401-438-3769
10. Pat's Italian: With a catchphrase like, "Nobody leaves this kitchen hungry," you know even big-eaters who go for seconds or thirds are going to be happy here. My family celebrated my father-in-law's sixtieth birthday at Pat's, and everyone went home with half their dinner to-go. Favorite dishes include a family-sized platter of pasta with vodka sauce, chicken Marsala, chicken Franchaise, Rachel Florentine (chicken topped with fresh spinach, roasted red peppers and fresh mozzarella) and pollo alla Sorrento (breaded chicken cutlet topped with ricotta, breaded eggplant and mozzarella). An added plus is that they use Narragansett Creamery cheese on all the dishes that contain cheese. 1200 Hartford Ave., Johnston, 401-273-1444, patsitalian.com