10 Inspiring Lessons from Viola Davis
The seventeenth annual Women's Summit at Bryant University hosted Davis, who grew up in Central Falls and shared wisdom learned along her journey to becoming a two-time Oscar-nominated actress and producer.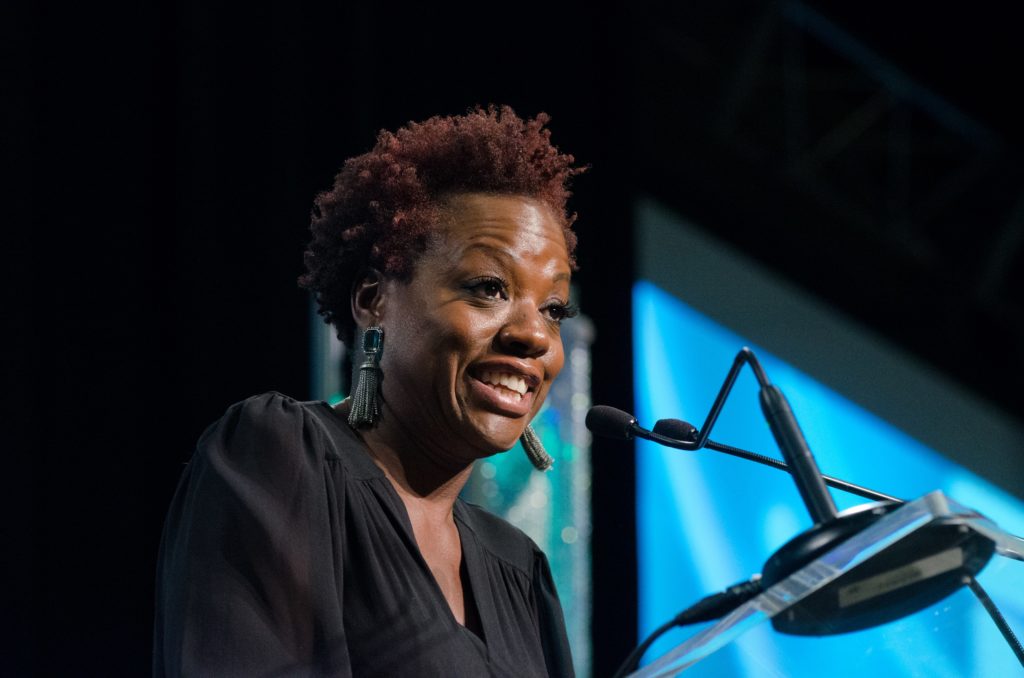 The annual Women's Summit at Bryant University is always one of the most inspiring days of the year for women (and some men). Last Friday, the seventeenth annual event hosted Viola Davis, who grew up in Central Falls and shared wisdom learned along her journey of living in a dysfunctional home and defying all odds to become a two-time Oscar-nominated actress and producer. More than 1,000 women attended the day's events, which also included speeches from Carley Roney who created the wedding website The Knot, and Carey Lohrenz, the Navy's first female fighter pilot.
Here are ten memorable lessons from Davis's speech.
1. By the time I moved to Central Falls, Rhode Island, when I was an infant, I had already been a part of generations of people who are poor, uneducated and felt less than. That was my inheritance. I grew up with no plumbing, sometimes no running water because the pipes froze, an apartment infested with rats. I remember thinking there was no way out. That this is what my life was going to be… and I remember being amazed that I had an older sister. I remember what she said at nine – that you have to work really, really hard if you don't want to live like this.
2. The first part of my journey was finding something that I loved to do. Finding something that gave me so much joy and involved so much love that it became bigger than my circumstances.  The circumstances of poverty, the circumstances of having a father who was a chronic alcoholic. The circumstances of living in abuse. What could be bigger than that? And at eight years old, I found it: the joy of acting.
3. I stumbled upon something that not only was I good at it, but because I was good at it, it was healing. It was healing to get it all out — all of the pain of my childhood. I started off doing plays in Central Falls at the park. Skits where we were characters in sitcoms…We would have rehearsals, me and my three sisters. One would be the writer, one the director, one was the producer. We even had a wardrobe budget. I would do re-writes in the closet that was infested with rats. Once I found something I loved to do, I had to do it all the time. I had to do it constantly.
4. A part of me liked the praise, the praise made me feel good about myself. It made me feel worthy. I would go home to a house that was just dysfunctional. I remember when I won my first award at the Rhode Island State Drama Festival when I was fourteen, I thought to myself, not only can I do this and get applause, and maybe some roses thrown at me — because I was into roses being thrown at me – but maybe this could be a job.  I had an aha moment at fourteen, and then I made a decision that I was going to be a professional actress.
5. I went from finding something that I loved to do to finding something that I was really great at to finding the path becoming a professional actress. And that's when I started my whole journey, including Rhode Island College, and after Rhode Island College,  I said, "Oh my goodness! How do I get a job?" I remember someone said, "You gotta go to Juilliard, and I said, "You know what? I gotta go to Juilliard." When I was young, it was that easy. I said, what do I need to do, and I'm gonna do it. Because nothing could stop me now.
6. You have to make a decision: Do you want to be a celebrity or do you want to be an actor? I wanted to be an actor. I wanted to be great at something. I wanted someone to feel  – I wanted myself to feel – like I had the ability to leave a legacy if I were really great it.
7. I have to say in my career, I never looked at the obstacles, I never thought I was any different from any of the Caucasian actresses who were my counterparts. I felt like everything they achieved, I could achieve. If they had the ability and I had the ability, then I deserve the same thing.
8. I had to start my own production company. I had to be a CEO, and I'm an actor. I didn't know how to do that. I didn't want to do that. I wanted to be the actor. I wanted to be the one onstage getting the accolades, creating characters. I did not want to be in control…. I don't want to be a producer. Men are producers. White men are producers. And where is the material anyway if you're not in the civil rights era, if you're not a maid, if you're not sub-servient? When do I get to be sexy? When do I get to wear my natural hair and be sexy, or wear a wig and be sexy? When do I see women of my hue doing what Meryl Streep is doing? And the answer is simple. You have to do it.
9. I admit that I have failed. I fail a lot. I screw up a lot. I'm messy. I have faults. Sometimes they get the best of me. But I embrace all of it. I see it all as a part of life. Every last bit of it. Because I recognize that the privilege of a lifetime is being who you are. Not just celebrating the awards and celebrating the accolades, but even celebrating the mess.
10. You are the CEO of your life when you can recognize that you can't save the world, you've got to save yourself.